This Week in Sports Betting, A-Z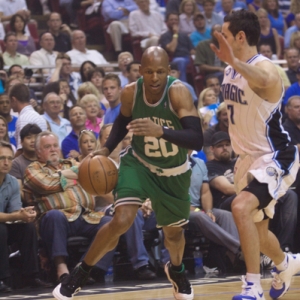 A. Allen, Ray . Jesus Shuttlesworth has been called in from the court; this time not by his mom in "He Got Game," but on his own accord. Allen announced his retirement on Tuesday after 18 NBA seasons. He won two championships and is is the league's all-time leader in three-pointers made with 2,973.

B. Bale, Gareth . Bale became the highest-paid player in the soccer world this past Sunday when he signed a six-year contract extension with Real Madrid that will reward him with 150 million pounds. He promptly rewarded Real with the club's fastest goal in its Champions League history. Bale scored 57 seconds into Wednesday's match against Legia Warsaw, but the favorites eventually had to settle for a 3-3 draw.

C. C.J. Anderson . The Broncos' running back underwent arthroscopic surgery last week to repair a torn meniscus in his right knee. He was placed on injured reserve and is likely out for the season. Anderson had 437 rushing yards, 128 receiving yards, and five total touchdowns in seven games. Denver is a -1 favorite at Oakland on Sunday night, per GT Bets.

D. Dak Prescott . His name sounds like he should be partaking in a gunfight at the O.K. Corral. But he is also quite adept at slinging the pigskin around a football field. Prescott struggled early in last Sunday night's showdown against Philadelphia, but the Cowboys' rookie signal-caller forced overtime with a touchdown pass to Dez Bryant and finished the job with an OT scoring strike to Jason Witten as Dallas prevailed 29-23.

E. Evgeni Malkin . Malkin reached the 300-goal milestone when he lit the lamp twice in a 5-4 win over Philadelphia last Saturday. The Penguins' center also scored once in a 5-1 drubbing of Anaheim on Wednesday, and he has 11 points through 10 games. Pittsburgh is a -115 favorite at Los Angeles on Thursday, as indicated by MyBookie.ag.

F. Frosted . Can anyone take down California Chrome at this weekend's Breeders' Cup Classic? If so, either Frosted or Arrogate may be the horse to do so. Frosted finished fourth at the Kentucky Derby and second at the Belmont Stakes in 2015. California Chrome is a +110 favorite at BookMaker.

G. Game 7 . Move over 1991 Twins and 1991 Braves; you've got company. Wednesday's decisive World Series showdown between the Cubs and Indians was much different from Minnesota's 1-0 shutout of Atlanta, but it will live in similar lore. At times it was a comedy of fielding errors, bad umpire calls, and questionable managerial moves, but it also had a whole host of big hits and even some clutch pitching. And it had an extra inning-and a rain delay-to prolong the drama. In the end, the Cubs won their first championship since 1908 by holding off Cleveland 8-7 in 10 innings to complete their comeback from 3-1 down. Bovada Sportsbook has the Cubs as +350 favorites to win it again in 2017.

H. Hideki Matsuyama . Matusyama became the first player in history to win a World Golf Championship event by at least seven strokes when he blew away the field last week in Shanghai. He finished at 23-under to win for the second time in two weeks, having previously triumphed at the Japan Open.

I. Inappropriately touched . According to Metta World Peace, that's what happened to him at an alleged haunted Oklahoma City hotel when the Lakers were in town to play the Thunder this past weekend. "The ghosts were all over me," World Peace said of his stay at the infamous Skirvin Hotel. "I just accepted it. They touched me all over the place. I'm taking one of the ghosts to court for touching me in the wrong places."

J. Jimmie Johnson . Johnson is through to the last leg of the Chase for the Sprint Cup-the finale later this month at Homestead-thanks to his victory in Martinsville last Sunday. Is a seventh championship in the cards for the 41-year-old?

K. Kirby Hocutt . The selection committee chairman, and the rest of his crew, put one-loss Texas A&M ahead of undefeated Washington in the for the fourth and final spot in the College Football Playoff. The Huskies can't be happy about it, but in the end it shouldn't matter if they remain without a loss. Washington is a +700 fifth choice at BetOnline Sportsbook to win the National Championship.

L. Lewerke, Brian . Michigan State's backup-turned-potential starter is out for the rest of the season because of a broken leg he sustained last weekend. Lewerke replaced Tyler O'Connor and passed for 100 yards and a touchdown to keep the Spartans competitive in a 32-23 loss to Michigan.

M. Murray, Andy . There could be a changing of the guard this week at the ATP tournament in Paris, as Murray will become No. 1 in the world if he wins the title and Novak Djokovic loses prior to the final. The second-ranked Scot can also reach the top spot if he reaches the final and Djokovic does not make it to the semis.

N. Norv Turner . Turner resigned as offensive coordinator of the Vikings on Wednesday. Minnesota is leading the NFC North division at 5-2, but its offense is second to last overall in the entire NFL (293.3 yards per game) and 23rd in scoring (19.9 points per game). 5Dimes Sportsbook has the Vikings as -7 home favorites over Detroit in Week 9.

O. Oops . That's what Duke running back Jela Duncan must be thinking after he found out the severity of his knee injury that he sustained last Saturday. Duncan suffered a torn ACL while celebrating a touchdown during the Blue Devils' 38-35 loss at Georgia Tech. Maybe he'll receive a get-well card from Martin Gramatica at some point.

P. Peppers, Jabrill . Nineteen years later, is another Michigan defensive player going to win the Heisman Trophy? Following in the footsteps of Charles Woodson, Peppers has 48 tackles (31 solo, 12.5 for loss) and 3.5 sacks this season. He also has 131 rushing yards, one touchdown on the ground, and another touchdown among his many electrifying punt returns. The Wolverines are -31 home favorites over Maryland on Saturday, according to Bovada Sportsbook.

Q. Qui Nguyen . Nguyen was the winner of the 2016 World Series of Poker main event, as the 39-year-old Vietnamese player clinched victory early on Wednesday morning. He collected $8 million for his efforts. That's not a bad day at the office, especially one that involves sitting around a table doing nothing except playing cards.


R. Retired . Andre Johnson announced his retirement from the NFL on Monday. Johnson, who had been with Tennessee this season but will obviously be remembered as a Texan, finished with regular-season numbers of 1,062 catches for 14,185 yards and 70 touchdowns. Seven times he amassed more than 1,000 yards.

S. Schroder, Dennis . The Hawks handed their point-guard reins from Jeff Teague to Schroder this offseason and they promptly rewarded their new floor general with a four-year, $70 million extension last week. Schroder is averaging 13.3 points and 6.0 assists per game for 3-1 Atlanta.

T. Tie . We didn't see Major League Baseball calling the World Series a tie when a rain delay interrupted play with the Cubs and Indians tied at 6-6 after nine innings, did we? Nope. Well, the NFL may have to start thinking about a tie-proof overtime format after watching games end in ties in consecutive weeks. Arizona and Seattle stumbled and bumbled their way to a 6-6 draw on Oct. 23 before Cincinnati and Washington finished 27-27 last Sunday in London.

U. Unsafe . "I don't even feel safe," Panthers' quarterback Cam Newton said during his press conference in the aftermath of a Week 8 win over Arizona, referencing several hits he took that warranted penalties but were not called. Of course, how could anyone take Newton serious with that hat and its accompanying feather? Carolina is +550 at MyBookie.ag to win the NFC South.

V. Victor Oladipo . The Thunder are not wasting any time locking up Russell Westbrook's supporting cast for the long haul. Oladipo agreed to a four-year, $84 million extension earlier this week before Steven Adams signed a four-year, $100 million deal.

W. Westbrook, Russell . It should probably be news when Westbrook does not get a triple-double. To the surprise of no one, Oklahoma City's star guard has been lighting up the stat sheet with former sidekick Kevin Durant now in Golden State. Westbrook missed out on a triple-double by one assist in OKC's second game before delivering two in a row in wins over the Suns and Lakers. He had a double-double (if you count turnovers) while scoring 35 points in Wednesday's 85-83 defeat of the Clippers. The Thunder are +10.5 underdogs at the Warriors on Thursday, per BetOnline Sportsbook.

X. Xavier . Watch out for the Musketeers, who have their highest preseason ranking in program history (No. 7 in the AP poll). Trevon Bluiett, Edmond Sumner, and J.P. Macura are back in hopes of making amends for a heartbreaking, buzzer-beating loss to Wisconsin in the second round of the NCAA Tournament. GT Bets has Xavier at +4000 to win it all.
Y. Year-end championship . If the last tournament of the WTA Tour season had not featured a round-robin format, Dominika Cibulkova would have been eliminated after one match-and again, in fact, after two. Cibulkova lost her first two matches but ended up qualifying for the semifinals with a 1-2 record based on a sets-won tiebreaker, and the rest is history. The Slovak went on to defeat world No. 1 Angelique Kerber, to whom she had lost earlier in the week, for the title.

Z. Zach Parise . The Wild forward is sidelined week-to-week with a foot injury, and he already missed last Saturday's win over Dallas and Tuesday's loss to Buffalo. Parise has six points in eight games and he has racked up at least 53 points in four of his last five NHL seasons. Minnesota is currently leading the Central Division at 6-3-1.
Read more articles by Ricky Dimon