This Week in Sports Betting, A-Z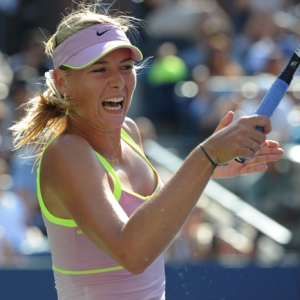 A. Arbitration . The Court of Arbitration for Sport ruled on Tuesday that Maria Sharapova's suspension has been reduced from two years to 15 months, retroactive to when she tested positive for meldonium at the 2016 Australian Open. Sharapova can return next April, in time for the French Open. Good for the game…if you know what I mean.

B. Barry Bonds . The Marlins did not do a whole lot of what Bonds did throughout his playing career: hit home runs and draw walks. As such, and because of their overall futility at the plate, Bonds is out after just one season as the team's hitting coach. He was fired on Monday, one day after Miami completed a season in which it finished 13th in the National League in runs, 14th in homers, 14th in walks, and 12th in OPS.

C. Clemson . Last Saturday night's showdown between Clemson and Louisville certainly lived up to the hype. In what was also a Heisman Trophy battle featuring Deshaun Watson and Lamar Jackson, Waton's Tigers survived a thriller at home 42-36. The Cardinals reeled off 26 unanswered points to soar from a 28-10 deficit to a 36-28 lead, but Clemson outscored them 14-0 in the last seven minutes and five seconds. Clemson is a -17.5 favorite at Boston College on Saturday, per MyBookie.ag.

D. Darren Collison . The Kings' guard has been suspended for the first eight games of the upcoming regular season after pleading guilty to a misdemeanor charge of domestic battery. An unspecified incident between Collison and his wife occurred in May at their home in Granite Bay, Calif.

E. Even . Yes, it's an even year. And that's good news for Giants-but they had to get into the playoffs in order to have a chance. That's exactly what they did on the last day of the regular season and they promptly rode Madison Bumgarner to a 3-0 road win over the Mets in the National League wild-card game on Wednesday night. Watch out, Cubbies. San Francisco is +750 at Bovada Sportsbook to win the World Series.

F. Finger . Channeling her inner Jason Pierre-Paul, albeit without the use of fireworks, Lindsay Lohan lost half of her ring finger in a boating accident this past Sunday. Friends recovered the missing half and it has since been reattached.

G. Gary Patterson . TCU's head coach was seething after his team lost at home to Oklahoma 52-46. Among the controversial plays was an intentional grounding call against the Horned Frogs-which ended their final drive-that came only after OU head coach Bob Stoops argued with officials. "We can't say anything, but [the officials] can do whatever they want to," Patterson said following the game.

H. Hail Mary . One of the craziest finishes in college football history began when Georgia quarterback Jacob Eason heaved a 47-yard touchdown pass to Riley Ridley with 10 seconds to put the home team ahead of Tennessee 31-28. The Volunteers returned the ensuing kickoff to UGA's 43-yard line, and it was followed by a final-play Hail Mary from Joshua Dobbs to Jauan Jennings. Just like that, the Vols prevailed 34-28 to remain undefeated. BetOnline Sportsbook has Tennessee at +1800 to win the National Championship.

I. Indianapolis Colts . Jacksonville is 0-3 in the United States this season and 0-3 against opponents not from Indianapolis. But the Jaguars are 1-0 in London and 1-0 against teams from Indianapolis after upsetting the Colts 30-27 at Wembley Stadium last Sunday. Andrew Luck and company are now tied with the Jags at 1-3, two games back of Houston in the AFC South.

J. Julio Jones . Jones had a bit of a day against Panthers in Week 4. He hauled in 12 passes for 300 yards and one touchdown in Atlanta's huge 48-33 win over NFC South rival Carolina.

K. Kucherov, Nikita . Kucherov scored 30 goals and added 36 assists to lead Tampa Bay with 55 points last season. But the Lightning's star forward is not at training camp and, according to his agent, will not show up until he signs a new contract. Tampa is +950 at BookMaker to win the Stanley Cup.

L. London . There are no more majors on the tennis schedule in 2016, but the men have a race to the year-end championship in London that is heating up nicely. Only the top eight qualify, and No. 9 Tomas Berdych made a move on No. 8 Rafael Nadal by triumphing at the Shenzhen Open last week. Only Novak Djokovic, Andy Murray, and Stan Wawrinka have clinched spots.

M. Martin Truex Jr. Through three playoff races in the Chase for the Sprint Cup, Truex has two victories and one seventh-place finish. After triumphing Sept. 18 in Chicago, he took another checkered flag last weekend in Dover. In his last five events, Truex boasts three wins and has not placed worse than seventh. Tony Stewart was among four Chase drivers who failed to qualify for the next round.

N. Newton, Cam . Newton's Week 4 performance was better than his showing in Week 3. But that's not saying a lot. In a 22-10 loss to Minnesota last month, Carolina's QB threw no touchdowns and three interceptions. Against the Falcons this past Sunday, he threw for 165 yards and a score without being picked off. To say it wasn't enough to keep up with Jones and Matt Ryan would be an understatement. Adding insult to injury, or vice versa, Newton left in the fourth quarter with an apparent concussion.

O. Odell Beckham Jr. Beckham said earlier this week that isn't having fun playing football anymore. Overreacting much? After two decent games from a statistical standpoint, he was held to three catches for 23 by Xavier Rhodes and Minnesota on Monday night. Beckham has not made a touchdown reception this season and the Giants have lost two in a row. 5Dimes Sportsbook has New York as a +7.5 underdog at Green Bay on Sunday night.

P. Patrick Reed . Just call him Captain America. Reed went 3-1-1 in last weekend's Ryder Cup and won an epic singles match 1-up over FedEx Cup champion Rory McIlory to lead Team USA to a dominant 17-11 victory over Europe. In marked the United States' first win in the competition since 2008.

Q. Questionnaires . Potential jurors in Derrick Rose's gang-rape case were handed questionnaires on Tuesday. Among the questions were who is your favorite basketball team and…wait for it…how do you feel about group sex. GT Bets has the Knicks at +1100 to win the Atlantic Division.

R. Rickie Fowler . Fowler turned in a solid 2-1 record in the Ryder Cup, but it was the post-tournament photo heard 'round the world that stole the show. With the rest of the Americans kissing their wives or girlfriends, Fowler just stood in the middle of it all sporting a giant smirk.

S. Simmons, Ben . The No. 1 overall picked underwent surgery on Tuesday to repair an acute Jones fracture of the fifth metatarsal in his right foot. What is that? Well, it's something that means Simmons could miss the entire NBA season.

T. Tottenham Hotspur . Manchester City was undefeated and untied heading into last weekend's English Premier League match against the Spurs. That all changed, as the Sky Blues fell 2-0 after giving up and own goal in the ninth minute and watching Tottenham find the back of the net again in the 37th minute.

U. Urban Meyer . It's still early, but the Ohio State head coach is already weighing in on the Heisman Trophy race. Not only did Meyer throw the obvious name of quarterback J.T. Barrett into the ring, but he also mentioned H-back Curtis Samuel. Through four games, Samuel has 328 rushing yards (8.0 per carry), 345 receiving yards, and five total touchdowns. Barrett is a +550 third choice at MyBookie.ag to win the Heisman.

V. Vin Scully . The legendary Dodgers broadcaster called his last game over the weekend, when the team wrapped up its regular season with a 7-1 loss at San Francisco. Scully is 88 and he spent 67 years as the voice of the Dodgers. He signed off with this: "I have said enough for a lifetime and, for the last time, I wish you all a very pleasant good afternoon." Well said.

W. Washington . Christian McCaffrey won't be leading the Heisman Trophy race any time soon, and not just because Jackson is on fire for Louisville. Washington limited Stanford's star running back to 49 yards on 12 carries in a 44-6 Huskies' rout last Friday night.

X. Xavier Rhodes . "It was pretty tough," Rhodes said of going against Beckham. Well, it sure didn't look like it. In fact, nothing has looked tough for the Minnesota defense so far this season as it has propelled the team to a surprising 4-0 record. The Vikings are -6.5 home favorites over Houston in Week 5, as indicated by Bovada Sportsbook.
Y. Yan Gomes . In his first at-bat since suffering a separated right shoulder on July 17, Gomes deposited the first pitch he saw over the outfield wall in Cleveland's 3-2 win at Kansas City last Sunday. The Indians decided to carry three catchers on their ALDS roster, so Gomes made the cut. Cleveland (Bauer) is a +129 home underdog in Game 1 against Boston (Porcello) on Thursday, according to BetOnline Sportsbook.

Z. Zach Britton . Where was he on Tuesday night in Toronto? Media will be asking where Buck Showalter is throughout the offseason so they can continue hammering him with that question. The Orioles' manager did not use Britton in an 11-inning AL wild-card game at Toronto on Tuesday night, and Edwin Encarnacion ended up hitting a three-run homer off Ubaldo Jimenez to give the Blue Jays a 5-2 victory.
Read more articles by Ricky Dimon