This Week in Sports Betting, A-Z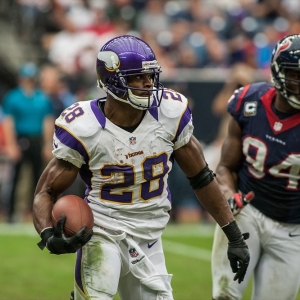 A. Adrian Peterson . Will the Vikings be able to field a team by the time the second half of the season rolls around? Okay, in all seriousness, they are not in good shape right now. And that's an understatement. Teddy Bridgewater was lost for the year with a torn ACL in practice prior to Week 1. Adrian Peterson suffered a torn meniscus and LCL in Week 2 and is basically out for the season. Offensive tackle Matt Kalil has been placed on injured reserve. Ouch. Minnesota is a +7 underdog at Carolina on Sunday, per Bovada Sportsbook.

B. Bosa, Joey . Bosa has not been holding out the last three weeks (that ended on Aug. 29), but he might as well have been. In fact, prior to Wednesday San Diego's rookie linebacker had not practiced a single time in full pads because of a strained hamstring. Bosa is back in action now, but it remains to be seen when he will be game ready.

C. Colorado Avalanche . The Avalanche hired Jared Bednar as their new head coach last month. Bednar, formerly with the American Hockey League champion Lake Erie Monsters, replaces Patrick Roy.

D. Davis Cup . There will be a new Davis Cup champion in 2016. Great Britain won tennis' team competition last year, but Andy Murray and company saw their title defense come to an end last weekend against visiting Argentina. The difference was arguably a rematch of the Rio Olympics gold-medal showdown, with Juan Martin Del Potro getting the best of it this time in an epic 6-4, 5-7, 6-7(5), 6-3, 6-4 defeat of Murray after five hours and seven minutes.

E. Ezekiel Elliott . Elliott has not exactly gotten untracked through two games of his NFL career, but he did find the endzone on both occasions. After rushing for just 51 yards in a loss to the Giants, Dallas' rookie running back went for 83 yards-and another score-in last week's win over Washington. GT Bets has the Cowboys as a +290 third choice to win the NFC East.

F. Florida State . FSU's 2-0 start, which included a 45-34 victory over Ole Miss, is now a thing of the past. In fact, it's really a thing of the past. The Seminoles got blown out 63-20 by Heisman Trophy favorite Lamar Jackson and ACC rival Louisville last Saturday.

G. Gary Sanchez . Forty-three games. Nineteen home runs. You cannot make this stuff up, folks. The Yankees' sudden sensation took his amazing start to even greater heights on Wednesday, when he went 3-for-3 with two homers and five RBIs in a win over the Rays. Sanchez has five dingers in his last four games. New York (Cessa)is +115 underdog at Tampa Bay (Snell), as indicated by MyBookie.ag.

H. Hope Solo . The U.S. Women's National Team had some hope in their most recent match even though Alyssa Naeher was flying solo in goal. With Solo suspended, Naeher filled in to mind the net as Team USA won its international friendly against the Netherlands 3-1 last Sunday at the Georgia Dome. Solo is serving a six-month suspension stemming from comments made after the United States lost to Sweden in the quarterfinals of the Rio Olympics.

I. Indianapolis Colts . Death, taxes, and the Indianapolis Colts starting 0-2…. Well, that's kind of how it goes. Sort of. Indy finds itself at 0-2 for a third consecutive season following defeats at the hands of Detroit and Denver. The team bounced back to make the playoffs at 11-5 in 2014 but finished 8-8 and on the outside looking in last year.

J. Josh Gordon . The Browns' receiver is already suspended for the first four games of the season and now he is involved in a paternity suit. The hits just keep on coming. 5Dimes Sportsbook has Cleveland as a +10 underdog at Miami in Week 3.

K. Kipnis, Jason . Kipnis hasn't homered since Sept. 3, but he has hit safely in 12 of his last 17 games, and five of those have been of the multi-hit variety. But whatever Cleveland's second baseman does the rest of the season, it won't be as awesome as when he pretended to back away from a potential fight after Rougned Odor delivered a hard slide in an attempt to break up a double play during a game last month against Texas. The Indians own a 7.5-game lead in the AL Central and are one game back of the Rangers for the best record in the American League.

L. Lochte, Ryan . Based on the recent NFL fan polling, Colin Kaepernick may be the only athlete more disliked than Lochte at the moment. Which means Lochte must be quite adept at dancing given that he is still alive on "Dancing With the Stars."

M. Messi, Lionel . Messi was awarded UEFA.com's Goal of the Season prize last month. In a 2015-16 match against Roma, the FC Barcelona star capped off a flurry of perfect passes with a skillful touch over the keeper. On the downside, he is currently out for three weeks with a groin injury.

N. New Hampshire . The Chase for the Sprint Cup moves to New Hampshire this Sunday, after Martin Truex Jr. won the playoff opener at Chicagoland last week. Chase Elliott was dominating the field, but a caution with five laps remaining brought almost all of the cars close together and Truex sped to the front at the restart.

O. One out . That's how close San Francisco's Matt Moore came to throwing a no-hitter against the Dodgers last month. Corey Seager broke up the no-no right at the finish line, and Moore exited after 8.2 innings of work in his team's 4-0 victory. In nine starts since being acquired from Tampa Bay, the southpaw has given up more than three runs only twice and has limited opponents to two runs or fewer on six occasions. The Giants are +2200 at BetOnline Sportsbook to win the World Series.

P. Pujols, Albert . Pujols passed Mark McGwire on the all-time home run list last month, and he overtook Frank Robinson over Labor Day weekend. The Angels' slugger has since added three more homers, giving him 590 for his career (ninth place, 19 behind Sammy Sosa).

Q. Quits . That's what Angelina Jolie and Brad Pitt have called it, with the former filing for divorce on Monday. Hollywood's version of the Patriots' Spygate scandal may have been the culprit as Brad was reportedly caught cheating with Allied co-star Marion Cotillard by a private eye hired by Angelina.

R. Rob Gronkowski . The Patriots finally got some good injury news earlier this week. Gronk's nagging hamstring injury is on the mend, and he told teammates that he plans on playing tonight against Houston. New England is a +450 favorite at Bovada Sportsbook to win the Super Bowl.

S. Sweep . If the Yankees fail to make the playoffs, they will have the arch-rival Red Sox to blame. Boston completed a four-game sweep last Sunday night with a 5-4 victory at Fenway Park. Fortunately for New York, it has won two in a row at the expense of Tampa Bay-but the team is still 2.5 games out of a wild-card spot and 8.5 games back of Boston in the AL East.

T. Tim Tebow . Tebow hit his first home run at Mets' camp on Tuesday. Next stop: 2017 World Series MVP? Maybe even 2016 World Series MVP? Eh, something like that.

U. UEFA Champions League . The 2016-17 Champions League is underway with the group stages. And in case you're wondering, the Champions League group stages are about as enthralling as the 162-game Major League Baseball regular season.

V. VanGorder, Brian . It has not been a good start to the season for Notre Dame's defensive coordinator. In the Fighting Irish's two games against tough competition, they allowed 50 points and 517 total yards in an opening loss to Texas before getting torched for 36 points and 501 yards by Michigan State. Adding insult to injury, head coach Brian Kelly's Twitter account liked a tweet from a fan who suggested he fire VanGorder. Kelly issued a statement saying that it was a staff error made by one of the several people who handle his Twitter. Sure…. Notre Dame is a -21 home favorite over Duke on Saturday, according to GT Bets.

W. Wawrinka, Stan . Wawrinka may not be the best tennis player in the world (he is third in the rankings right now, to be exact), but he is without question the best in big matches. The Swiss improved to 11-0 in his last 11 finals when he upset Novak Djokovic to capture the U.S. Open title earlier this month. It marked the third Grand Slam triumph in Wawrinka's career.

X. X-rays . The news is not particularly good out of USC at the moment. Tight end Taylor McNamara is set to go in for X-rays after he sustained an injury at practice earlier this week. Moreover, rumors have surfaced that offensive lineman E.J. Price punched head coach Clay Helton. Helton denied it…but also indicated that Price has decided to transfer. Hmmm….
Y. Yasiel Puig . The benches cleared during Monday's game between the Dodgers and Giants after an incident between Puig and Madison Bumgarner in which San Francisco's ace told L.A.'s star outfielder, "Don't look at me!" Puig responded in good fun one day later by sending a shirt with "#DONTLOOKATME" in block letters across the front to the Giants' clubhouse for Bumgarner. It was San Fran that didn't want to look at Puig on Wednesday, because he blasted a three-run homer in his team's 9-3 victory.

Z. Zlatan Ibrahimovic . The Swedish striker scored five goals in his first five matches with Manchester United, but he has been held without a goal or an assist in his last three. In turn, United has lost two English Premier League matches in a row and had been on a three-match losing streak overall before it beat Northampton Town in the EFL Cup on Wednesday. Man U is +1100 at MyBookie.ag to win the Premier League title.
Read more articles by Ricky Dimon