This Week in Sports Betting, A-Z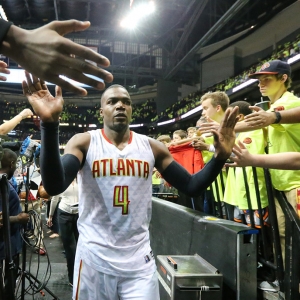 A. Atlanta Hawks . Well, so much for that 9-2 start. The Hawks are in the midst of a seven-game losing streak and are 1-10 in their last 11 contests. Three of Atlanta's setbacks during the current skid have come by at least 27 points, including two last week by a combined 80 points. At this rate, at least the city won't have to deal with another playoff meltdown by one of its teams.

B. Big Ten . For the first time since 2008, the Big Ten lost the ACC/Big Ten Challenge. The ACC won five of the six games last Wednesday night to break what had been a 4-4 tie. But the Big Ten won the big one on the final day, as Indiana took down North Carolina 73-67 at Assembly Hall. MyBookie.ag has UNC as a -16 home favorite over Davidson on Wednesday.

C. Conor McGregor . McGregor vs. Floyd Mayweather? Those are the rumors after McGregor was granted a boxing license in the state of California last week. A war of words has already begun. As for what would take place in the ring, well, it could not be any worse than Mayweather vs. Manny Pacquiao.

D. Doug Pederson . The Eagles' head coach questioned his team's effort level in last Sunday's 32-14 loss to Cincinnati. "Not everybody," Pederson answered when asked if all of his players played hard. Welcome to the world of the Cleveland Browns and the New York Jets. Philadelphia is a +1 home underdog against Washington in Week 14, per GT Bets.

E. English Premier League . Manchester City had a chance to surpass Chelsea for first place on the EPL table when the two traditional powers collided at City's Etihad Stadium last weekend. The Sky Blues started well enough with a goal in the 45th minute, but Chelsea stormed back with three second-half tallies to prevail 3-1. Chelsea is a +110 favorite at BookMaker to in the title.

F. Four . That's how many contenders are left for college football's national title. Penn State is not one of them despite winning the Big Ten, arguably the toughest conference in the sport. Ohio State, which did not even win its division in the Big Ten, joins Alabama, Clemson, and Washington in the College Football Playoff. Alabama is a -240 favorite to win the National Championship, according to Bovada Sportsbook.

G. Gone . Mark Helfrich is out as Oregon's head coach. Would Chip Kelly return to his old stomping grounds? The 49ers-and any other potential NFL team that Kelly will wreck if he does not go back to college-would not have been disappointed if he did. But the Ducks hired South Florida's Willie Taggart on Tuesday.

H. Hideki Matsuyama . January cannot come soon enough for Matsuyama. The hottest golfer of the planet should want no part of an offseason right now. He has won four of his last three tournaments and four of his last five after lifting the trophy at last week's Hero World Challenge in the Bahamas. Matsuyama's previous two victories had come by seven strokes and he led by as many as seven at the HWC before finishing two clear of runner-up Henrik Stenson. BetOnline Sportsbook has Matsuyama at +1600 to win the Masters.

I. Isaiah Austin . Austin said last week that he has been cleared by doctors to play basketball. The former Baylor standout had been a potential first-round draft pick in 2014 before a diagnosis of Marfan syndrome brought an abrupt end-at least at the time-to his playing career.

J. Joe McKnight . The former Southern Cal and NFL running back was killed in an apparent road-rage incident last Thursday. He was 28 years old. R.I.P.

K. Kaepernick, Colin . Who cares if it was snowing? Kaepernick was woefully bad (an adverb must come before "bad" to differentiate between all the other times that Kaepernick has been "bad" this season) in San Francisco's 26-6 loss at Chicago in Week 13. He completed a mere one of five passes for a grand total of four yards before being replaced by Blaine Gabbert. 5Dimes Sportsbook has the 49ers as -2.5 home favorites over the Jets on Sunday.

L. LeBron James . There was pretty much no doubt that someone-or some team-that recovered from a 3-1 deficit was going to win SI Sportsperson of the Year. LeBron was nominated and so was the entire Chicago Cubs team. In the end, it was LeBron who bagged the honor for the second time in his career. He beat out the Cubs, Michael Phelps, Usain Bolt, and Simone Biles, among many others.

M. Major League Baseball . A strike is never a good look, but it would have been a particularly bad look right after baseball was sky high thanks to an epic World Series between the Cubs and Indians. The MLB avoided a potential strike when a collective bargaining agreement was reached last Wednesday, just a few hours before the previous deal expired. The Cubs are +300 favorites at MyBookie.ag to win the World Series.

N. Newton, Cam . Newton wasn't around for Carolina's first drive against Seattle last Sunday night. Reason: dress code violation. Result: interception thrown by Derek Anderson on the first play of the game. Of course, the overall result would not have been much different with Newton starting because the Panthers got shellacked 40-7.

O. Orange Bowl . The Orange Bowl may be the best of the rest outside of the College Football Playoff. Michigan vs. Florida State? That sounds good…unless you're Michigan, which should have beaten Ohio State and been a part of the semifinals.

P. Pirates . Pittsburgh is shopping star outfielder Andrew McCutchen, and Washington may be frontrunner after it lost the Chris Sale sweepstakes to the Golden State Warriors-er, make that the Boston Red Sox.

Q. Quiet . That's what the officials wanted Rajon Rondo to be last Saturday. Instead, the Kings' guard got a technical foul for a "verbal altercation" with official Bill Kennedy during his team's loss to Boston. Rondo's next technical-and ejection-came while he actually was being silent, as Kennedy t-ed him up for a stare down.


R. Roger Federer . Federer was going to make his first appearance since Wimbledon at the International Premier Tennis League later this month. And then he wasn't. Federer, who has been sidelined by a knee injury, announced on Tuesday that he has decided against playing in the offseason exhibition event due to the IPTL's financial troubles.

S. Smith, J.R. During the second quarter of a game last week against Milwaukee, the Cavaliers' guard greeted Jason Terry on the Bucks' bench. Unfortunately for Smith, he was…you know…actually in the game at the time. And he was playing defense-or supposed to be playing defense. With Smith AWOL, Milwaukee's Tony Snell was given a wide open dunk. Oops! Cleveland is a -8.5 road favorite over New York on Wednesday, as indicated by BetOnline Sportsbook.

T. Tiger Woods . Among golfers who finished the tournament, Tiger finished third to last at the Hero World Challenge. In his heyday, Tiger finishing third to last was nothing short of a disaster. Now, it's his biggest accomplishment in years. The 14-time major champion actually contended for a brief time on Saturday before finishing ahead of only Emiliano Grillo and Russell Knox. It marked Tiger's first competition since August of 2014.

U. UCLA . The Bruins are still on fire, with a 9-0 record to begin the season that includes seven double-digit victories, a seven-point win over Texas A&M in the final of the Wooden Legacy tournament, and a 97-92 upset of Kentucky at Rupp Arena last weekend. UCLA trailed by as many as nine points during the first half before taking control and handing the Wildcats their first loss of the 2016-17 campaign.The Bruins are +1000 at GT Bets to win the National Championship.

V. Villa, David . The New York City FC striker was named Major League Soccer MVP on Tuesday. He scored 23 goals-one off the MLS lead-while helping New York reach the playoffs for the first time.

W. Washington Capitals . Washington ended a three-game losing streak and won for the first time since Nov. 25 when it defeated Buffalo 3-2 in a shootout on Monday night. Still, the Capitals have scored just five regulation goals in their last four outings. Alex has no goals in his last five games and no points in his last two.

X. Ten . That has been the magic number for Russell Westbrook's statistics this season. He is putting up double-digits in the three most notable categories-points, rebounds, and assists-with incredible consistency. In fact, Westbrook recorded his sixth straight triple-double in Oklahoma City's 102-99 win at Atlanta on Monday, and he is averaging a triple-double so far this season (31.0 ppg, 10.9 rpg, 11.3 apg).


Y. Yoenis Cespedes . Cespedes recently signed a four-year, $110 million extension with the Mets. The 31-year-old batted .280 with 31 home runs and 86 RBIs last season, his first full one in New York.

Z. Zimmer, Mike .The Vikings' head coach missed last Thursday's loss to the Cowboys because of emergency eye surgery. Special teams coordinator Mike Priefer assumed head-coaching responsibilities in Minnesota's 17-15 home setback at the hands of Dallas, which is now 11-1 and riding an 11-game winning streak. Zimmer has returned to practice and will be on the sideline for this weekend's date with Jacksonville. The Vikings are +750 at Bovada Sportsbook to win the NFC North.
Read more articles by Ricky Dimon