This Week in Sports Betting, A-Z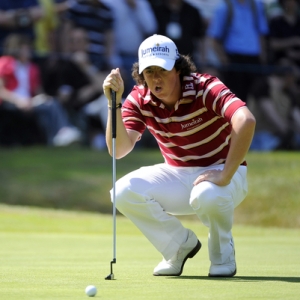 A. Augusta National . The players will soon be arriving at the hallowed grounds of Augusta National, with the proceedings officially set to begin next Thursday. Will Bubba Watson (2012, 2014) continue the trend of winning it every other year? Jordan Spieth, Rory McIlroy, and Jason Day are all +700 co-favorites at BetOnline Sportsbook to win the Masters next week.

B. Brian Gregory . If there is one thing Georgia Tech is good at doing, it's paying men's basketball coaches not to coach. The Yellow Jackets still owe Paul Hewitt $900,000 in each of the next three years and they are responsible for more than $1.3 million remaining on Gregory's contract after he was fired last Friday.

C. Carmelo Anthony . A kid walked onto the floor in the middle of Monday's game between the Knicks and Pelicans in New Orleans and hugged Anthony. He's probably the only fan who wants to give anyone on the Knicks a hug this season.

D. Day, Jason . The Match Play Championship is one of the toughest events in golf to win-but don't tell Day. Having already triumphed in 2014, the red-hot Aussie lifted the trophy again this past Sunday following defeats of Rory McIlroy and Louis Oosthuizen in the semis and final, respectively. Day also won at Bay Hill one week earlier.

E. Earnhardt, Dale . Junior will donate his brain for scientific studies when he dies, the NASCAR star announced earlier this week. He suffered a pair of concussions in 2012 that led him to miss two Sprint Cup races. Bovada Sportsbook has Earnhardt at +900 to win this weekend's Sprint Cup event in Martinsville; Jimmie Johnson is a +350 favorite.

F. Final Four . It will be Oklahoma vs. Villanova in the first game on Saturday, followed by a nightcap featuring North Carolina and Syracuse. Both are rematches from the regular season.UNC is a -115 favorite at MyBookie.ag to win the National Championship.

G. Golden State Warriors . The Warriors are 68-7 after making a fourth-quarter comeback and winning in overtime at Utah on Wednesday. Only simple math is required to figure out that they must go no worse than 5-2 in their last seven games to break the record.

H. Husain Abdullah . The wave of early retirements in the NFL continued on Monday when Abdullah called it quits. In seven seasons, Abdullah suffered five concussions. The 30-year-old started his career in Minnesota before most recently playing for Kansas City.

I. Iglesias, Raisel . Who? Yep, that's the Reds' Opening Day starter for ya. Apparently a 3-7 record with a 4.15 ERA are numbers that will get you such an honor-at least in Cincinnati. The Reds better hope that Iglesias improves on his 2015 totals if they want him to anchor the rotation.

J. Jalen Ramsey . Ramsey is the best player in the draft. Ramsey is a competitor. Ramsey is a winner. Ramsey steps up to challenges. Ramsey's proven it. That's just what he does. So says Ramsey, himself. The former Florida State cornerback made those comments to reporters following his pro day on Tuesday. And he might be right-although Ole Miss tackle Laremy Tunsil is the projected No. 1 overall pick.

K. Kris Bryant . It's that prom time of year, and some pro athletes are getting into the fun. First it was Novak Djokovic facilitating an invite in Miami. Then it was Bryant, who helped a Cubs fan carry out his invitation prior to a spring training game last week. Good stuff. Chicago is a +568 favorite at BookMaker to win the World Series.

L. Lakers . L.A. lost by 48 points on Monday. Is that bad? It's not good. In fact, its 123-75 setback against Utah matched its worst in franchise history. And that is actually the least of the Lakers' problems at the moment (see: Russell, D'Angelo).

M. Matt Harvey . Harvey has recovered from a blood clot in his bladder and he is good to go for Opening Day on Sunday. It will be a World Series rematch between the Mets and Royals.

N. North Carolina . The Tar Heels have established themselves as college basketball's dominant team, and not a moment too soon. Playing their best ball when it matters most, the Heels won the ACC Tournament and have won all four of their games in the Big Dance by at least 14 points (over Florida Gulf Coast, Providence, Indiana, and Notre Dame). Carolina has already won the National Championship twice under Roy Williams (2005 and 2009). 5Dimes Sportsbook has UNC as a -9.5 favorite over Syracuse.

O. Oklahoma . The Sooners endured heartbreak in the Big 12 Tournament when Buddy Hield's successful half-court heave against West Virginia came just after the buzzer. Hield made sure his team would not take another 'L' prior the Final Four. The senior guard scored 36 points in the second round against VCU and 37 at Oregon's expense in the West Region final. Oklahoma is +366 at BetDSI Sportsbook to win it all.

P. Presidents' Trophy . The Capitals have clinched the best regular-season record in the NHL, which results in the Presidents' Trophy. They are an awesome 54-16-6 after falling in a shootout at Philadelphia on Wednesday.

Q. Quick, Jonathan . The only thing better than Quick's incredible stick save on Monday was the look on Logan Couture's face after his one-timer got rejected. You might say it was Couture shock. Quick's Kings still lost 5-2, but it was arguably the save of the year. L.A. is a -259 home favorite over Calgary on Thursday, as indicated by BetOnline Sportsbook.

R. Robert Griffin III . The Browns apparently can't get enough of much-maligned quarterbacks. Johnny Manziel is out and RG3 is in. The former Heisman Trophy winner signed a two-year deal with Cleveland last week.
S. Syracuse . The Orange probably shouldn't have been in the tournament. But they have no need to apologize for unexpectedly capitalizing on an unexpected opportunity, with Midwest Region victories over Dayton, Middle Tennessee, Gonzaga, and Virginia. Syracuse trailed UVA by 16 points in the second half and by 13 with less than nine minutes remaining.

T. Team Meeting . The Bulls held one last weekend, but it may not have not much good and it may have come too late. They dropped three in a row to the Knicks (twice) and Magic before succumbing to Atlanta 102-100 on Monday. Chicago finally found the win column by getting the best of Indiana 98-96 on Tuesday. GT Bets has the Bulls as +5.5 underdogs at Houston on Thursday.

U. USMNT . All is not well with the U.S. national team, but it at least managed to avoid what would have been an unmitigated disaster if it had lost to Guatemala in World Cup qualifying on Tuesday. The American men got the job done 4-0, so they are likely on their way to Russia in 2018. But that's just about where the good news ends for a team in turmoil.

V. Villanova . The Wildcats punched their ticket to the final four by hammering UNC-Asheville, Iowa, and Miami (FL) before upsetting Kansas 64-59. 'Nova is in its second Final Four since winning it all in 1985 (it lost to UNC in the 2009 semifinals). The Wildcats are -2 favorites over Oklahoma, per Bovada Sportsbook.

W. Wojcicki, Anne . Alex Rodriguez is apparently dating the 23andMe co-founder and ex-wife of Google co-founder Sergey Brin. Reports have them being an item for the past month, and they were photographed together this past Sunday at Green Lemon, a Mexican restaurant in Tampa, Fla. If this turns into a long-term thing, it's safe to say A-Rod won't have to worry about managing his finances in retirement.

X. Denotes clinched playoff berth . The Hawks clinched a playoff spot on Tuesday for the ninth straight year, the longest current streak in the Eastern Conference. Now the key is to maintain the No. 3 seed to stay on the opposite side of the bracket from Cleveland. The Cavs are -14.5 home favorites over Brooklyn on Thursday, according to GT Bets.

Y. Yadier Molina . Let's play the name-that-Molina game: which Molina is a catcher for St. Louis who suffered a torn thumb ligament last fall while tagging out Anthony Rizzo of the Cubs? As already indicated, that would-of course-be Yadier. He was scratched from a pair of spring training games earlier this week, but all signs point to the seven-time All-Star being ready for Opening Day.

Z. Zero . That's how many goals the Blues gave up in a four-game stretch from March 19 through last Saturday. Yep; they posted four straight shutouts. The Avalanche actually managed to find the back of the net against St. Louis on Tuesday, but it still coasted to a 3-1 victory.
Read more articles by Ricky Dimon