This Week in Sports Betting, A-Z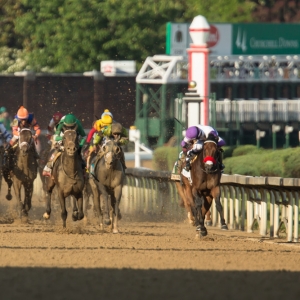 A. Ali, Muhammad . The Greatest of All Time passed away earlier this month at the age of 74 after battling Parkinson's disease for more than 30 years. R.I.P.

B. Belmont Stakes . If you missed the Belmont, well, you probably aren't alone. Such is life for the third of the three Triple Crown races when there is no possibility of a sweep. American Pharoah, after all, ain't walkin' through that door year in and year out. With Kentucky Derby winner Nyquist on the sidelines, Preakness Stakes champion Exaggerator stumbled to an 11th-place finish as Creator crossed the line first. Welp.

C. Copa America . For the first time since 1995, the United States is through to the semifinals of the Copa America. The Americans got off to a slow start in group play, but they battled into the knockout rounds with shutouts of Costa Rica and Paraguay before beating Ecuador 2-1 on Thursday. A showdown against Lionel Messi and Argentina could be the reward on Tuesday. The USMNT is +600 at Bovada Sportsbook to win the title.

D. Draymond Green . Green put a dent in his team's chances to finish off the NBA Finals at home against Cleveland in Game 5. Playing without their star power forward (reason: taking a swipe at LeBron James' man region), the Warriors lost 112-97. Green returned for the next close-out effort in Game 6 on Thursday, but the Cavs still dominated-again-via a 115-101 scoreline. Golden State is a -5 home favorite in Game 7 on Sunday, per MyBookie.ag.

E. Euro 2016 . Host nation France is the only team with two wins and zero losses so far, and the Bleus have already guaranteed a spot in the knockout rounds out of Group A. England, meanwhile, erased a 1-0 deficit against Wales and scored a goal in stoppage time to prevail 2-1 on Thursday.

F. FedEx St. Jude Classic . Daniel Berger is no longer winless on the PGA Tour. Phil Mickelson, meanwhile, is still winless since the 2013 British Open. Mickelson briefly pulled to within one shot of Berger during last Sunday's final round of the FedEx St. Jude Classic, but the 23-year-old American held on for a three-stroke victory over Mickelson, Steve Stricker, and Brooks Koepka.

G. Garbine Muguruza . Despite playing at home in Spain, the recent French Open champion saw her grass-court campaign get off to a slow start this week. Muguruza lost in the Mallorca first round to Kirsten Flipkens on Tuesday. Serena Williams must be thinking, "How can Kirsten Flipkens beat Muguruza and I can't?"

H. Hit king . Marlins' outfielder Ichiro Suzuki doubled in the ninth inning of Wednesday's game against San Diego for the 4,257th hit of his career (Japan and the major leagues combined). That moves him past Pete Rose, who hit safely 4,256 times in Major League Baseball. "The next thing you know, they'll be counting his high school hits," Rose quipped. Someone's salty. 5Dimes Sportsbook has Miami (Conley) as a -104 home favorite over Colorado (Gray) on Friday.

I. Injured . Rafael Nadal withdrew from the French Open prior to the third round because of a wrist injury, and now he is out of Wimbledon with the same problem. Action at the All-England Club gets underway in little more than a week, but the Spaniard will not be there to partake in the festivities. As for Roger Federer, he missed the French but is good to go for Wimbledon.

J. James, LeBron . In what could be a legacy-defining series, LeBron has gone into absolute beast mode in two elimination games. He scored 41 points in both Game 5 and Game 6, combining to shoot 32-for-57 and 7-for-14 from three-point range. LeBron also has 24 rebounds, 18 assists, seven steals, and six blocks in the last two contests. GT Bets has the Game 7 "over/under" at 206.5.

K. Kazakhstan . Four Kazakhstani weightlifters who won Olympic gold four years ago in London are facing sanctions on the heels of positive retesting of their doping samples. One of them, Ilya Ilyin, said he will all challenge "the complete absurdity and inconsistency of the allegations." Don't they all.

L. Logano, Joey . The youngest top-three finish in the history of NASCAR took place last Sunday at Michigan International Speedway, and it was Logano leading the way. Logano, 26, took home the checkered flag ahead of Chase Elliott, 20, and Kyle Larson, 23. The average age of 23 trumped the previous mark of 24.7, set at a trio of races in 1950 and 1951.

M. Mickey Moniak . What's the difference between the baseball draft and the basketball and football drafts? Nobody has any real idea of who the No. 1 pick is, or where he comes from. Last week it was Moniak-a high school outfielder from California.

N. Nate Robinson . The ex-NBA player and slam dunk champion recently tried out for the…wait for it…Seattle Seahawks. "He's got a lot of work to do," head coach Pete Carroll said afterward. Yeah, like becoming much bigger than 5-foot-9 and 180 pounds. BookMaker has Seattle's over/under win total at 10.5 for the upcoming regular season.

O. Oakland Athletics . The A's won actual, real-life baseball games on Sunday and Monday, and they did so by a combined score of 20-6 (6-1 at Cincinnati and 14-5 over Texas). But that was preceded by a seven-game losing streak, and they have since dropped three more in a row. Oakland is in last place in the AL West and 14.5 games back of division-leading Texas.

P. Pittsburgh Penguins . It's always good to be on the cover of Sports Illustrated after the fact, because then the jinx can't take effect-at least not until the following season. Such is the case of Sidney Crosby and the Penguins, who won the Stanley Cup for the fourth time in franchise history. Pittsburgh won in San Jose 3-1 this past Sunday to take the series in six games.

Q. Quarterback . The recruiting process was not a typical one forTate Martell, who first said he was heading to Washington before giving a verbal to Texas Tech. Martell's second waffle took him away from the Red Raiders and he has now committed to Ohio State-as of earlier this week.

R. Ravens . Breshad Perriman paid a dreaded visit to Dr. James Andrews on Monday, but Baltimore's worst fears were fortunately not confirmed. Perriman does not have a torn ACL and will avoid season-ending knee surgery. The receiver missed all of last year after being selected in Round 1 of the 2015 draft, so he has not yet played a down in the NFL.

S. Six-year deal . Fletcher Cox signed a six-year, $103-million contract with the Eagles earlier this week. The deal, which includes $63 million of guaranteed money, was referred to by Cox himself as "mind-blowing." The defensive end recorded a career-high 9.5 sacks last season.

T. Testicular contusion . Juan Uribe suffered a testicular contusion in last Sunday's game against the Angels. When asked why he doesn't wear a cup, the Indians' third baseman said the Cleveland trainers do not have any that are big enough. Too much information? The Indians are +650 at BetOnline Sportsbook to win the AL Pennant.

U. U.S. Open . The players needed rain in order to make Oakmont playable. Ironically, though, it was rain-and thunder, lightning, etc.-that made conditions unplayable on Thursday. As plenty of golfers have not even teed off for Round 1, some may be plodding through 36 holes on Friday…weather permitting, of course.

V. Von Miller . Last week the Broncos' star linebacker turned down a six-year, $114.5 million offer. On Thursday he insisted there is "no chance" he will play this upcoming season under a franchise tag. But he also says there is "no chance" he sits out the entire year. Something's gotta give. Denver is +1800 to win the Super Bowl, according to Bovada Sportsbook.


W. Wade Phillips . The Broncos had their Super Bowl ring ceremony this past weekend, but Phillips is still waiting. That's because his ring had Wade Peters on it (Adam Peters is the team's assistant director of college scouting. Oops. Phillips posted the following on Twitter:"The Ring Ceremony was great. Receiving the Ring was awesome. Seeing that they had the wrong name on my Ring, not so good."

X. Xabi and Xavi . Spanish midfielder Andres Iniesta said in a recent interview that he misses playing with Xabi Alonso and Xavi Hernandez on the national team. And why not? That trio was part of Spain's borderline dynasty that won the 2010 World Cup in addition to Euro titles in 2008 and 2012. Spain is a -200 favorite at MyBookie.ag to beat Turkey on Friday.

Y. Yu Darvish . Darvish is back from Tommy John surgery and is 2-0 with a 2.87 ERA in 15.2 innings of work for Texas this season. But the oft-injured ace went back on the disabled list earlier this week because of neck and shoulder tightness. A Monday MRI, however, revealed no structural damage. The Rangers (Hamels) are -115 favorites at St. Louis (Wacha) on Friday, as indicated by GT Bets.

Z. Zobrist, Ben . With Dexter Fowler getting a day of rest for the Cubs, Zobrist moved into the leadoff spot for Wednesday's game at Washington. He didn't waste any time making it pay off, roughing up Stephen Strasburg for a home run on the fourth pitch of the evening. Chicago, however, eventually fell 5-4 in 12 innings on a walk-off single by Jayson Werth with two outs.
Read more articles by Ricky Dimon