This Week in Sports Betting, A-Z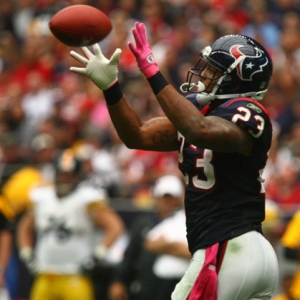 A. Arian Foster . Foster, who played seven seasons with Houston before suiting up for four games with Miami in 2016, retired earlier this week. He played a full 16-game schedule only twice and finished with 6,527 rushing yards, 2,346 receiving yards, and 68 total touchdowns.

B. Brown, Josh . He gone. The Giants' kicker, who admission of having abused his wife became public last week, was released on Tuesday. New York is +400 at Bovada Sportsbook to win the NFC East.

C. Cubs . The Cubs flew a W in the World Series for the first time since Game 6 in 1945 when they beat Cleveland 5-1 in Game 2 on Wednesday night. Jake Arrieta took a no-hitter into the sixth inning and Kyle Schwarber made the greatest comeback since Lazarus by going 2-for-4 with two RBIs. Chicago (Hendricks) is a -200 favorite over Cleveland (Tomlin) in Game 3 on Friday, per 5Dimes Sportsbook.

D. Derrick Rose . Rose was cleared by a jury in his civil rape trial last Wednesday. Things did not go as well for him on the court this Tuesday, when he finished with 17 points, one assist, three rebounds, and four turnovers in his debut with the Knicks. New York got blown out at Houston 130-103.

E. Ear . Daniel Winnik channeled his inner Evander Holyfield and lost part of an ear last Saturday. The Capitals' forward sustained the injury when he successfully-well, sort of successfully-blocked a shot during 4-2 win over the Panthers.

F. Fresno State . Tim DeRuyter has been fired as head coach of the Bulldogs, whose six-game losing streak has them at 1-7 on the year. DeRuyter went a combined 20-6 in his first to seasons in Fresno but endured losing records in both 2014 and 2015.

G. Geno Smith . Well, at least he didn't get sucker-punched by his own teammate. But the bottom line is Smith cannot catch a break. In his first start of the season, the Jets' second-round pick in 2013 suffered a torn ACL and is out for the year. Former starter Ryan Fitzpatrick returned to his post as New York beat Baltimore 24-16. The Jets are -3 favorites at Cleveland on Sunday, as indicated by MyBookie.ag.

H. Hunter, R.J. The former Georgia State star, a first-round draft pick in 2015, was waived by the Celtics earlier this week. Oh well, he'll always have the dad-falling-out-of-his-chair moment.

I. Indians . The Indians picked up a World Series win for the first time since Game 6 in 1997 when they beat Chicago 6-0 in Game 1 on Tuesday night. Corey Kluber struck out eight batters in the first three innings and ended up pitching six innings of shutout baseball. Cleveland is a +200 underdog at BookMaker to win the series.

J. Justin Thomas . It may be 2016, but the 2017 PGA Tour season has already started. Thomas is apparently a big fan of head starts, because he has now won the CIMB Classic in Kuala Lumpur on back-to-back occasions. The defending champion triumphed again last Sunday, carding a final-round 64 to prevail by three strokes at 23-under par. It's always a good day for Snapchat users when Thomas wins, because he has some of the best stories out there.

K. Keenum, Case . Keenum had a case of the interceptions last Sunday in London. The Rams' quarterback was victimized four times by the Giants, who parlayed Keenum's mistakes into a 17-10 victory at Twickenham Stadium in London.

L. Logano, Joey . Pretty much needing a win order to advance to the next round in the Chase for the Sprint Cup, Logano took home the checkered flag from last Sunday's race at Talladega Superspeedway. Qualification drama also took place behind Logano, as Denny Hamlin finished third to clinch the eighth and final spot via a tiebreaker over Austin Dillon. Logano is +800 at GT Bets to win this week in Martinsville.

M. Mahomes, Patrick . Mahomes went positively batshit crazy last weekend-albeit in a loss. Although Texas Tech fell to Oklahoma 66-59, the junior quarterback completed a ridiculous 52 of 88 attempts for 734 yards with five touchdowns and one interception. He also rushed for 85 yards and two scores. His 734 yards tied the NCAA single-game record and his 88 passes are more than Army and Navy have attempted all year. Mahomes has thrown for at least 470 yards in five of seven outings this season.

N. Nittany Lions . Ohio State was favored by 17.5 points over Penn State last Saturday. Oops! The Buckeyes are undefeated no more after the Nittany Lions made Happy Valley happier than it has ever been since the Joe Paterno era with a 24-21 upset victory. A blocked field goal returned for a touchdown with less than five minutes left in the game gave the home team an improbable win.

O.Outdoors .That's where Edmonton and Winnipeg played this past Sunday. The Heritage Classic, which marked the 19th outdoor regular-season game in NHL history, was hosted by Investors Group Field in Winnipeg. Aside from the spectacle, the Jets did not give the fans much to cheer about in a 3-0 loss to the Oilers. 5Dimes Sportsbook has Winnipeg as a -115 home favorite over Dallas on Thursday.

P. Porzingis, Kristaps . Porzingis is now the owner of the largest-ever shoe deal for a European player in the NBA. He recently signed a contract with Adidas worth between $3 million and $6 million per year. "It just felt right to be with Adidas," Porzingis explained. Translation: it just felt right to be $3 million to $6 million richer.

Q. Quarterbacks . Thanks to the Cavaliers and the Indians, Cleveland has been the sports capital of the world in recent times. It goes without saying, though, that the Browns are not part of the party. They are 0-7 this season and have used a whopping six different players to throw passes. Count 'em up: Robert Griffin III, Josh McCown, Charlie Whitehurst, Cody Kessler, Kevin Hogan, and Terrelle Pryor have all lined up under center.


R. Rafael Nadal . The 14-time Grand Slam champion announced last week that his season is over because of the wrist injury that forced him out of the French Open and Wimbledon. Nadal withdrew from this week's event in Basel, next week's tournament in Paris, and the year-end championship in London-for which he likely would have qualified.

S. Seven . Not one, not two, not three, not four…. No, Tampa Bay scored seven goals against Toronto in a 7-3 decision on Tuesday night. Six different players scored for the Lightning, with only Steven Stamkos lighting the lamp twice. Tampa Bay is a +103 underdog at Montreal on Thursday, according to BookMaker.

T. Tie . Seven weeks into the NFL season, there are more ties than undefeated teams. That's right; not a single perfect squad remains, so the '72 Dolphins have already sipped their champagne. But there was a tie last week as Arizona and Seattle combined for a grand total of zero touchdowns en route to a 6-6 deadlock. Chandler Catanzaro of the Cardinals missed a 24-yard field goal in overtime before the Seahawks' Steven Hauschka botched a 28-yarder. Each chip shot would have won the game.

U. United . It was not a good week for the two Manchester clubs in the English Premier League. Man U got blown out by Chelsea 4-0, while Man City managed only a 1-1 draw against Southampton. City, Arsenal, and Liverpool are now tied atop the EPL table with 20 points; United is in seventh place with 14 points.

V. Vayo, Gordon . We're down to the November Nine-the final table at the main event of the World Series of Poker. Vayo, a 27-year-old San Francisco resident, is in third place with 49,375,000 chips. Cliff Josephy, a 50-year-old from New York and the oldest player left, is first with 74,600,000 chips. MyBookie.ag has Josephy as a +200 favorite.

W. Williams, DeAngelo . Williams lit up Roger Goodell on Twitter last week after the NFL commissioner declined to suspend Bengals' linebacker Vontaze Burfict for a blatant low hit on Patriots' tight end Martellus Bennett. He posted the following: "So roger is concerned about player safety right? However a known offender is fined rather than removed from the field?" Should Williams be surprised? After all, this is the same Goodell who gave Ray Rice a slap on the wrist.

X. Xavier Rhodes . How bad was the Vikings' offense last week? Well, Rhodes caused two of the defense's four takeaways and Minnesota still suffered its first loss of the season. He had one interception and one forced fumble, which was recovered by safety Harrison Smith. Minnesota's offense, however, gained only 282 total yards in a 21-10 setback. BetOnline Sportsbook has the Vikings at +850 to win the Super Bowl.
Y. Yurachek, Hunter . Houston's athletic director confirmed last week that the school is in talks with head football coach Tom Herman on a contract extension. Herman was just extended last December, when his salary was almost doubled to $3 million annually, but there are concerns he may bolt because the Cougars-who are in the American Athletic Conference-are unable to join the Big 12. The Big 12 recently decided to stay at 10 teams instead of expanding. Houston is a -9.5 home favorite over Central Florida on Saturday, per GT Bets.

Z. Zatkoff, Jeff . First it was Jonathan Quick. Then it was Zatkoff. The L.A. Kings are already down to their third goalie. In fact, they were already on their third goalie for the start of their fourth game. But perhaps the third goalie (Peter Budaj) is the charm, because the Kings started 0-3 with Zatkoff in net and are now 3-3 following three straight wins with Budaj.
Read more articles by Ricky Dimon