Case of the Mondays: Carr's a Wreck After Being Plagued by Back Problems in Oakland Loss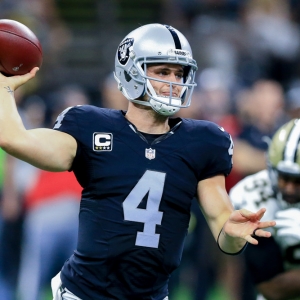 Oakland Raiders' quarterback Derek Carr exited Sunday's game against the Denver Broncos late in the third quarter due to back spasms and did not return. Adding insult to injury, the Raiders lost. It was also a rough weekend for the Dallas Cowboys, who fell at home to Todd Gurley and the Los Angeles Rams. Meanwhile, 20 different teams can begin making their offseason tee times as the Major League Baseball playoffs begin without them.

All odds provided by BetOnline Sportsbook .

Derek Carr . Carr suffered a broken fibula in Week 16 of last season, and we all saw how that turned out. With Connor Cook at quarterback, Oakland threw away the AFC West by virtue of a 24-6 Week 17 loss at Denver and exited the playoffs right away by falling at Houston 27-14. Fortunately for the Raiders, these are back spasms as opposed to an actual injury that would keep Carr out for an extended period of time. Whatever the case, Week 4 was rough. The Broncos prevailed 16-10 and held Oakland to 24 rushing yards, while E.J. Manuel replaced Carr and completed 11 of 17 passes for 106 yards with no touchdowns and one interception. The AFC West rival Kansas City Chiefs are -7 home favorites over the Washington Redskins on Monday night.

Fantasy owners who play against Todd Gurley . Gurley found the endzone "only" once on Sunday, when the Rams pulled off a 35-30 upset of Dallas. He also rushed for 121 yards and caught seven passes for 94 yards. One week earlier, Gurley ran over the San Francisco 49ers to the tune of 149 yards from scrimmage and three scores. For the season, the former Georgia Bulldog has 241 rushing yards, 140 receiving yards, and six total touchdowns. Fantasy opponents (and the Seattle Seahawks, who are visiting Los Angeles in Week 5) beware! Chiefs' running back Kareem Hunt, meanwhile, is +200 to exceed Ezekiel Elliott's rookie rushing total from 2016 (1,632 yards).

Sam Darnold .USC got off to a strong start this season with a blowout of Stanford and a thrilling overtime win over Texas included in its 4-0 record. It all came crashing down last Friday night, when the Trojans paid a visit to Washington State and lost 30-27. Cougars' head coach Mike Leach, the mad scientist of college football, watched his team churn out 462 yards of total offense, and Darnold could not quite keep up. USC's signal-caller completed only 15 of 29 passes for 164 yards with no touchdowns and one interception plus a lost fumble on his team's final drive of the game. The Trojans are -34 home favorites over Oregon State on Saturday.

LSU . Losing at Mississippi State 37-7 was bad-especially when the Bulldogs followed up that win by getting blown out at the hands of Georgia and Auburn by a combined 67 points. But things got even worse for LSU this past weekend. The school paid Troy $985,000 to come to Baton Rouge for Homecoming, and to say the return on investment was a disappointment would be a gross understatement. The Trojans stunned LSU 24-21, after which their university's official Twitter account posted, "Hey @LSU, thanks for having us down for homecoming! We really enjoyed it!" Count Tigers' head coach Ed Orgeron among the SEC coaches on the hot seat, along with Tennessee's Butch Jones. Chip Kelly is a +325 favorite to be head coach of the Volunteers in 2018.

Milwaukee Brewers . It was all but over for the Brewers when they dropped three of four games to the Chicago Cubs last week. It was officially over for them when they squandered a 6-1 lead and lost to the St. Louis Cardinals 7-6 this past Saturday. Milwaukee, which led the National League Central division throughout the first half of the season before losing it to Chicago, had been keeping pressure on the Colorado Rockies for the NL's second wild-card spot. In the end, the Brewers finished one game out (86-76 compared to Colorado's 87-75). The Rockies (Gray) are +158 underdogs at the Arizona Diamondbacks (Greinke) in the wild-card game on Wednesday.

Rick Pitino . The Louisville head coach is out. Well, he is on unpaid administrative leave at the moment-but he will officially be fired later this week. Pitino and athletic director Tom Jurich were the first to go after the basketball program was linked to a federal investigation into fraud and corruption in recruiting. According to reports, Pitino is the coach mentioned in a federal complaint who funneled $100,000 to recruit Brian Bowen. The 65-year-old, who is being replaced on the Cardinals' bench by interim David Padgett, is prepared to fight his dismissal. "Right now it's in the lawyers' hands," Pitino explained. "I went to Miami. I'm selling my house (in Louisville). I love David Padgett; I love the boys. I hope they win the National Championship. I'm not doing anything but laying low." Duke is a +500 favorite to win the NCAA Tournament.

Chelsea . The Blues fell farther back on the English Premier League table when they dropped a 1-0 decision at home against Manchester City this past Saturday. Adding insult to injury, or vice versa, Chelsea saw striker Alvaro Morata go down with a hamstring injury in the first half. The club was also victimized by one of its former players, as Kevin De Bruyne-who left in 2014-found the back of the net in the 67th minute for the lone goal of the match. Chelsea, which was already three points back of Man City, is now six points behind the Premier League leaders. The Sky Blues are tied with in-city rival Manchester United with 19 points, five ahead of next-best Tottenham Hotspur. Manchester City is a -150 favorite to win the EPL title.
Read more articles by Ricky Dimon