Case of the Mondays:Thanksgiving Blues for Cowboys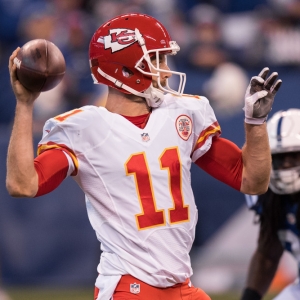 While the Philadelphia Eagles continue to feast on the NFC, the Dallas Cowboys are getting gobbled up by any and all opponents since Ezekiel Elliott was suspended. The result is a changing of the guard in the NFC East, where Philadelphia sits pretty with a 10-1 record-a ridiculous five games clear of the second-place Cowboys and Washington Redskins. A much different story is developing in the AFC West, where three teams are very much in contention.

All odds provided by BetOnline Sportsbook .

Dallas Cowboys . With Elliott, Dallas was 5-3 and riding a three-game winning streak heading into a Nov. 12 date with the Atlanta Falcons. That's when the former Ohio State standout was finally suspended, and his team has been unable to recover. The Cowboys got blown out by Atlanta 27-7, followed that up with a 37-9 humiliation against Philadelphia, and most recently fell at home to the Los Angeles Chargers 28-6 in a Thanksgiving Day embarrassment. Despite needing obvious help at running back for an offense that has suddenly become anemic, Dallas waived Darren McFadden on Sunday. The Cowboys are -1.5 home favorites over the Washington Redskins on Thursday night.

Michael Crabtree . For the first time in his 121-game NFL career, Crabtree went without a reception. And it is not hard to figure out why. The Raiders' veteran receiver was ejected in the first quarter of his team's 21-14 win over the AFC West rival Denver Broncos for fighting with cornerback Aqib Talib. Crabtree, perhaps still upset from a 2016 incident in which Talib ripped a chain off his neck, blocked excessively on a running play before the melee ensued. "We can't afford to lose one of our top receivers and then our starting guard because he went over there and helped his buddy," Oakland head coach Jack Del Rio said, referencing Crabtree and Gabe Jackson. "We can't get two guys tossed like that." The Raiders are -7.5 home favorites over the New York Giants in Week 13.

Alabama . The Crimson Tide are undefeated and No. 1 in the nation no more. Their perfect season and potential SEC title went up in smoke with a 26-14 loss in the Iron Bowl last weekend. Head coach Nick Saban, has by no means given up on a spot in the College Football Playoff. "I think this team deserves an opportunity to get in the playoff by what they've been able to accomplish and what they've been able to do," Saban explained. "Certainly not…[against Auburn], but I think the team we played tonight is a very good football team-probably one of the best teams in the country." Alabama may need help this upcoming weekend in the form of losses by Oklahoma and Wisconsin. Auburn is a -2.5 favorite over Georgia in Saturday afternoon's SEC Championship in Atlanta.

Notre Dame . Unless you're Auburn because of its schedule or Notre Dame because of-well, because it's Notre Dame-two losses mean the end of your national title hopes. The Fighting Irish's shot was already a long one, but now they are totally out of the discussion with their third setback of the 2017 campaign. Two weeks after getting pasted 41-8 by Miami (FL), Notre Dame lost at Stanford 38-20 this past Saturday night. The Cardinal erupted for three touchdowns in the span of 3:36 during the fourth quarter to break the game wide open. Stanford is a +3 underdog at USC on Friday.

Derrick Rose . The injury-plagued point guard left the Cleveland Cavaliers last Wednesday to contemplate his future-or lack thereof-in the NBA. Rose has missed 12 of his team's 21 games this season, including the last eight due to an ankle issue. The absence is excused. "I don't have a time frame," head coach Tyronn Lue said of Rose's potential return. "You know, I want him to take his time…. It's a personal matter. Just know the team, the coaches, the organization, we all have his back. I wish him well, and we expect to have him back." LeBron James, meanwhile, is +125 to be with Cleveland for the first game of the 2018-19 regular season.

Philadelphia Flyers . Not one, not two, not three, not four, not five, not six…. No, the Flyers have lost a whopping seven games in a row dating back to Nov. 11. On the bright side, four of those losses have come in either overtime or a shootout-although that also means that Philadelphia could be so much better. Instead, the team has plunged into last place in the Metropolitan Division with 22 points at 8-9-6. The Flyers are winless in their last six contests that have been tied after regulation, after winning their first such game of the season via a 3-2 OT decision at the Anaheim Ducks on Oct. 7. Philly is a +136 road underdog against the Pittsburgh Penguins on Monday night.

Texas . Speaking of overtime setbacks, the Longhorns endured two of them at this past week's Phil Knight tournament in Portland, Ore. On Friday, Texas led Duke by 16 points in the second half before melting down and falling 85-78 in extra time. One day later it was the Longhorns' turn to mount a comeback of their own as they stormed back from a 21-point second-half deficit to force OT against Gonzaga. But the 'Horns could not maintain momentum and ended up succumbing to the Zags 76-71. Texas is +6600 to win the National Championship; Duke is a +400 favorite.
Read more articles by Ricky Dimon