Case of the Mondays: Texas Lose Watson, Lose to Colts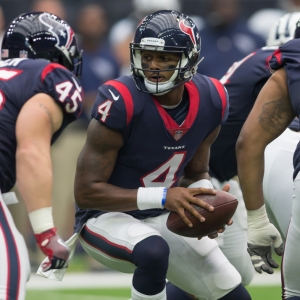 Houston, you have a problem. Although the fan-base still has to be riding the high of the Astros' World Series title, its NFL team is reeling. Rookie sensation Deshaun Watson suffered a torn ACL during practice last week and is out for the season. With Watson sidelined, the Texans fell at home to the lowly Indianapolis Colts. For the Tampa Bay Buccaneers, Jameis Winston did not make it through their blowout loss to the New Orleans Saints.

Odds provided by BetOnline Sportsbook unless otherwise indicated.

Deshaun Watson . To say it has been a tumultuous few weeks for the Texans would be a gross understatement. It all started with owner Bob McNair's "We can't have the inmates running the prison" comment. It continued with a 41-38 loss at Seattle, during which Watson-in hindsight-may have injured his right knee. The injury got much, much worse last Thursday, when the star rookie was diagnosed with a torn ACL after going down in practice. On Sunday, replacement Tom Savage completed only 19 of 44 passes for 219 yards with one touchdown and no interceptions as Houston fell to the previously 2-6 Colts 20-14. The Texans are +11 underdogs at the Rams in Week 10.

Jameis Winston . Unlike Watson, Winston is not out for the season. But Tampa Bay's season might as well be done and dusted. The Buccaneers fell to 2-6 with Sunday's 30-10 loss at New Orleans (6-2). For those counting, that means the NFC South-leading Saints now lead Tampa Bay by four games (but by just one game over the Carolina Panthers). Winston, who was already nursing a minor shoulder injury, did not play after halftime. The former Florida State star finished 7-of-13 for 67 yards with no touchdowns or interceptions and was replaced by Ryan Fitzpatrick. New Orleans is a -2 favorite at Buffalo in its next game.

Florida . Former head coach Jim McElwain got the boot following a week in which he made unsubstantiated claims of having received death threats and then lost to Georgia 42-7. Things did not improve in week one under interim Randy Shannon. The Gators got blown out 45-16 by Missouri, a team that went into the contest with a 3-5 record. Linebacker David Reese called out his team afterward. "It's sometimes disappointing when everybody doesn't want to come together and just play for each other," Reese said. "That's sad to see. We've still got a lot to play for. Me personally and our defense, we want to play for those guys. We can't have appearances like we just had today. That's unacceptable." Florida is a +8 underdog at South Carolina on Saturday.

J.T. Barrett . What a difference a week makes. In Ohio State's wild 39-38 comeback win over then-undefeated Penn State, Barrett passed for 328 yards and four touchdowns while also rushing for 95 yards. Seven days later, the senior threw four interceptions in a 55-24 loss at Iowa. The Buckeyes had climbed to No. 6 in the first College Football Playoff rankings, but their second setback of the season eliminates them from contention. "I didn't see any signs," head coach Urban Meyer said of a potential letdown. "Usually I see signs and if I do, I address them…. We just didn't play very well." Ohio State is a -15 home favorite over Michigan State this weekend.

Los Angeles Dodgers . The wait continues for the Dodgers to put all of their talent together and win a World Series that their payroll suggests they should. They came within one game this season but could not get across the finish line. Following a wild Game 5 loss at Houston, Los Angeles needed to win two straight at home in order to capture the title. The Dodgers took care of business in Game 6 only to see Yu Darvish get off to a rocky start in the decisive Game 7 last Wednesday. Houston scored twice in the first inning, three times in the second, and coasted to a 5-1 victory. The Astros are +500 favorites at Bovada Sportsbook to win the 2018 World Series; L.A. is a +550 second choice.

Okafor, Jahlil . The No. 3 overall pick in the 2015 NBA Draft wants to be traded from the Philadelphia 76ers or have his contract bought out. Okafor has played in just one of nine games this season. Unsurprisingly, the team recently declined top pick up the former Duke standout's fourth-year option. "I did not want them to pick up my option," Okafor said of the Sixers. "This is my life. This is my career, and I'm not getting an opportunity here, which is fine. The team looks great and I'm not a part of that. I want the team to do great things, but at the same time I want to play." LeBron James, who also can't be feeling good after Cleveland lost at home to lowly Atlanta on Sunday, is +2000 to play for Philadelphia at the start of the 2018-19 campaign.

Anaheim Ducks . The Ducks lost all three of their games last week, taking only one point in the process. They fell to Toronto, Nashville, and San Jose in succession, scoring a grand total of five goals in those three contests. Anaheim at least managed to push the Sharks to overtime on Saturday before succumbing in a shootout. The Ducks, who have dropped to fifth place in the Pacific Division, are 20th in the NHL in goals per game (2.8) and second to last in power-play conversion percentage (11.9). Anaheim is +1600 to win the Stanley Cup; the Tampa Bay Lightning are +800 favorites.



Read more articles by Ricky Dimon