Case of the Mondays: How did that quarterback change work out for ya?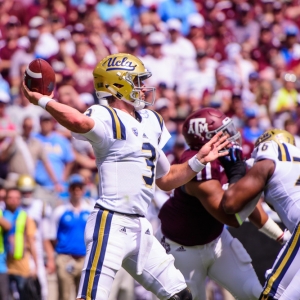 There are bad decisions, and then there is Bills' head coach Sean McDermott's decision to bench starting quarterback Tyrod Taylor and replace him with Nathan Peterman. The rest is history-an infamous history that Buffalo can only wish to erase from its franchise record books. Peterman threw five interceptions on the way to a 54-24 loss to the Chargers. Will Peterman get another chance? In the college ranks, we already know that Jim Mora Jr. is not getting another chance to coach UCLA's final regular-season game.

All odds provided by BetOnline Sportsbook .

Sean McDermott . Peterman did not just throw five interceptions. He threw five interceptions in the first half. The rookie-a fifth-round draft pick out of Pittsburgh-was making his first NFL start one week after filling in for Taylor midway through a 47-10 home loss to New Orleans. "I'm going to take my time and evaluate it," McDermott said of the QB situation for this week's game against Kansas City. "I'm going to make the decision that I feel is right for this football team…. I felt like this was the right situation for Nate to come in and play. I don't regret my decision. I regret the result. We didn't get the result we were looking for. So I don't regret the decision at all." If McDermott needs "time" to "evaluate" five interceptions in a single half of football, you have to wonder about his coaching acumen. The Bills are +9.5 underdogs at the Chiefs .

Brett Hundley . Speaking of a quarterback problem, the Packers have one of their own. That is never the case in Green Bay whenever Aaron Rodgers is healthy, but Rodgers is out for the season with a broken collarbone. In Sunday's 23-0 loss to Baltimore, things went from bad to worse for Hundley-who had two touchdown passes and four interceptions through his first four games of the season. The former UCLA signal-caller was picked off three times by the Ravens and, as the score indicates, did not throw any touchdowns. Green Bay is +2500 to win the NFC North.

Jim Mora Jr. The SEC has been dominating college football coach talk of late, but now the Pac-12 is entering the fray. On Sunday, UCLA decided it no longer needed Mora's services following a 28-23 loss at rival USC. The Bruins kicked off the season with an absolutely shocking comeback win over Texas A&M, but it has gone downhill in a hurry following a 2-0 start. They are 3-6 in their last nine games and 1-3 in their last four. UCLA must win this upcoming weekend against California in order to become bowl eligible. As for Mora's entire tenure at UCLA, he went 46-30 overall-but a disappointing 17-19 on the heels of a 29-11 start. The Bruins' loss to USC was their third in a row in that historic matchup. USC, meanwhile, is +12500 to win the National Championship.

Oklahoma State .The Cowboys needed a loss by TCU either this past weekend at Texas Tech or coming up against Baylor in order to have a shot at playing in the Big 12 Championship. TCU took care of the Red Raiders and it almost certainly won't lose to Baylor, so whatever Oklahoma State did likely didn't matter in terms of its Big 12 chances. Now it definitely doesn't matter. The Cowboys suffered their third loss of the season-and third at home-via a 45-40 decision against Kansas State. Thus their already faint hopes of a College Football Playoff appearance were snuffed out. "We all need to look at ourselves and figure out what's going on because for whatever reason, we're not showing up," admitted head coach Mike Gundy, whose team has dropped two of its last three games. Oklahoma State is a -40.5 home favorite over Kansas on Saturday .

Dallas Mavericks . Amazingly enough, the Mavericks won an actual basketball game this past Saturday. They made surprisingly easy 111-79 work of Giannis Antetokounmpo's Bucks. So, why is Dallas feeling blue (aside from the fact that they are still the worst team in the NBA at 3-14) on Monday? Well, the Mavericks have to go up against Boston twice in the next two weeks-including tonight. The Celtics are the best team in the league at 15-2 and have won an incredible 15 games in a row. Boston has not lost since the first two days of the season on Oct. 17 and 18 to Cleveland and Milwaukee, respectively. Its streak includes a recent upset of Golden State. Good luck with that, Dallas! The Mavericks are +6.5 home underdogs against the Celtics.

Ottawa Senators . If the NHL season ended today, the Senators would miss out on the playoffs by one spot (they are tied for ninth place in the Eastern Conference with 22 points). But they could be so much better. Ottawa leads the league with a whopping six overtime losses (including four in shootouts), and no other team has more than four such setbacks. The Senators are in the midst of a three-game losing streak (one of the overtime variety), having fallen to Pittsburgh on Thursday, to Arizona on Saturday, and to the Rangers on Sunday. They have not won a game since Nov. 11.Arizona, meanwhile, is a +196 underdog at Toronto on Monday.

Donald Trump . Get your popcorn ready for Trump vs. LaVar Ball. In fact, it better already be ready, because it's already here. The President of the United States wanted thanks-and apparently he wanted a lot of it-after the three UCLA players who were arrested for shoplifting in China successfully flew back to Los Angeles last week. But he hasn't been getting any thanks from LaVar (LiAngelo Ball, his son, was one of the three), and Trump isn't happy. "Now that the three basketball players are out of China and saved from years in jail, LaVar Ball, the father of LiAngelo, is unaccepting of what I did for his son and that shoplifting is no big deal," the POTUS posted on Twitter. "I should have left them in jail!" When asked about Trump's involvement, LaVar said, "Who?" What was he over there for? Don't tell me nothing. Everybody wants to make it seem like he helped me out." Trump sure isn't going to enjoy hearing that. UCLA is +4000 to win the National Championship.
Read more articles by Ricky Dimon