Case of the Mondays: Thunder Lose Big in Durant's Return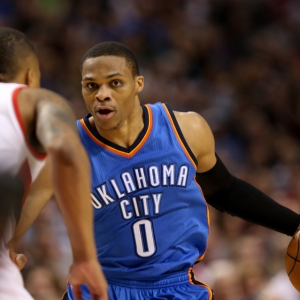 Kevin Durant's return to Oklahoma City did not end well for the home team this past Saturday night. Once Durant's sidekick and now a borderline one-man show, Russell Westbrook did not have enough to lead the Thunder past Golden State. Indiana's week on the hardwood was even worse than that of OKC as the Hoosiers saw their recent skid continue with losses at the hands of Purdue and Michigan.

All odds provided by BetOnline Sportsbook .

Russell Westbrook . Durant's first game back in Oklahoma City as a member of visiting squad was predictably chippy and predictably one-sided. Durant, who got into a shouting match with Westbrook and literally went face to face with Andre Roberson, led the Warriors with 34 points in a 130-114 victory. Westbrook scored 47 points to go along with 11 rebounds and eight assists, but he went 3-for-10 from three-point range and turned the ball over 11 times. OKC is 3-5 in its last eight games and down to seventh place in the Western Conference. The Thunder are +5 underdogs at Washington on Monday.

Indiana . For the first time since 2013-14 and for the second time in the span of seven seasons, March Madness may come and go without the Hoosiers being a part of the festivities. They are a modest 15-11 overall and tied for the 10th in the Big Ten with a 5-8 conference record. Head coach Tom Crean's team has lost three in a row to Wisconsin, Purdue, and Michigan and is 1-5 in its last six outings. Indiana, which fell to both the Boilermakers and Wolverines at home last week, trailed Michigan by as many as 13 points in the first half and never recovered en route to a 75-63 setback. Purdue is +4000 to win the National Championship; top-ranked Gonzaga is a +650 favorite.

Jordan Woodard . As bad as things have been for Indiana, perhaps no team is feeling as low on the college basketball hardwood as Oklahoma. The Sooners are a horrendous 8-16 and 2-10 in the Big 12. A brief two-game streak to the good in mid-January came in between a pair of seven-game losing streaks. In its effort to end the current seven-game skid, Oklahoma will be without Woodard. The senior point guard suffered a torn ACL in the second half of last Saturday's 80-64 loss at Iowa State, OU's second in a row by double-digits (previously lost to West Virginia 61-50). Woodard is the team's leading scorer at 14.6 points per game. West Virginia is a +4.5 underdog at Kansas on Monday night.

Winnipeg Jets . Only one team (Detroit) has lost as many games in a row (four) as Winnipeg at the moment. The Red Wings, though, were pretty much already out of the playoff race in the East. After all, they are the worst team in the entire conference with 54 points. The Jets, on the other hand, had been in legitimate postseason discussion in the West. But they have suffered consecutive setbacks at the hands of Colorado, Minnesota, Chicago, and Tampa Bay. Winnipeg did not take a single one of those contests to overtime and was outscored by a combined 11 goals. The Jets are +8000 to win the Stanley Cup; Washington is a +400 favorite.

Brandt Snedeker . No one was going to beat Jordan Spieth heading into Sunday at the AT&T Pebble Beach Pro-Am (unless he endured a Masters-esque meltdown). And nobody did. Snedeker briefly showed signs of mounting a charge, but he failed to put anything together down the stretch and therefore never seriously challenged Spieth. A two-time champion of the event, Snedeker birdied three of the first six holes in the final round to whittle the deficit from six strokes to four. But he bogeyed the ninth and parred every single hole on the back nine as Spieth coasted to a four-shot victory. Spieth is a +650 favorite to win the Masters.

Rafael Nadal . According to reports, this will be Toni Nadal's last season on tour as a traveling coach of his nephew. In 12 seasons with Uncle Toni as his primary coach, Nadal has won 14 Grand Slam titles. The former world No. 1 hired Carlos Moya last fall and Moya will presumably remain on board when Toni starts devoting most of his time in 2018 to the Rafael Nadal Tennis Academy in Mallorca, Spain. "The relationship with my nephew has always been excellent," Toni assured. "In all these years we have never had periods of crisis. (But) the truth is that every year I am making fewer decisions, to the point that I won't be deciding anything anymore." It's not necessarily a bad thing for Nadal, but he can't like all the rumors of discord that this has sparked in the media. Nadal is a +250 second choice behind Novak Djokovic to win the French Open.

Leicester City . What a difference a year makes. Leicester City won it all in 2015-16-undoubtedly the most shocking result in English Premier League history. Fast forward just one season and the Foxes are in danger of being relegated. They are in 17th place out of 20 teams on the table and just one point clear of a spot in the bottom three, an ignominious distinction that would knock them out of EPL competition for at least one year. Leicester has lost five straight matches and has slumped through six consecutive outings without scoring a single goal. Chelsea is -800 to win the Premier League title.
Read more articles by Ricky Dimon