Case of the Mondays: Packers Lose, Rodgers Breaks Collarbone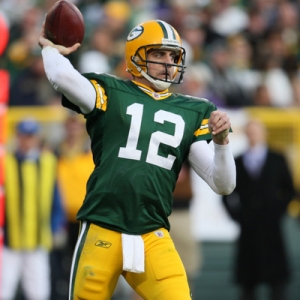 What is going on in the NFC? The Cowboys are 2-3 and may be without Ezekiel Elliott for six games, the Falcons aren't waiting until the Super Bowl to collapse this season, and now the Packers have lost quarterback Aaron Rodgers. In a loss to Minnesota on Sunday, Rodgers suffered a broken right collarbone and could miss the rest of the year. It was a similarly bad weekend for Clemson, which fell to Syracuse after seeing its starting QB go down.

Odds provided by BetOnline Sportsbook unless otherwise indicated.

Aaron Rodgers . Rodgers left in the first quarter of Sunday's 23-10 setback at Minnesota after being hit by Vikings' linebacker Anthony Barr. He was replaced by backup Brett Hundley, whose first pass of the game was intercepted by Xavier Rhodes. In what may be a sign of things to come for Green Bay in life without Rodgers, Hundley finished 18-for-33 with 157 yards, one touchdown, and three interceptions.The Packers are +4.5 home underdogs against New Orleans in Week 7.

New York Jets . What was that?!?! Arguably the most bizarre call in an NFL game since the "Fail Mary" in 2012 came in New York's 24-17 loss to New England on Sunday afternoon. And "bizarre" may be putting it generously for the officials. With the Jets trailing 24-14 at the 8:24 mark of the fourth quarter, Austin Seferian-Jenkins appeared to score on a four-yard reception. Following a review, however, it was ruled that Seferian-Jenkins bobbled the ball and did not re-establish control before he-and the ball-went out of bounds in the endzone for a touchback. How referee Tony Corrente found such evidence to be conclusive is up for discussion. "I'm pretty sure everybody is going to look back and say that was a B.S. call," receiver Jermaine Kearse commented.The Patriots are -3 home favorites over Atlanta on Sunday night.

Clemson . A one-loss Clemson team that wins the ACC Championship would still have a decent shot at making it to the College Football Playoff. In fact, just last year the Tigers fell to Pittsburgh during the regular season and ended up winning it all. Still, this past Friday night was rough. Clemson went into the Carrier Dome and lost to Syracuse 27-24. The Tigers, who were favored by a whopping 24 points, saw Kelly Bryant leave late in the first half with a concussion. "It wasn't our night tonight," head coach Dabo Swinney admitted."They were better than us. We're not going to be 12-0, that's for sure; that's not going to happen. This is going to hurt, but you move forward…. Every goal is there for this team. We've got to get better from this (to) have the type of season we want to have."

Jordan Sherit . Florida's senior defensive end is likely heading for hip surgery, meaning his season-and his college career-is over. Sherit was injured during the fourth quarter of a 19-17 loss to Texas A&M and had to be helped off the field. He had a team-high nine quarterback hurries through six games in addition to 23 tackles (five for loss), and 2.5 sacks. Sherit had four tackles, a half-sack, and a pair of QB hurries against Texas A&M before exiting. The Gators, who are also without quarterback Luke Del Rio for the remainder of the 2017 campaign, have lost two games in a row by a grand total of three points-a stretch that started by falling at LSU 17-16. LSU is -7 road favorite over Ole Miss this week.

Washington Nationals . Death, taxes, and Washington sports franchises melting down in the postseason…. The Capitals have not even reached the conference finals since 1997-98, when they lost to Detroit in the Stanley Cup Finals. That is a stretch of 12 playoff appearances without advancing past the second round. But it is still better than Nationals, who have not won a single playoff series since arriving in the nation's capital from Montreal. The Nats are 0-4 in the NLDS, with all four losses coming in the last six years. They won 97 games this season but promptly fell to the defending World Series champion Cubs. Washington extended the series back home only to lose an absolutely wild Game 5 by a 9-8 margin last Thursday. Max Scherzer is +110 to win the NL Cy Young Award (MyBookie.ag).

Louis Domingue . Through five games, the Arizona Coyotes are sporting just a single point in the NHL standings. For those counting, that means they have zero wins, one tie, and the rest losses. Arizona has been doubled on the scoreboard by its opponents, with a -11 margin (22-11). Domingue's futility-and that of the defense as a whole-is a big reason why 22 pucks have found the back of the net. The 25-year-old Canadian is 0-3 with a 4.55 goals-against average and a .862 save percentage. That being said, Antti Raanta has not been much better. He is 0-1-1 with a 3.33 GAA and a .911 SVP.The Blackhawks are +900 favorites to win the Stanley Cup.

USMNT . Perhaps no team is feeling worse right now than U.S. men's soccer. For the first time since 1986, the United States will not be a part of the World Cup. The Americans blew their qualifying bid with a dreadful 2-1 loss at Trinidad and Tobago last Tuesday. That combined with wins by Panama and Honduras eliminated the U.S. men's national team in shocking fashion. Unsurprisingly, manager Bruce Arena resigned shortly thereafter. "When I took the job last November, I knew there was a great challenge ahead, probably more than most people could appreciate," Arena wrote."Everyone involved in the program gave everything they had for the last 11 months and, in the end, we came up short. No excuses. We didn't get the job done, and I accept responsibility." Germany is a +500 favorite to win the 2018 World Cup.
Read more articles by Ricky Dimon