Case of the Mondays: At What Price Glory?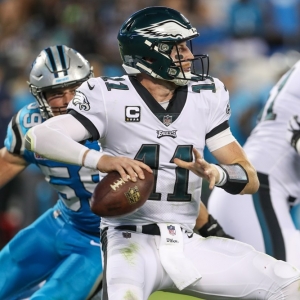 The Eagles clinched the NFC East on Sunday evening. They also lost their starting quarterback for the rest of the season. Carson Wentz left his team's win over the Rams in the third quarter with a knee injury that was confirmed on Monday to be a torn ACL. Fellow QB Marcus Mariota also injured a knee, although not as severely, but his Tennessee team still has a long, long way to go before it can think about a division title.

Odds provided by BetOnline Sportsbook unless otherwise indicated .

Carson Wentz . On Philadelphia's second drive of the second half during its 43-35 victory over Los Angeles, Wentz dove into the endzone for an apparent two-yard touchdown run. At some point during the play, the MVP candidate sustained what was later diagnosed as a torn ACL. Adding insult to injury, the TD was called back by a holding penalty (but the Eagles scored a few plays later). Wentz was replaced by Nick Foles, who will run the show for 11-2 Philadelphia the rest of the season. The Eagles are now +450 to win the NFC and +1000 to win the Super Bowl.

Marcus Mariota . Wentz was not the only up-and-coming quarterback who endured a rough day at the office. Unlike Wentz, Mariota returned after missing the end of just one series. Also unlike Wentz, however, his team did not win. The Titans' signal-caller sustained a knee injury in the first quarter of a 12-7 loss at Arizona. Mariota finished out the game, but his mobility was clearly limited. The former Oregon standout went 16-for-31 with 159 yards, no touchdowns, and no interceptions. He also had two keepers for 11 yards and was sacked three times. It was an especially expensive setback for Tennessee, which had been tied with Jacksonville at 8-4 and leading the AFC South because of the head-to-head tiebreaker. The Jaguars now lead by a game thanks to their victory over Seattle. The Titans are +2 underdogs at San Francisco in Week 15.

Navy . The Army-Navy game never disappoints, no matter the score. Last weekend's latest installment of the rivalry certainly did not disappoint…unless you're a Navy fan. For the first time since a five-game run from 1992 through 1996, Army has defeated Navy twice in a row. On the heels of last year's 21-17 success, the Cadets survived a 14-13 thriller at Lincoln Financial Field in Philadelphia. They had previously lost 14 straight to the Midshipmen heading into the 2016 tilt. Navy, which led most of the way during Saturday's showdown in the snow, almost took what likely would have been an insurmountable 17-7 lead in the third quarter, but Malcolm Perry got tripped up at the 11-yard line with the endzone in his sights. The Midshipmen settled for a field goal and a 13-7 advantage, eventually seeing Army score the game-winning touchdown with 5:10 remaining. Navy went on to miss a field goal wide left as time expired. "(We) came up a couple of feet short," head coach Ken Niumatalolo commented. "This is a great rivalry. It was another classic game." The Midshipmen are +1.5 underdogs against Virginia in the Military Bowl on Dec. 28.

Portland Trail Blazers . It's early, but right now the Trail Blazers are hovering in that range of either missing the playoffs altogether or being forced to face either Golden State, Houston, or San Antonio in the first round. Currently 13-12 and in sixth place in the Western Conference (but also just one game ahead of ninth-place Oklahoma City), Portland has lost four consecutive games. After winning three in a row to cap off a 4-1 road trip, the Blazers promptly went 0-4 on a four-game home-stand. To make matters worse (most likely), Portland has to go up against Golden State on Monday night. The Trail Blazers are +10.5 road underdogs .

Winnipeg Jets . It is good to be back home for the Jets, who have won six straight at the MTS Center and have taken points in 10 consecutive games in their own friendly confines. On a three-game road trip this past week, however, Winnipeg lost all three and took only one point in the process with a 4-3 overtime setback against Tampa Bay on Saturday. The Jets allowed an alarming 15 total goals during their trek through Detroit, Florida, and Tampa Bay. They are now in third place in the Central Division, five points back of Western Conference-leading St. Louis. Winnipeg is a -180 home favorite over Vancouver on Monday.

Miami Marlins . Derek Jeter no longer plays for the Yankees, of course, but he may still be their MVP. As part of the Marlins' latest salary-dumping fire sale, Jeter and the rest of the front office traded Giancarlo Stanton New York last week. And Miami did not get a whole lot in return, because…well…they are not interested in getting anything in return this offseason. The Yankees sent Starlin Castro to South Beach (he may not stay there long) and did not have to part ways with any of their top prospects. The Yankees are +450 favorites to win the World Series.

Manchester United . Not far away from the halfway point of the season, Manchester City is running away with the English Premier League. Absolutely needing a home win over their arch rival, Manchester United suffered a 2-1 home loss on Sunday evening. Man U picked up an equalizer during first-half stoppage time on a goal by Marcus Rashford, but Man City's game-winner came courtesy of Nicolas Otamendi in the 54th minute and United had no answer this time. A victory would have kept the second-place Red Devils in striking distance, five points back of City. Instead, they find themselves a daunting 11 points behind after 16 matches (22 remaining). Manchester City is a whopping -3000 favorite to win the Premier League title (MyBookie.ag).
Read more articles by Ricky Dimon