Case of the Mondays: Rodgers' Return Ends on Brink of Elimination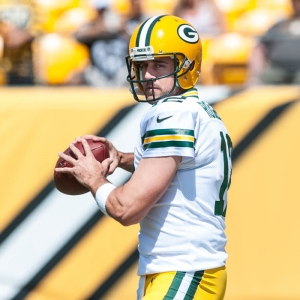 Aaron Rodgers returned from a seven-game absence, but a trip to Carolina still proved to be too tough of a task for the Packers. Doomed by a flurry of turnovers, Green Bay lost to the Panthers 31-24 to find itself on the mathematical brink of playoff elimination. Cincinnati head coach Marvin Lewis, meanwhile, will not be returning next season. With the Bengals slumping at 5-9, Lewis' 15-year tenure will end without a single playoff victory.

Odds provided by BetOnline Sportsbook unless otherwise indicated .

Aaron Rodgers . Normally when you throw more touchdown passes in a game than Rodgers throws interceptions, it doesn't mean much. It meant a lot for Cam Newton on Sunday. Newton tossed four TD strikes, one more than the number of times Rodgers was picked off by Carolina's defense. The end result was a 31-24 loss by the Packers, who are now just 7-7 this season. "I felt pretty good; I just missed some throws," the two-time NFL MVP admitted. "You know, I missed some ones I used to hit; just uncharacteristic plays. (I) was disappointed in my performance today. I obviously didn't play very well." The Panthers are +250 to win the NFC South.

Marvin Lewis . Bad news for Lewis: he may not be a head coach in the NFL again anytime soon. Good news for Lewis: he does not have to coach the Bengals anymore-at least not after two more games elapse. The 59-year-old announced just prior to Sunday's game at Minnesota that will he leave the team at the end of this season to pursue other opportunities around the league. Lewis likely did nothing more than prevent Cincinnati's upper management from having the enjoyment of firing him. The Bengals promptly got blown out by the Vikings 34-0 for their third straight loss. Cincy is a +4 home underdog against Detroit on Christmas Eve.

Oregon . Star players sitting out non-College Football Playoff bowl games is becoming a trend-and a disturbing one for their teams. It continued last Thursday, two days before Oregon's appearance in the Las Vegas Bowl, when head coach Mario Cristobal announced that Royce Freeman would not play. The senior running back rushed for 1,475 yards and 16 touchdowns this season, finishing his career at No. 7 on the all-time FBS rushing list with 5,621 yards. Without Freeman, the Ducks gained an anemic 47 yards on 28 carries on the way to a 38-28 loss at the hands of Boise State. Bowl season is expected to culminate in a National Championship for Alabama. The Crimson Tide are +175 favorites to win the College Football Playoff.

Los Angeles Lakers . It can't be a good feeling when you wake up on Monday morning and realize this is what the week has in store for you: home game against Golden State on Monday, game at Houston on Wednesday, and game at Golden State on Friday. For those counting, that's three games against the two best teams in the NBA in the span of five nights. The Rockets (24-4) have won a whopping 13 in a row, and the Warriors (23-6) are in the midst of an eight-game surge. The Lakers, who also host Portland this coming Saturday, are back in action following a less hectic week in which they went 0-2 with losses at New York and Cleveland. Golden State is -200 to win the NBA title.

Toronto Maple Leafs . When you're in the Atlantic with Tampa Bay (NHL-best 50 points, current seven-game winning streak), you can't avoid many-if any-lapses along the way if you have serious division-title aspirations. The Maple Leafs endured just that this past week. Things appeared to be starting well enough when Toronto led Philadelphia 2-1 after two periods last Tuesday before giving up three goals in the third for a 4-2 loss. The Leafs could not recover from that meltdown as they fell 2-0 at Minnesota on Thursday and 3-1 at Detroit on Friday. Toronto is now tied for third place in the Eastern Conference, nine points back of the Lightning. The Maple Leafs are +380 to reach the Stanley Cup Finals ( MyBookie.ag).

Markell Johnson . N.C. State announced over the weekend that its starting point guard has been suspended indefinitely for a violation of the school's Student-Athlete Code of Conduct. Johnson started the first 10 games this season and is averaging 8.7 points, 6.6 assists, and an ACC-leading 2.4 steals per game. The sophomore missed last Saturday's game against UNC-Greensboro, which added insult to injury for the Wolfpack. Taking advantage of undermanned N.C. State, the Spartans went into Raleigh and scored an 81-76 upset. ACC rival Duke is a +450 favorite to win the National Championship.

Tottenham Hotspur . Losing to Manchester City is nothing about which to be ashamed. Eighteen opponents have tried during this English Premier League season and 18 have failed to beat the Sky Blues, although Everton at least managed a draw way back on Aug. 21. But the Spurs did not even come close to being competitive with Man City this past Saturday, when they suffered a 4-1 road setback. City took the lead in the 14th minute and led 4-0 before the visitors found the back of the net in meaningless fashion toward the end of second-half stoppage time. Tottenham is now in seventh place on the EPL table with 31 points and in danger of missing out on a spot in the 2018-19 Champions League (fourth-place Liverpool has 34 points). Manchester City is an overwhelming favorite to capture the Premier League title and it is also a +250 favorite to win the Champions League.
Read more articles by Ricky Dimon