Case of the Mondays: Ohio State Out of College Football Playoff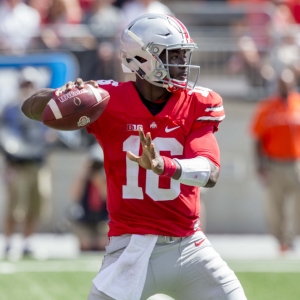 Three teams were locks: Clemson, Oklahoma, and Georgia. For all intents and purposes, it all came down to Alabama and Ohio State for the fourth and final spot in the College Football Playoff. In the end, the committee went with the one-loss Crimson Tide over the two-loss Buckeyes even though 'Bama is not a conference champion. At least OSU made a case for itself; the same cannot be said for Miami (FL).

Odds provided by BetOnline Sportsbook unless otherwise indicated .

Ohio State . In one sense, Ohio State took care of business this past Saturday night. In another sense, it didn't. Despite beating Wisconsin 27-21 in the Big Ten Championship, the Buckeyes were left out of the playoff. Compare and contrast this situation with 2014, when OSU absolutely walloped the Badgers 59-0 to capture the Big Ten title. That prompted the committee to let Buckeyes in, after which they promptly rolled to the National Championship with victories over Alabama and Oregon. This time, the six-point margin over Wisconsin failed to move the needle. "We had a job to do in Indianapolis, and we did it," Ohio State head coach Urban Meyer said. "The College Football Playoff committee had a job to do, and they did it. We respect it, move forward, keep swinging, and the most important thing is to go win this next game for our seniors." The Buckeyes are -7 favorites over USC in the Cotton Bowl .

Miami (FL) . The ACC Championship might as well have been a national quarterfinal-the winner would be in; the loser would be out. And to say that it is the Hurricanes who are out would be a colossal understatement. Coming off their first loss of the season to Pittsburgh, the 'Canes never got back on track against a much tougher opponent in the form of Clemson. The Tigers, who have now won three consecutive ACC titles, led 21-0 before three minutes had elapsed in the second quarter. They scored the first 38 points of the game and coasted to a 38-3 blowout. Clemson is headed to the Sugar Bowl for a semifinal showdown with Alabama, while the Rose Bowl pits Georgia against Oklahoma. Miami is set for the Orange Bowl for a date with Wisconsin. Alabama is a +200 favorite to win the National Championship.

Tyrod Taylor . You know things are dire when Nathan Peterman-of five interceptions in a single half fame-enters a game at quarterback. And things were certainly dire for the Bills on Sunday, when they lost to New England 23-3. Taylor left in the fourth quarter, carted to the locker room with a left-knee injury. He completed nine of 18 attempts for 65 yards and was intercepted once before exiting. Peterman went 6-of-15 for 50 yards with no touchdowns or interceptions. The Patriots are -12 road favorites over Miami next Monday night.

Memphis Grizzlies . Not one, not two, not three, not four…not nine, not 10…. No, the Grizzlies have lost a ridiculous 11 games in a row. It goes without saying that firing David Fizdale has failed to cure whatever is ailing Memphis. Three more setbacks have ensued since J.B. Bickerstaff took over as interim head coach, although the schedule has been difficult with two games against San Antonio and one versus Cleveland. Bickerstaff was encouraged following a 116-111 road loss to LeBron James and the Cavaliers this past Saturday. "That effort tonight would have beaten 90 percent of this league on their home court," Bickerstaff said. "Unfortunately, they've got a guy who is pretty damn good." The Grizzlies are +2.5 home underdogs against Minnesota on Monday.

Derek Dorsett . The hockey-playing career of the Canucks' forward is over. Dorsett, 30, underwent cervical fusion surgery in December of 2016 and hoped to make a full recovery, but those hopes ended last Thursday when his surgeon-Dr. Robert Watkins-advised him to call it quits. "I'm devastated by the news," the 30-year-old admitted. "It will take a long time for this to truly sink in. "As hard as it was to hear, Dr. Watkins' diagnosis is definitive. There is no grey area, and it gives me clarity to move forward." Dorsett returned for 20 games this season and produced seven goals and two assists. Vancouver is +1800 to win the Western Conference ( Bovada Sportsbook ).

Iran and Morocco . Good luck advancing out of group play! If Iran and Morocco have designs of qualifying for the round of 16 at the 2018 World Cup, they will have to finish ahead of either Portugal or Spain. That's right; the Portuguese and the Spaniards landed in the same group when the World Cup draw ceremony was conducted this past Friday in Moscow, Russia. Cristiano Ronaldo-led Portugal is ranked No. 3 on FIFA's current list, while Spain-which won it all in 2010-registers at sixth. Germany is a +450 favorite to win the World Cup.

Charley Hoffman . Hoffman took a five-shot lead into the final round of the Hero World Challenge, so he probably figured an even-par 72 would be enough to get the job done. And it was more than enough to hold off all of the guys who were five strokes behind and tied for second going into Sunday. But it was nowhere near enough to stay in front of Rickie Fowler. The 28-year-old American fired an 11-under 61 to beat Hoffman by four; 18-under to 14-under. Fowler's front-nine card read birdie, birdie, birdie, birdie, birdie, birdie, birdie, par, birdie. Is that good? It's not bad! He added three more birdies on the back nine without making a bogey. Tiger Woods turned in rounds of 69, 68, 75, and 68 to tie for ninth with Matt Kuchar at 8-under. Tiger is +1800 to win the Masters next spring (Bovada Sportsbook).
Read more articles by Ricky Dimon