Expert World Cup Soccer Handicapping: Most Favorable Draws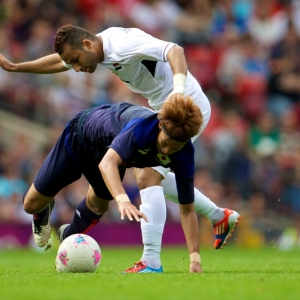 The World Cup starts June 14 in Moscow when Russia plays Saudi Arabia, and now we know what the schedule looks like for the tournament. The draw was completed last week, and as usual it provided no shortage of drama and intrigue. Unlike recent tournaments, we were not given a true group of death. The closest we came was having neighbors and rivals Spain and Portugal in the same group, but the other two teams in the group - Morocco and Iran - are far from strong, so both top teams are likely to advance regardless of what happens when they clash. And other top times like Brazil, Argentina and France have little to complain about.
When you dig into the draw, though, there are two teams that stand out above the rest as the most blessed and fortunate in terms of who they have to play. One is the favorite to win it all, while the other is a long shot that found their chances of advancing increase dramatically due to the draw. Here's a look at each:
Egypt: There are five African teams in the field, and of those Egypt has the most advantageous draw. In fact, it's tough to find any team that got off easier than Egypt did.
They are a team that would generally be considered a fringe Round of 16 contender at best. But things went as well as they could hope. The best team in Group A is Uruguay, but they are far from where they were last time around. They are a fine team but not a great one. Prior to the draw teams are split into four pots of eight teams each based on their ranking. There is one exception - Russia, as host, is in the top group even though they are the lowest-ranked team in the whole tournament. So, Egypt, which is in Pot 3, drew by far the worst team in Pot 1. Uruguay is the second-lowest seed in Pot 2. And Saudi Arabia is not only the lowest seed in Pot 4 but also the second lowest seed in the field behind Russia. The only way Egypt could possibly have an easier path, on paper at least, is if Croatia was in their Group from Pot 2 instead of Uruguay.
Egypt is in very solid shape to advance. Of course, it's not like Egypt is dominant, either - they are sixth of eight teams in their Pot. You could rightly argue, then, that the host Russians got close to the easiest draw they could have gotten as well. And there are, not surprisingly, many people who are suggesting that that isn't exactly just a fluke.
Russia is a lousy team that is really in tough to do anything, but if it is going to happen for them it is more likely in this group than almost anywhere else. Interestingly, oddsmakers aren't as high on Egypt as I am. They are the third choice to win the group at +125 at BetOnline , well behind Uruguay and Russia. The betting public is obviously giving the Russians a lot of credit for home-field advantage, but I really don't believe it will matter. Egypt offers value here.
Germany: The Germans hardly need help. They are the top-ranked team in the world, they are the defending World Cup champions, and they won the Confederations Cup earlier this year to prove that they can win in Russia. They are going to be tough to beat no matter what, but they also got a fairly soft path through round robin play.
Mexico is just the sixth-highest seed in Pot 2, and even that feels somewhat inflated by playing a very troubled region. They just aren't great right now, and they really aren't ready to challenge the Germans. Sweden is middle-of-the-pack in Pot 3 and has an effort level that far exceeds their talent. They will make things interesting, but again they are far from the level of the Germans. And South Korea is the second-lowest seed in Pot 4, which makes them the third-lowest seed in the tournament. They will not have any fun at all playing the defending champs.
Germany is ready for this tournament and would likely have won any group they were placed in, but putting them in this group was essentially giving them a gift. Looking beyond the round robin, Germany has a very favorable likely path to the rounds that matter as well. Their first elimination game, assuming they do win the group, is against the runner-up in Group E. Brazil is likely to win that group, and second best, which is likely Switzerland, isn't going to challenge a German team in top form. Then they would likely play the winner of Group H, which is the group most lacking a star aside from the Group A featuring Argentina, Russia and Egypt. Germany is favored to win the tournament at +450.
Want free sports betting picks? Doc's Sports has you covered - get $60 worth of picks free from any of Doc's Sports expert handicappers. Click here for free picks (new clients only) .
Read more articles by Trevor Whenham