This Week in Sports Betting A-Z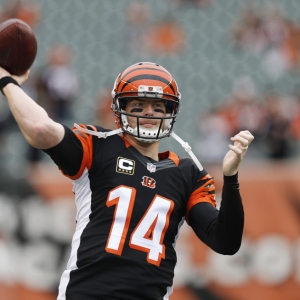 A. Antoine Griezmann . The Atletico Madrid and French national team forward recently dressed up as a black basketball player for an '80s party. And get this: painting his whole body black was only the third dumbest thing he did. Second dumbest: he posted photos on social media. Dumbest: he defended himself by saying he is a Harlem Globetrotters fan, but he was wearing a 1969 NBA All-Star jersey-not a Harlem Globetrotters jersey. Wow.

B. Bengals . How Marvin Lewis finagled his way out of Cincinnati without officially getting fired is mystery that will befuddle residents of the Queen City for years and years. Now in his 15th season with the Bengals, Lewis has never won a single playoff. And that is not going to change, because his team is 5-8 and has lost its last two games by a combined score of 67-14. 5Dimes Sportsbook has Cincinnati as a +4.5 home underdog against Detroit on Sunday.

C. Comeback . After missing seven weeks with a broken collarbone, Aaron Rodgers returned for what will likely amount to nothing more than a one-game cameo appearance. In Sunday's visit to Carolina, the Packers' quarterback threw three interceptions as part of his team's four turnovers during a 31-24 loss. That result dropped the Packers to 7-7, and Atlanta's Monday night win eliminated them from playoff contention. As such, they have every reason to shut Rodgers down for the last two games.

D. Devils . Not the Blue Devils. No; let's talk about the Sun Devils! Arizona State (10-0) climbed to No. 3 in the AP poll on Monday, tying its best ranking in program history. Picked to finish sixth in their own conference (Pac-12), the Sun Devils climbed ahead of Duke and Wichita State. Arizona State is a +1000 fourth choice at Bovada Sportsbook to win the National Championship.

E. ESPN . ESPN president John Skipper resigned on Monday, citing a longtime problem with substance addiction. The worldwide leader in sports is ready to say goodbye to a tumultuous 2017.

F. Freeman, Royce . Channeling his inner Leonard Fournette and Christian McCaffrey, Freeman sat out Oregon's bowl game last Saturday. The Ducks sure could have used the No. 7 all-time rusher in FBS history in the Sun Bowl as they lost to Boise State 38-28.

G. Gurley, Todd . RIP to the Seahawks' season. RIP to any fantasy owners who were playing against Gurley in the playoffs. He racked up 180 yards from scrimmage and four total touchdowns as the Rams hammered Seattle 42-7 in Week 15. Los Angeles is a -6.5 favorite at Tennessee on Sunday, per BetOnline Sportsbook.

H. Hewitt, Lleyton . Hewitt is coming out of retirement-again-to play doubles with fellow Aussie Sam Groth at next month's Australian Open. A singles comeback does not appear to be forthcoming…even though Hewitt is the same age as current world No. 2 Roger Federer.

I. Incomplete pass . Um, NFL? In the words of Vince Lombardi, "what the hell's going on out here?" The league can't define a catch, and it is using index cards to measure first downs. Whatever the case, Steelers' tight end Jesse James was ruled to have dropped what would have been a game-winning touchdown pass, and his team thus lost to New England 27-24. The Patriots are -110 favorites at GT Bets to win the AFC.

J. Justin Fields . The No. 1 prospect in the nation has announced that he will sign on Wednesday. A QB from Kennesaw, Ga., Fields is expected to stick with his verbal commitment to Georgia despite late pushes by Florida State, Florida, and Texas A&M.

K. Kyle Palmieri . The New Jersey Devils have activated Palmieri after the 26-year-old forward missed 12 games due to a foot injury. He has four goals and five assists in 14 games this season.

L. Locked in . "Find your zone and just stay f------ locked in" is what LeBron James told Lonzo Ball following Cleveland's 121-112 victory over the Lakers last Thursday. So much for covering his mouth with his jersey. And Lonzo will need to be locked in, because L.A. is in the midst of games against Cleveland (already lost), Golden State (already lost), Houston (Wednesday), and Golden State again (Friday). The Cavaliers are -1.5 favorites at Milwaukee on Tuesday, as indicated by MyBookie.ag.

M. Manchester City . Not one, not two, not three, not four, not five…. No, Man City has won 16 consecutive English Premier League matches. The Sky Blues already had the record at 15 before they crushed Tottenham Hotspur 4-1 this past Saturday. Tottenham, which trailed 4-0 before scoring a meaningless goal three minutes into second-half stoppage time, are now seventh on the EPL table-21 points behind lead-leading City.

N. Nick Saban . In last week's senator election in Alabama, Doug Jones defeated Roy Moore by 1.5 percent. Approximately 22,000 voters (or 1.7 percent) cast write-in ballots. So if all 22,000 write-in voters penciled in Saban and would have otherwise voted for Moore, then Alabama's head coach decided the election. That's way too many "ifs," but it's fun to imagine! The Crimson Tide are +175 favorites at BetOnline Sportsbook to win the College Football Playoff.

O. Ohtani, Shohei . After signing with the Angels earlier this month, the two-way Japanese player was found to have a sprain of his ulnar collateral ligament. Usually the words "ulnar collateral ligament" are followed closely by "Tommy John" and "Dr. James Andrews." But that may not be the case for Ohtani if it remains just a sprain.

P. Pulisic, Christian . Pulisic scored the game-winner in Borussia Dortmund's 2-1 victory over Hoffenheim during Bundesliga action last weekend. A week earlier, Jozy Altidore and Michael Bradley led Toronto FC to the MLS title. Where was all of this when the U.S. men's national team was trying to qualify for the World Cup?


Q. Quiet . Anna Kournikova and Enrique Iglesias have kept things extremely quiet over their decade-plus together. Nobody even knew Kournikova was pregnant until she gave birth to twins last weekend. And there's still time for a comeback, just like another tennis-playing mother. Kournikova, 36, is actually the same age as Serena Williams.


R. Rodney Anderson . A sexual assault investigation of Oklahoma's sophomore running back has been dropped, and he will likely have the green light to play in the Rose Bowl against Georgia on New Year's Day. Bowl season continues on Tuesday, when Florida Atlantic is a -23 favorite over Akron in the Boca Raton Bowl, according to Bovada Sportsbook.

S. Selling . Amidst a misconduct scandal (what's new?), Jerry Richardson has announced that he is selling the Panthers. Diddy has already taken to Twitter to express either real or fake interest; so, too, have Colin Kaepernick and Stephen Curry.

T. Toronto Maple Leafs . Last week was not a productive one for the previously formidable Maple Leafs. They allowed three goals in the third period alone of a 4-2 loss Philadelphia and could not recover, also losing at Minnesota (2-0) and at Detroit (3-1). Minnesota is -110 to win at Ottawa on Tuesday, per GT Bets.

U. UNC-Greensboro . UNCG stunned N.C. State 81-76 last weekend, and head coach Wes Miller had the greatest entrance into a postgame locker room celebration since Roy Williams (who coached Miller at North Carolina) after the 2016-17 National Championship. At the other end of the spectrum, it added insult to injury for N.C. State. The Wolfpack recently suspended starting point guard Markell Johnson indefinitely for a violation of the school's Student-Athlete Code of Conduct.

V. Vinatieri, Adam . The only thing than handles snow worse than the city of Atlanta is Vinatieri's bank account. Amidst blizzardy conditions during a Week 14 game at Buffalo, the Colts' kicker went 0-for-2 as his team fell 13-7. That dropped Vinatieri to 88 percent (22-for-25) on the season. He gets a $500,000 bonus if he makes 90 percent of his field goals.

W. Walking boot . Just two months after it looked like his leg split in two and he suffered a dislocated ankle, Gordon Hayward shed his walking boot last week. The Celtics tried to temper fan enthusiasm by saying they do not expect him back at any point in 2017-18.

X. Denotes clinched playoff berth . The Jacksonville Jaguars are going to the playoffs. Yes, the Jacksonville Jaguars are going to the playoffs. Their first postseason appearance since the 2007 campaign was clinched with a 45-7 blowout of Houston in Week 15. What's next: the Cleveland Browns winning a football game? Okay, let's not get carried away. MyBookie.ag has the Jags as +300 favorites to land Eli Manning in 2018.

Y. Yelich, Christian . This is real-life "Last of the Mohicans" situation, as Yelich is basically the only good player that Derek Jeter and the rest of the Marlins' front office has not traded. The 26-year-old center fielder expressed unhappiness on Monday, but Miami is insisting that he is not going anywhere.

Z. Zero . That's how many losses the Rockets have in their last 14 games. They extended the streak to 14 with a 120-99 defeat of Utah on Monday night. Houston is a +250 second choice at BookMaker to win the Western Conference.
Read more articles by Ricky Dimon