This Week in Sports Betting A-Z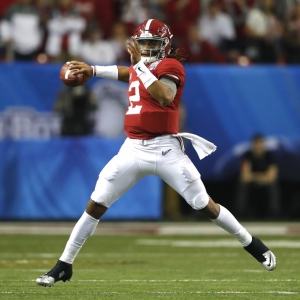 A. Alabama . That awkward moment when Alabama's basketball team made arguably even more news than its football team on the same day as the Iron Bowl…. On the hardwood, the Crimson Tide played the last 10:50 of their game against Minnesota with only three players. That was due to multiple ejections for a fight, a foul-out, and an injury. Amazingly, 'Bama outscored the Golden Gophers 30-22 during those 10 minutes and 50 seconds en route to an 89-84 loss. In the words of coach Norman Dale in Hoosiers, "My team is on the floor."

B. Big Ten/ACC Challenge . The ACC is off to a roaring start to the 2017 Big Ten/ACC Challenge, with a 6-1 record after two days. Syracuse, Virginia, Georgia Tech, Florida State, Virginia Tech, and Wake Forest picked up victories, while Louisville ruined everything for its conference by losing to Purdue. And the ACC still has Duke and North Carolina to take the court on Wednesday. GT Bets has Duke as a +350 favorite to win the National Championship.

C. Chip Kelly . After speculation that he would be headed to Florida, Kelly landed at UCLA last week. The Bruins hired him to replace Jim Mora Jr., while the Gators ended up going with former Mississippi State head coach Dan Mullen.

D. David Fizdale . Fizdale got the boot as head coach of the Grizzlies earlier this week. Marc Gasol is partying like its 1999, while LeBron James and Stephen A. Smith are among those up in arms about it.

E. Ezekiel Elliott . No Elliott, no problem? Yeah, right. Dallas wishes that was the case. Instead, the Cowboys-who were 5-3 with their starting running back on the field-have lost three in a row since his suspension. The season hit a low point on Thanksgiving Day with a 28-6 home loss to the Chargers. Dallas is a +1 home underdog against Washington on Thursday, per BetOnline Sportsbook.

F. France . Tennis, which has the shortest offseason of any sport in existence, wrapped up 2017 with the Davis Cup final last weekend. France won the sport's team competition for the 10th time-and first since 2001-by beating Belgium 2-1. The 2018 campaign is already less than five weeks away.

G. Gordon, Josh . The Browns' receiver has not played since Week 16 of the 2014 season, but he has been reinstated to the NFL and will make his 2017 debut against the Chargers on Sunday. "Oh boy, let me tell you," head coach Hue Jackson said when asked about his plans for Gordon. "I have big plans for him. I plan for him to play and play as much as he can handle. He's a very talented player. He needs to get out there and play but we have to see where he is and make sure how much can he handle; how much can he do."

H. Hero World Challenge . Tiger Woods has not hit a golf ball in a competitive round since late January at Torrey Pines. That is scheduled to change on Thursday, when the Hero World Challenge begins in the Bahamas. Tiger is +3300 at Bovada Sportsbook to win the tournament.

I. Iron Bowl . Auburn was a home underdog against Alabama this past Saturday, but arguably the hottest team in the nation was too much to handle for an undefeated opponent. The Crimson Tide suffered their first loss of the season as the Tigers captured the SEC West title with a 26-14 victory. Auburn is a -2.5 favorite over Georgia in the SEC Championship, according to MyBookie.ag.

J. Julio Jones . Atlanta's star receiver had all of one touchdown catch through the first 10 weeks of the season. Jones doubled that total last Sunday alone, when he exploded for 253 yards and two TDs on 12 catches during the Falcons' 34-20 win over Tampa Bay. R.I.P. to anyone who played against him in fantasy.

K. Kyrie Irving . The Celtics' flat-Earther guard is still waiting for Mad Mike Hughes to prove that the Earth is flat. Hughes was going to blast himself off in a homemade rocket last weekend in hopes of proving as much but reportedly could not get federal permission for the launch. Perhaps he just decided he wanted to live a few more days.

L. Lifetime ban . Shoeless Joe Jackson, Pete Rose, and others now have company from John Coppolella of all people. The former Braves' general manager received a lifetime ban for violating rules regarding the international free agent market and then failing to cooperate with Major League Baseball's investigation.

M. Mbah a Moute, Luc Richard . Mbah a Moute was an unbelievable plus-57 in Houston's 125-95 rout of Denver last Wednesday. It is the best plus-minus recorded in any NBA game over the past two decades. 5Dimes Sportsbook has the Rockets as -11.5 home favorites over Indiana on Wednesday.

N. Notre Dame . If you're Auburn because of the difficult schedule-and the quality of wins-or Notre Dame just because it's Notre Dame, two losses can be overcome. The Tigers are doing just that as they will get in the College Football Playoff if they beat Georgia. Notre Dame was still in distant contention going into last week, but a third loss to Stanford-which scored three touchdowns in the span of 3:36 in the fourth quarter-ended the Fighting Irish's title hopes.

O. Overtimes . Texas lost in overtime at last week's Phil Knight tournament in Portland not once, but twice. The Longhorns first fell to Duke 85-78 in extra time after blowing a 16-point second-half lead. They turned the tables one day later, when it was UT's turn to mount a major comeback. Gonzaga blew all of a 21-point advantage in the second half but recovered to hold off the 'Horns 76-71 in OT.

P. Philadelphia Flyers . Not surprising: the Flyers lost to San Jose on Tuesday. Surprising: they did not even take it to overtime. Philadelphia has lost a ridiculous nine games in a row, and an amazing five of its last seven setbacks have come in either overtime or a shootout. The team is now finds itself in last place in the Metropolitan Division with 23 points at 8-9-7. Philly is 0-7 in its last eight overtime games and has no such wins since beating Anaheim 3-2 in OT on Oct. 7. The Ducks are +177 underdogs at St. Louis on Wednesday, as indicated by GT Bets.


Q. Quo . It's status quo through one leg of the Major League Soccer Eastern Conference final between Toronto and Columbus. They tied last week's match in Columbus 0-0. BookMaker has Toronto as a -186 home favorite on Wednesday.


R. Rose, Derrick . Rose left the Cavs last Wednesday to contemplate his future-or lack thereof-in the NBA. The injury-plagued point guard has missed 14 of his team's 23 games this season, many due to an ankle issue.

S. Sixers . At 11-8, the 76ers would be the No. 5 seed in the Eastern Conference playoffs if the season ended today. Joel Embiid is leading the entertaining, up-and-coming club with 22.8 points, 11.2 rebounds, 3.2 assists, and 1.7 blocks per game.

T. Talib, Aqib . Channeling their inner first-graders, Talib and Michael Crabtree touched of a brawl during last week's Broncos vs. Raiders game. It stemmed from a grudge dating back to last season when the Denver cornerback yanked a chain off of Crabtree's neck. Both were ejected in the first quarter of Oakland's recent 21-14 victory, thus ending Crabtree's career-opening streak of 120 straight games with at least one reception.

U. UCF . Head coach Scott Frost is likely headed back to Nebraska sooner rather than later, but just let Central Florida enjoy things while they last. The Knights improved to 11-0 by surviving a 49-42 thriller against South Florida last Friday.

V. Volunteers . Just when you thought Tennessee could not look any worse after its on-field performances and handling of Butch Jones' firing, it is completely muffing up the search process. The Vols hired Ohio State defensive coordinator Greg Schiano and then backed out because some people got upset. Now they have reportedly whiffed on Oklahoma State head coach Mike Gundy. Arkansas' job is also open, and Auburn's Guz Malzahn is a +160 favorite at BetOnline Sportsbook to land it.

W. Wall, John . The Wizards' star point guard has missed three of the team's last five games after initially sustaining a knee injury on Nov. 7. Wall will reportedly miss another week of action.

X. Xavier Rhodes . Get your popcorn ready for Rhodes vs. Jones on Sunday. It will also be a battle of potential playoff teams when Minnesota visits Atlanta. The Vikings are +380 at MyBookie.ag to win the NFC title; the Falcons are +580.

Y. Yu Darvish . With the winter meetings two weeks away, MLB free agency will soon heat up. Darvish is one of the hottest pitchers on the market despite his World Series Game 7 woes. The Cardinals and Twins are among the interested parties.

Z. 'Zona . Going from No. 1 to unranked in a single season is one thing. Doing so in a single week is something entirely different. In the fastest disappearing act since James Earl Jones' character walked into the Field of Dreams cornfield, previously top-ranked Arizona lost to N.C. State, SMU, and Purdue on consecutive days during the Battle 4 Atlantis in the Bahamas. The Wildcats are -24.5 home favorites over Long Beach State on Wednesday, per Bovada Sportsbook.
Read more articles by Ricky Dimon