Sports Betting Futures Odds: Movings and Shakings in the Football and Basketball Offseason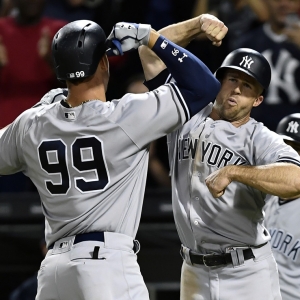 Hugh Freeze is out as head coach at Ole Miss. Carmelo Anthony may soon be out as the face of the New York Knicks' franchise. Yes, there is plenty going on in football and basketball even though they are not in season. As for baseball, the regular season is well into its second half, and Yankees' slugger Aaron Judge remains a serious MVP candidate.

Odds provided by BetOnline Sportsbook unless otherwise indicated .

American League MVP

Free $60 in Member Sports Picks No Obligation Click Here
Aaron Judge (-165)
- Still a rookie because he did not play enough in 2016 to erase that distinction, Judge may have more hardware coming his way than simply Rookie of the Year. The Home Run Derby champion leads the majors with 32 homers (tied with Giancarlo Stanton) and is batting a stellar .310.

Jose Altuve (+175)
- Speaking of American League leaders, Altuve is the best in the business with a .364 average (Jean Segura is next at .327) and he tops the AL in wins above replacement, as well. Houston's second baseman also has 15 home runs, 59 RBIs, 72 runs scored, and 21 stolen bases.
George Springer (+650)
- With a 67-33 record, the Astros are the best team in the American League by a mile. That only helps their MVP candidates, and they have two very realistic ones. Joining Altuve is Springer, who is hitting .310 with 27 homers, 66 RBIs, and 82 runs scored.
Mike Trout (+1100)
- The two-time MVP (2014, 2016) is in the mix once again this season, but the Angels are under .500 (49-52) and have some work to do for a wild-card spot. Trout is batting .327 with 19 home runs, 42 RBIs, 42 runs scored, and 12 stolen bases. Mookie Betts of the Red Sox is a +1400 fifth choice.


Ole Miss next head coach

Chad Morris (+250)
- Morris was born and raised in Texas before attending Texas A&M (now an SEC rival of Ole Miss). Still with his roots in the Lone Star State, he is currently the head coach at SMU. Two unspectacular seasons have his record at 7-17 (2-10 followed by 5-7).

Derek Dooley (+400) - Dooley has plenty of head-coaching experience, including in the SEC. But he never posted a winning season at Tennessee (15-21 overall record from 2010 through 2012) and he previously went 17-20 at Louisiana Tech with one winning mark (8-5 in 2008).

Blake Anderson (+600) - Formerly the offensive coordinator at Southern Miss and North Carolina, Anderson is in the midst of his first head-coaching gig with Arkansas State. He has compiled three winning seasons in three attempts, most recently going 8-5 in 2016.

Les Miles (+650) - The splashiest hire, of course, would involve Miles. In 11-plus seasons with LSU (an SEC West rival of Ole Miss), the Tigers won one National Championship and also lifted the SEC trophy in 2011. Current University of Memphis head coach Mike Norvell is a +800 fifth choice.

Carmelo Anthony first game of 2017-18

Houston Rockets (-130) - Carmelo once again wants out of New York (allegedly), and there are plenty of suitors if he does. The Rockets have already brought in Chris Paul to join James Harden, so they are one piece away from a "Big 3" of their own.

New York Knicks (+275) - Of course, there is no guarantee that Carmelo is going anywhere. He has lasted this long with the Knicks despite many years of rumors, so what's to say he won't last a little longer? But Kristaps Porzingis is becoming the rock of the franchise.

Cleveland Cavaliers (+600) - Who knows what exactly is going on in Cleveland? The offseason has been a tumultuous one, most recently featuring a trade demand by Kyrie Irving and the signing of Derrick Rose to a one-year contract. But there's certainly still room for Carmelo.

Portland Trail Blazers (+1400) - Damian Lillard and C.J. McCollum are on the roster and have reached out to Carmelo in hopes of luring him into what would be a three-man show. There are reports that the Blazers could be part of a three-team deal but may not be getting Carmelo.

Canadian Open

Dustin Johnson (+650) - The world No. 1 finished runner-up at the Canadian Open last summer, one shot off the pace set by Jhonattan Vegas. Johnson also tied for second in 2013. Can he get over the hump this week? Johnson has struggled since missing the Masters and he is coming off two missed cuts and a T54 at the British.

Matt Kuchar (+1100) - Kuchar narrowly missed out on his first major title as he led the British Open with five holes to go before Jordan Spieth's epic finish snatched the Claret Jug from his grasp. The 39-year-old American was runner-up along with Johnson four years ago in Canada and he placed a solid T7 in 2015.

Charley Hoffman (+2200) - Hoffman joined Kuchar in a tie for seventh at this tournament two years ago. Playing arguably the best golf of his life in 2017, the 40-year-old American could improve on that result. He contended at the Masters, was eighth at the U.S. Open, and is coming off a solid T20 showing at Royal Birkdale.

Tony Finau (+2500) -The 27-year-old American has made the cut in Canada each of the last two seasons. Finau has made 18 of 23 cuts in 2017 with five top-10 performances, including at the Greenbrier Classic earlier this month. Bubba Watson, the runner-up to Jason Day in 2015, is a +2800 fifth choice.
Free Preakness picks? Doc's Sports has been a leader in Triple Crown handicapping for more than four decades, and we are offering new clients $60 in Preakness Stakes picks - there is no obligation for this offer. Click here for more details and to get your $60 in free picks .
Read more articles by Ricky Dimon