Sports Betting Futures Odds: And Then There Were Four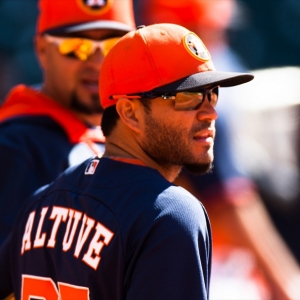 Last year's Major League Baseball Playoffs-or at least the World Series-were positively bananas. It looks like the 2017 version is doing its best to produce a memorable encore. The Dodgers and Astros cruised through the first round, but the Yankees staged a stunning comeback to oust Cleveland and the Cubs survived a thriller against Washington.

All odds provided by BetOnline Sportsbook .

World Series

Los Angeles Dodgers (+180) -Los Angeles was wildly up and down throughout the second half of the season, but now that Clayton Kershaw is healthy it has steadied the ship. The Dodgers rolled over NL West rival Arizona, outscoring the Diamondbacks 20-11 in three games. Kershaw, Kenta Maeda, and Yu Darvish is a scary rotation.

Houston Astros (+225) -With the Indians out, Houston (101-61) has home-field advantage in the ALCS. It had no real problem against Boston in the ALDS, continuing to dominate at the plate while getting great pitching from Dallas Keuchel and Justin Verlander. Is this the year, or are the Astros still a year away?

Chicago Cubs (+400) -These are not the same Cubs that finally won it all in 2016. As seen against the Nationals, the bullpen is mediocre at best. Jake Arrieta has slumped and Jon Lester has not been as good as he was last season. But the bottom line is Chicago just wins. Its 9-8 Game 5 victory at Washington was an absolutely wild one.

New York Yankees (+400) -The Yankees trailed Minnesota 3-0 in the AL wild-card game and erased that deficit. They lost the first two games of the ALDS against Cleveland and, more improbably, dug out of that hole, as well. Aaron Judge is going to have to increase the homers and decrease the strikeouts for New York to have a shot.

To go 0-16

Cleveland Browns (+800) -The Browns went 4-28 the past two seasons and just barely avoided going winless in 2016 by compiling a 1-15 record. They do not appear to be any better this year, with opening losses to Pittsburgh, Baltimore, Indianapolis, Cincinnati, and the Jets. The Ravens at home in Week 15 could be the spot.

New York Giants (+800) - You would not have expected the Giants to be on this list after five weeks of the season. But here they are. And Odell Beckham Jr. won't be walkin' through that door to save New York. Neither will fellow receiver Brandon Marshall, as both are out for the year due to ankle injuries.

San Francisco 49ers (+1200) -San Francisco, of course, was a much more likely candidate for 0-16 heading into the 2017 campaign. If nothing else, first-year coach Kyle Shanahanhas his team looking better than the Browns and Giants. The 49ers have been outscored by a grand total of five points in regulation in their last four games.

Any team (+300) - Hedging your bets and going with any of Cleveland, New York, and San Francisco to go 0-16 is a much safer play. Although it's still not likely. Only the 2008 Lions have completed a full 16-game slate without a victory. The 49ers have the hardest remaining schedule of the three, but they also look like the best of the bunch.

To make the NBA playoffs

Philadelphia 76ers (-220) - The oddsmakers are trusting the process, expecting Philadelphia to be in the playoffs for the first time since 2011-12. Although the 76ers won only 28 games last season, it was still an 18-game improvement from 2016-17. If Joel Embiid can stay healthy, this franchise will remain on the rise.

Los Angeles Clippers (-170) - With Chris Paul having taken his talents to Houston, it is the end of an era for the Clippers. Blake Griffin and DeAndre Jordan are, however, back. Austin Rivers is also in the mix, and former Rockets Lou Williams and Patrick Beverly are now on board. The Clips will be worse but should make the playoffs.

New York Knicks (+425) - Playoffs?!?! We're talkin' about playoffs?!?! Well, probably not. On their own accord, the Knicks have no business being in the postseason. But the Eastern Conference may be just that bad. There are going to be some absolutely atrocious teams in the East. Of course, Carmelo-less New York may be one of them.

Los Angeles Lakers (+600) -LaVar Ball says Lonzo will have the Lakers in the playoffs in his first season. Then again, LaVar says a lot of things and has never been too concerned with whether or not they are true. The Lakers are young should be good in a few years, but a postseason berth in 2017-18 may be too much to ask.

Kardashian/Jenner babies

Combined two girls, one boy (Even) -Three of the Kardashian/Jenner ladies are pregnant as we speak: Kim, Khloe, and Kylie. Even if you don't pay much attention to them, you probably know that the female gender dominates the family. Are more on the way? Two boys and one girl is a +225 second choice. Three boys is a +3300 longshot.

Khloe's to be the tallest at birth (-200) -There is no reason to think that Khloe's won't be the tallest at birth. She is 5'10'', while Kylie comes in at 5'6'' and Kim stands at 5'3''. Moreover, Khloe's baby daddy is none other than Cavaliers' big man Tristan Thompson. He is 6'9''. Kylie's is a +350 second choice.


Khloe's to weigh the most at birth (-200) -By the same logic, Khloe's is also expected to be the all-around biggest at birth. Thompson is simply a huge dude (6'9'' and 238 pounds). Kanye West (Kim's husband) and Travis Scott (Kylie's boyfriend) are not huge dudes. Kim's is a +300 second choice.

Lamar Odom to tweet congratulations to Khloe (+300) -Khloe has made the rounds in the NBA, but she has only been married once-to Odom, of course. They were a couple from 2009 until a very public split in 2016. Odom is not especially active on Twitter. He has not tweeted since Sept. 23, and that was his first since June 29.




Read more articles by Ricky Dimon