This Week in Sports Betting, A-Z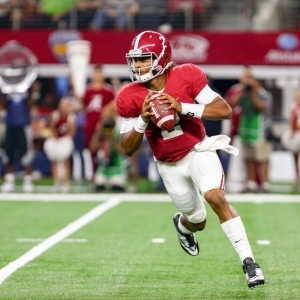 A. Auburn vs. Alabama . Get your popcorn ready for the Iron Bowl on Saturday afternoon. The winner will clinch the SEC West and face Georgia in the SEC Championship. Auburn must win in order to stay in College Football Playoff contention. Alabama is a -4.5 road favorite , per MyBookie.ag.

B. Bagley III, Marvin . Bagley has wasted no time making a big impact for Duke, which is not surprising at all. The freshman is averaging 19.2 points and 9.0 rebounds per game for the 5-0 Blue Devils. And that is despite getting injured against Michigan State and scoring only four points in 10 minutes during an 88-81 victory.

C. Coleman, Bryant . Who? He was a no-name earlier this week. Now he is some guy who "catfished" Ray Allen by pretending to be various females. One day after Coleman told the court he is being stalked by Allen, the two-time NBA champion filed an emergency motion in Orange County, Fla., saying that he is the one being stalked. Manti Te'o is probably like, 'should have learned from me….'

D. DeMarcus Cousins . Cousins got ejected for a flagrant-two after he delivered a right elbow to Russell Westbrook's head during New Orleans' 114-107 win over Oklahoma City on Monday. What was the big man's explanation? "All I did was use my fundamentals," said Cousins, who argued that he simply extended his elbows after corralling a rebound. Well, this is a guy who has not exactly earned himself the benefit of the doubt. The Pelicans are -2 home favorites over San Antonio on Wednesday, according to Bovada Sportsbook.

E. English Premier League . All of the top teams on the table except for Tottenham Hotspur won last weekend. Tottenham got blanked 2-0 by Arsenal, dropping it to fourth place and 11 points behind Manchester City. Man City, a 2-0 winner over Leicester City, is at least eight points clear of every other club on the table.

F. Flames . Calgary is 7-3 in its last 10 outings and it has 24-year-old forward Johnny Gaudreau to thank. Gaudreau is in the midst of a 10-game points streak, which includes a total of eight goals and 11 assists. He has scored in six straight contests.

G. Glenn, Terry . The former Ohio State, Patriots, Cowboys, and Packers receiver died in a car accident on Monday morning. He was 43 years old. R.I.P.

H. Hero World Challenge .Tiger Woods' return to golf is one week away. The PGA Tour has been counting down the days with various posts on its social media outlets for like an entire month already. I mean, yes, people are excited. But let's just calm down until Tiger plays a couple of holes without getting re-injured. A lot of pars and a birdie or two would just be a bonus. He is +3300 at BetOnline Sportsbook to win the tournament.

I. Injury . Michael Porter Jr.'s next basket will come as member of the Dallas Mavericks or Atlanta Hawks…or some other moribund NBA franchise. His college career lasted all of two minutes and included a grand total of two points. Porter Jr. left Missouri's first game early and will require back surgery.

J. Jerry Jones . Jones isn't getting what he wants on or off the field these days. The Cowboys got blown out by Philadelphia in Week 11, falling to 5-5. Meanwhile, he is no longer going to sue the NFL over Commissioner Roger Goodell's pending contract extension. 5Dimes Sportsbook has Dallas as a +1 home underdog against the Chargers on Thanksgiving.

K. Kelly, Chip . Kelly met with Florida last weekend. If the Gators get him, they better hope they are getting the Oregon Kelly and not the NFL Kelly.

L. LaVar Ball . Ball vs. Donald Trump. Yes, it's actually happening. Trump wants thanks for his involvement in getting the three UCLA shoplifters (including LiAngelo Ball) home from China. LaVar is offering no such thanks. You may not like either guy (or maybe you do!), but you gotta admit that you are intrigued.

M. Mayfield, Baker . Fake tears have not been shed to this extent since Terrell Owens' "That's my quarterback" interview regarding Tony Romo. Mayfield and head coach Lincoln Riley were actually in tears (not to be confused with "in actual tears") while discussing the fact that Oklahoma's quarterback will not start or be a captain for Senior Day against West Virginia on Sunday. GT Bets has the Sooners at +550 to win the National Championship.

N. NFC East . The Eagles continue to make statements. They improved to 9-1 and won their eighth game in a row when they hammered rival Dallas 37-9 this past Sunday night.

O. Oklahoma State . Cowboys' head coach Mike Gundy did not go on an "I'm a man" rant, but he was not happy following a 45-40 loss to Kansas State last weekend. OSU's third setback of 2017 eliminated them from College Football Playoff contention and all but ended their Big 12 title hopes. "We all need to look at ourselves and figure out what's going on because for whatever reason, we're not showing up," Gundy admitted.

P. Packers . Aaron Rodgers ain't walkin' through that door, and that's bad news for Green Bay. Backup-turned-starter Brett Hundley threw three interceptions and no touchdowns during a 23-0 loss to Baltimore in Week 11. With Rodgers done for the season due to a broken collarbone, the Packers are now 5-5. Green Bay is +2000 at MyBookie.ag to win the NFC North.


Q. Quarterbacks .Not one, not two, not three, not four… No, Nathan Peterman threw five interceptions in his first NFL start with the Bills last week. And he didn't just throw five interceptions. He threw five interceptions in the first half. And get this: head coach Sean McDermott is still thinking about sticking with him despite those numbers in a 54-24 loss to the Chargers! "I'm going to take my time and evaluate it," McDermott said. "I'm going to make the decision that I feel is right for this football team…. I felt like this was the right situation for Nate to come in and play. I don't regret my decision. I regret the result. We didn't get the result we were looking for. So I don't regret the decision at all."Here's the evaluation of McDemott's decision to start Peterman instead of Tyrod Taylor: terrible.


R. Roger Federer . With Andy Murray, Novak Djokovic, and Stan Wawrinka out and with Rafael Nadal withdrawing after one match, it was all set up for Federer to win last week's ATP year-end championship. That would have left him within 100 ranking points of world No. 1 Nadal going into 2018. Instead, the Swiss was stunned by David Goffin in the semifinals. Grigor Dimitrov ended up as the surprise tournament winner.

S. Senators . Ottawa leads the NHL with a ridiculous six overtime losses (including four in shootouts). The Senators (8-5-6) have lost three in a row and would not be in the playoffs if the season ended today. They also have a loss to Arizona, which should automatically disqualify them from ever contending for anything. Ottawa is a +127 underdog at Washington on Wednesday, as indicated by BetOnline Sportsbook.

T. Truex Jr., Martin . Under its current format, NASCAR does not always crown the true best driver as the season-long champion. Nor does the PGA Tour. But both got it right at the end of its "playoffs" this year. Player of the Year Justin Thomas won the FedEx Cup two months ago, and this past SundayTruex Jr. captured the Monster Cup championship. His triumph at Homestead-Miami was his eighth victory of 2017. No other driver had more than five.

U. UCLA . 'Bowl game? Bowl game?!?! I just hope we can win a game.' That may have been what Jim Mora Jr. would have said this week going into UCLA's game against California, which it must win to become bowl eligible. But Mora did not have the chance. He got fired last weekend after the Bruins fell to 5-6 overall and 1-3 in their last four contests. Mora went 46-30 overall with UCLA and 17-19 following a 29-11 start.

V. Violation . Steelers' starting right tackle Marcus Gilbert has been suspended four games for violating the league's performance-enhancing drug policy. Somewhat surprising: Gilbert will not appeal. Unsurprising: Gilbert said he took the performance-enhancer "inadvertently." Pittsburgh is +465 atBookMaker to win the Super Bowl.

W. Williams, Serena . Serena met her match last week. No, not on the tennis court; that almost never happens. At the altar, of course. Serena and Reddit co-founder Alexis Ohanian were married in New Orleans. Bovada Sportsbook has Serena as a +350 favorite to win the 2018 Australian Open.

X. Xavier Rhodes . How good is the Vikings defense? Well, so good that it held the Rams, of all opponents, to seven points last weekend. On the downside, 8-2 Minnesota could be without Rhodes at Detroit on Thanksgiving. The star cornerback left his team's 24-7 win over Los Angeles with a hamstring injury and has not practiced yet this week. Minnesota is a -3 favorite over the Lions, per GT Bets.

Y. Yante Maten . Students at UGA may not even know that their school plays basketball; at least they may not be aware of it when the football team is in CFP contention. But when the football season ends, they will notice Maten. Through three games for the undefeated Bulldogs, the senior forward is averaging 20.7 points, 13.0 rebounds, and 1.7 blocks.

Z. Zach Miller . The Bears' tight end, who injured his leg so badly earlier this season that amputation became a possibility, went home from a Chicago hospital on Monday.
Read more articles by Ricky Dimon