This Week in Sports Betting, A-Z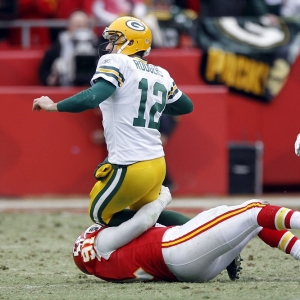 A. Aaron Rodgers . It took the NBA season all of five minutes to produce one too many bad injuries. Not surprisingly, there have been far more bad injuries in the NFL through six weeks. None is bigger than what happened to Rodgers last Sunday, when he suffered a broken collarbone in the first quarter of Green Bay's 23-10 loss at Minnesota. Rodgers requires surgery and will likely miss the entire season. The Packers are +6 home underdogs against New Orleans in Week 7, per GT Bets.

Free $60 in Member MLB Picks No Obligation Click Here
B. Bruce Arena
. Seriously?
Seriously
?!?! The U.S. men's national team lost to Trinidad and Tobago in its final World Cup qualifying match and was eliminated from contention due to that result combined with wins by Panama and Honduras. As expected, Arena resigned as manager immediately thereafter. The 2018 World Cup will mark the first timeTeam USA has missed the biggest sporting event on the planet since 1986. Germany is a +500 favorite at
BookMaker
to win it.
C. Crystal Palace
. Speaking of bad losses on the pitch, Chelsea fell to Crystal Palace 2-1 last Saturday. This is a Chelsea squad that won the English Premier League title with room to spare last season. Crystal Palace, on the other hand, finished 14
th
on the EPL table in 2016-17 and had been a hopeless 0-7 before pulling off its stunning upset of the Blues.
D. D'Andre Swift
. As if Georgia did not already have enough running backs in its stable with Nick Chubb and Sony Michel…. During last weekend's 53-28 win over Missouri, the Bulldogs rushed for a ridiculous 370 yards. It was Swift who led the way, gaining 94 yards on just six carries.
E. Eminem
. Count Eminem among the artists too risky for the NFL to employ as a Super Bowl halftime act. Not that he was on the list even before his recent Twitter-breaking freestyle rap at the BET Awards.
F. Farrell, John
. The USMNT was eliminated, and its manager was gone faster than Usain Bolt runs a 100-meter dash. It was the same story in Boston, where the Red Sox lost its ALDS against Houston in four games and promptly gave Farrell the boot. Boston reached the playoffs three times in five years under Farrell and won the 2013 World Series.
G. Gary Sanchez
. It didn't take long for the Yankees to forget about Sanchez's misplay of a throw home that allowed Houston's Jose Altuve to score the game-winning run in Game 2 of the ALCS. New York won all three contests at home to take a 3-2 lead going back on the road. Sanchez made up for it by driving in a combined five runs in Game 4 and Game 5.
H. Hip injury
. Already without its starting quarterback for the rest of the year, Florida did not need another injury as it stares up at Georgia in the SEC East standings. But that is exactly what the Gators got, as defensive end Jordan Sherit sustained a season-ending hip injury during last week's 19-17 loss to Texas A&M. Sherit had a team-high nine quarterback hurries through six games in addition to 23 tackles (five for loss) and 2.5 sacks.
I.
Irving, Kyrie
. The Kyrie Irving-Gordon Hayward era in Boston could not have gotten off to a worse start. And, due to Hayward's gruesome ankle injury, for at least the first year it is just the Irving era. Without the former Jazz star, the Celtics lost their opener against Cleveland and then fell at home to Milwaukee on Wednesday. The Lakers' opener, meanwhile, comes on Thursday.
They are +5 underdogs
against the Clippers, according to MyBookie.ag.
J. Joel Embiid
. When Embiid isn't being awesome on social media (well, Hassan Whiteside may beg to differ), he's dominating on the court. It wasn't enough to win on Wednesday, but the Sixers' big man delivered a double-double with 18 points and 13 rebounds in just 27 minutes during a 120-115 loss at Washington.
K. Keselowski, Brad
. Keselowski took home the checkered flag from Talladega last weekend, thus advancing to the third round of the Monster Cup playoffs. Dale Earnhardt Jr. was seventh in his final race at the famous track.
L. Los Angeles Dodgers
. We're one win away each from a L.A. vs. New York World Series. Get your popcorn ready. Of course, the Cubs and Astros still have other ideas….
M. McCollum, C.J.
No McCollum, no problem.With the star guard suspended from their opener for leaving the bench during a preseason scuffle, Portland annihilated Phoenix 124-76 on Wednesday. "Just how we envisioned this season and I didn't even break a sweat," McCollum tweeted to the Blazers' official account.
N. North Carolina
. The NCAA Committee on Infractions announced last week that it could not find UNC violated rules in an alleged years-long academic scandal that's involved athletes across multiple sports. 'How did the Heels get away with it,' some ask. Well, the same way everyone else got away with it…except that everyone else simply avoided even being investigated. North Carolina is +1200 at
BetOnline Sportsbook
to repeat as college basketball national champions.
O. Overtime
. Michigan spilled the milk. Then spilled it again and again. The Wolverines committed a school-record 16 penalties but still managed to scrape past Indiana 27-20 in overtime last weekend. "I tell my 6-year-old not to spill the milk," head coach Jim Harbaugh explained."And, gosh darn, the next thing that happens is spilled milk. (I say), 'No penalties, no penalties,' try to coach them how to not get the penalties, and we're getting penalties."
GT Bets
has the Wolverines at +2500 to win the College Football Playoff.
P. Peterson, Adrian
. In his first outing with the Cardinals, Peterson carried 26 times for 134 yards and two touchdowns as Arizona took down Tampa Bay 38-33. In four games with the Saints, the veteran rushed for a grand total of 81 yards on 27 attempts. Sean Payton must be thinking, 'why didn't I set aside our differences and give the guy more touches?'
Q. Questionable call . And that's putting it generously for the officials.Perhaps the weirdest decision since the infamous 2012 "Fail Mary" came in the Patriots' 24-17 win over the Jets last Sunday. With his team trailing 24-14 at the 8:24 mark of the fourth quarter, New York's Austin Seferian-Jenkins appeared to score on a four-yard reception. Following a review, however, it was ruled that Seferian-Jenkins bobbled the ball and did not re-establish control beforehe-and the ball-went out of bounds in the endzone for a touchback. Um, what?


R. Roger Federer . If you think Rafael Nadal owns Federer in the head-to-head, think again. Nadal continues to lead the head-to-head series 24-14, but Federer won his fifth straight in the series by crushing Nadal 6-4, 6-3 in last week's Shanghai title match. By the way, each of these guys are like 500 years old and it's still the best rivalry in tennis.

S. Suspended . Is he or isn't he? Ezekiel Elliott has been more on-again off-again with his Week 7 playing status than the Justin Bieber-Selena Gomez relationship during its heyday. 5Dimes Sportsbook has Dallas as a -7 favorite at San Francisco on Sunday.

T. Twitter . Roger Goodell's wife used an anonymous Twitter account to defend her husband against various criticisms. And Melania Trump is probably like, 'now back off me for allegedly using a body double!"

U. Upsets . Last week's slate of college football action got off to a furious start on Friday. Favored by 24 points, Clemson lost at Syracuse 27-24. California, meanwhile, covered its spread by a ridiculous 50.5 points, clobbering Washington State 37-3 despite being a +16.5 underdog. Washington State is a -10.5 home favorite over Colorado this week, as indicated by BetOnline Sportsbook.

V. Van Riemsdyk, James . The Leafs' forward produced three points in their opener and scored in three straight games last week. He has four goals and three assists so far this season for Toronto, which is 6-1 and leading the entire NHL with 12 points.

W. Washington . Our nation's capital is giving Atlanta a run for its money as the most notorious city for playoff choking. The Capitals have not even reached the conference finals since 1997-98, a stretch of 12 postseason appearances without advancing past the second round. As for the Nationals, they have not won a single playoff series since moving from Montreal. They are 0-4 in the NLDS after losing in five games to the Cubs last week, with all four eliminations coming in the last six years.

X. Xavier Rhodes . Brett Hundley replaced Rodgers in the Packers' loss to Minnesota last week, and it's safe to say he was not greeted warmly by Rhodes. No, the Vikings' star cornerback picked off Hundley's first pass of the game. It went downhill for both Green Bay and the former UCLA product, who finished 18-for-33 with 157 yards, one touchdown, and three interceptions. Minnesota is -140 at MyBookie.ag to win the NFC North.

Y. Y.A. Tittle . The former NFL quarterback died at age 90 last Sunday. Tittle, who led the 49ers and Giants to three straight division titles, threw 242 touchdown passes in his 17-year professional career.

Z. Zero . That's how many wins the Arizona Coyotes have through six games this season.Yep, Arizona is still without a victory and it is currently sporting only one point in the standings-that thanks to an overtime loss to Las Vegas on Oct. 8.
Read more articles by Ricky Dimon