This Week in Sports Betting, A-Z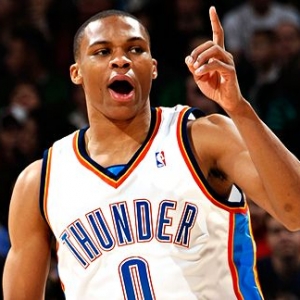 A. All-Star Game . In the wake of an NBA All-Star Game that made the San Francisco 49ers' defense seem awesome by comparison, changes are coming. So says commissioner Adam Silver, who is welcoming suggestions from any and all parties to Adam@NBA.com. Can we also get a change to the Dunk Contest? Like, either get people who can do cool dunks or just get rid of it?

B. Brad Keselowski . Keselowski had the second-best car at Atlanta Motor Speedway this past Sunday. Fortunately for him, it was arguably the third-best car-certainly not the first-best-that was leading with six laps to go. After Kevin Harvick, who led 292 laps, was sent to the back of the field for speeding on pit road with 11 laps left, Keslowski made Kyle Larson's car look like it was going in reverse with a late pass.

C. Carolina . The Tar Heels exacted revenge for their 86-78 loss at Duke last month with a 90-93 victory over their Tobacco Road rivals last Saturday night. If you're UNC, the only thing better than winning the regular-season ACC title is knocking the Blue Devils out of double-bye contention and making them play an unceremonious second-round game on Wednesday. Pittsburgh is a -1 favorite over Georgia Tech in the ACC Tournament on Tuesday, according to GT Bets.

Free $60 in Member Sports Picks No Obligation Click Here
D. Dirk Nowitzki
. Dirk is planning to return for a 20
th
season in the NBA. The 38-year-old German, who has spent his entire career with Dallas, is in the midst of his worst season since his 1998-99 rookie campaign. That being said, like Tiger Woods' putt on the 17
th
at Sawgrass in 2001, Dirk's worst is still
better than most
.
E. Elbow
. Normally when your name is mentioned in the same sentence as Dr. James Andrews, you're out for the season-and maybe longer. In this case, though, Red Sox ace David Price got good news from the good doctor. His sore elbow will heal on its own without the need for Tommy John surgery. Price is, however, expected to begin the season on the disabled list. Boston is +450 at
Bovada Sportsbook
to win the World Series.
F. Foster, Reuben
. The former Alabama linebacker got booted from last week's NFL combine after getting into a shouting match with a hospital worker. Foster was apparently upset that a pre-exam was taking too long to be administered. That's not a good look in advance of the NFL Draft, but it sure isn't a Laremy Tunsil situation.
G. Gone
. That's what Missouri head coach Kim Anderson is from what is now his former job. He was fired last week, effective at the end of the season-which will be the SEC Tournament for the horrid Tigers. In three seasons under Anderson, Missouri went 3-15, 3-15, and 2-16 in the SEC and never won a single road game.
BetOnline Sportsbook
has Kentucky as an even-money favorite to win the conference tourney.

H. Hawaii . The Rainbow Warriors are allowed to defend their Big West Tournament title.They had been banned from the postseason by the NCAA for infractions committed in 2015, but the program won a recent appeal. Hawaii is 8-8 in the conference, good for the No. 5 seed.

I. Iginla, Jarome . Iginla was traded last week from Colorado to Los Angeles, where he is reunited with former Flames' heady coach Darryl Sutter. The 39-year-old produced eight goals and 10 assists in 61 games with the Avalanche this season.

J. Johnson, Dustin . In his first tournament as the No. 1 player in he world, Johnson triumphed at last week's World Golf Championship in Mexico City. The 32-year-old American dominated most of the way on Sunday before things got interesting with Tommy Fleetwood and John Rahm on the back nine, and Johnson ended up winning by one stroke over Fleetwood.

K. Kevin Durant . Out with an MCL sprain and bone bruise since last Tuesday, Durant will be reevaluated in three weeks. The Warriors should go ahead and announce what the reevaluation reveals: keep Durant out until the Western Conference Finals against either San Antonio or Houston. MyBookie.ag has Golden State at -160 to win the NBA title.

L. Long range . The Cavaliers hit an NBA regular-season record 25 three-pointers in last Friday's win over Atlanta. LeBron James and Kyrie Irving combined for 81 points on 11-for-18 shooting from the land of plenty in Cleveland's 135-130 victory.

M. Maple Leafs .Toronto is just about kissing its playoff chances goodbye. Five losses in a row have the Leafs down to fourth place in the Atlantic Division and ninth in the Eastern Conference. Well, at least their opener in which rookie Auston Matthews scored four goals in his NHL debut was fun. Toronto is a -180 home favorite over Detroit on Tuesday, as indicated by BookMaker.

N. Noah Syndergaard . The Mets renewed Syndergaard's contract for one-year and $605,500. It's safe to say that's a bit of a bargain for someone who went 14-9 last season with a 2.60 ERA and 218 strikeouts.

O. Out . That is Russell Westbrook's status in the NBA MVP race, according to Mavericks' owner Mark Cuban. Apparently Cuban isn't impressed with averaging a triple-double. Oklahoma City is a -7 home favorite over Portland on Tuesday, per BetOnline Sportsbook.

P. Phoenix Suns . The Suns just produced their first three-game winning streak of the season and they did so in the most improbable of fashion. Trailing Boston in the waning moments of this past Sunday's contest, Phoenix got a trying layup from Eric Bledsoe with four seconds left. The home team then stole the ensuing inbounds pass and Tyler Ulis drained a three-point winner as time expired for a 109-106 victory. Wow.

Q. Querrey, Sam . Querrey may be good for only one tournament a season, but when he's good…he's really good. The 6-foot-6 American, who stunned Novak Djokovic en route to the Wimbledon quarterfinals last summer, lifted the trophy last week in Acapulco with four straight victories over top-17 opponents: David Goffin, Dominic Thiem, Nick Kyrgios, and Rafael Nadal. Querrey upset Nadal 6-3, 7-6(3) for the title this past Sunday.
R. Ross, John . The former University of Washington receiver clocked a 4.22 in the 40-yard dash at the NFL combine. Sorry, Chris Johnson! Washington is +4000 to win next season's College Football Playoff, according to Bovada Sportsbook.

S. Serena Williams . Serena was walking with her fiancée through a park in San Francisco last week when she spotted two randoms playing tennis. So what did Serena do? Walked up and played with them, of course! In less surprising news, she documented the whole thing on Snapchat. Serena may not always do the most likable stuff all the time, but that was pretty cool.

T. Thomas, Justin . Looking for his third victory of 2017, Thomas led by one stroke heading into the final round in Mexico City. He didn't end up winning, but the 23-year-old American made headlines for launching his driver in disgust following an errant tee shot. Rickie Fowler and Rory McIlroy-the latter of throwing an iron into a lake fame-had tons of fun mocking Thomas on Twitter for his minor outburst.Thomas is +2500 at GT Bets to win next month's Masters.

U. United . In their first-ever Major League Soccer game as a 2017 expansion club, the Atlanta United lost to the visiting New York Red Bulls 2-1 this past Sunday night. The United led 1-0 at halftime before giving up goals in the 76th and 82nd minutes. Oh great, just what Atlanta needs: another sports franchise that blows second-half leads.

V. Vince Carter . Carter may be 40, but he still has plenty of punch left in him. Or more like elbow. The Grizzlies' veteran was ejected from last Tuesday's game against Phoenix for sending Devin Booker to the ground with a clearly intentional upper-cut elbow to the chin. "Fortunately Vince is very rich," Memphis head coach David Fizdale joked of Carter's inevitable fine. 5Dimes Sportsbook has the Suns as +3.5 home underdogs against Washington on Tuesday.

W. Wooden Award . Fifteen finalists for the honor of college basketball's best player were named last week. Four hail from the Pac-12, including UCLA freshman Lonzo Ball. Of course, if Ball's dad has anything to say about it, this race is already over. Ball is, after all, better than Stephen Curry, right?

X. Denotes clinched playoff berth . Not one, not two, not three, not four, not five, not six…. No, the Spurs have clinched a playoff spot for the 20th consecutive season. They accomplished that feat with a victory over Minnesota last weekend. The record is 22, set by the 76ers from 1950 through 1971.

Y. Yasiel Puig . Apparently it's never too early to start bat-flipping. It's only the preseason, and Puig is already channeling his inner Jose Bautista. The Dodgers' outfielder went yard against Seattle last weekend and his bat ended up basically halfway to third base. L.A. is +425 at BookMaker to win the National League Pennant.

Z. Zlatan Ibrahimovic . The Football Association charged the Manchester United striker and Bournemouth defender Tyrone Mings with violent conduct for incidents in last week's English Premier League match between their two teams. Mings stomped on Ibrahimovic's head before the Swede retaliated with an elbow to the face. In less important news, the game ended in a 1-1 draw.
Read more articles by Ricky Dimon