This Week in Sports Betting, A-Z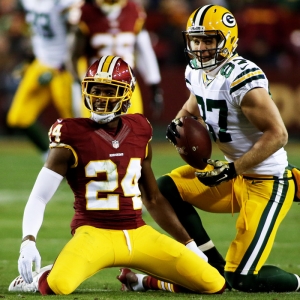 A. Arrow . Josh Norman's bow-and-arrow celebration has been banned by the NFL. Apparently the Redskins' cornerback didn't see it coming even though he was penalized for shooting an imaginary arrow after he intercepted a pass in a win over Cleveland last season and then fined $10,000. Norman probably assumed he was just being punished for having the audacity to celebrate doing something good against the Browns.
B. Brock Osweiler . Speaking of the Browns, they named Osweiler as their starting quarterback for the preseason opener and then posted a Brock Osweiler hype video on their social media accounts. Yes, a Brock Osweiler hype video. You can't make this stuff up.

Free $60 in Member Sports Picks No Obligation Click Here
C. Cutler, Jay
. You know things are dire when a team is going out and signing Jay Cutler. Well, things are-in fact-dire for the Dolphins. Quarterback Ryan Tannehill went down with a partially torn ACL and could require season-ending surgery. Good news for Cutler: he's $10 million richer. Bad news for Cutler: he has to play football instead of sit in the commentary booth.
D. Darren Daulton
. The former Phillies' catcher died on Sunday after a four-year battle with brain cancer. Daulton was a three-time all-star and won the 1997 World Series with the Marlins following a midseason trade from Philadelphia. He was 55 years old. R.I.P.
E. Errors
. Gary Sanchez has been making a lot of them this season-10 to be exact. He also has 12 passed balls. For his defensive efforts (or lack thereof), the Yankees' catcher was benched on Sunday and replaced by backup Austin Romine. "I'm not perfect," Sanchez said. You don't say!
F. Falcons
. Atlanta needs a big start (and an even bigger finish, for that matter) if it wants to erase the demons of the worst collapse in Super Bowl history. But the preseason is not off to a great start, because cornerback Jalen Collins has been suspended 10 games for a second violation of the NFL's performance-enhancing drug policy.
The Falcons are -1 favorites at Miami
in Week 1 of the preseason on Thursday, per MyBookie.ag.
G. Garcia, Jaime
. From 2008 through 2016, Garcia played for no team other than the Cardinals. It's safe to say he is making up for lost time in the traveling department. The veteran lefty has been all over the place of late, to the extent that his last three starts have come for three different clubs. Atlanta, which signed him in the offseason, shipped him to Oakland and after one outing the A's unloaded him to the Yankees. At least he is finally on a decent team.
H. Hand, Da'Shawn
. Look no further than the schedule to find out why Hand is not being suspended by Alabama head coach Nick Saban despite a recent DUI arrest. The Crimson Tide's season opener is coming against Florida State. You can bet if 'Bama was playing some puffcake like Arkansas-Little Rock, the star defensive end would be sitting his butt down!
BetOnline Sportsbook
has Alabama as a -7 favorite over the Seminoles.
I.
I.K. Kim
. Kim is finally a major champion. The 29-year-old South Korean got the job done at the Women's British Open last week, going into Sunday with a six-shot lead and ultimately winning by two. Kim famously missed a 14-inch putt that would have given her the 2012 Kraft Nabisco Championship and then lost in a playoff. And you thought Jordan Spieth's choke at the 2016 Masters was bad!
J. Jon Jones
. Jones regained the undisputed light heavyweight championship at UFC 214 by knocking out Daniel Cormier in Round 3 of their fight in late July. The 30-year-old American spent his celebratory speech issuing a challenge to Brock Lesnar.
K. Kurt Warner
. Warner famously bagged groceries after going undrafted in 1994. But his time in the grocery store may have propelled him to the Hall of Fame. During his induction speech last week, Warner recalled seeing Dan Marino's face on a Wheaties box while stocking shelves. An imaginary, middle-of-the-night conversation with said Wheaties box "set the wheels of change in motion" for the future St. Louis Rams' great and eventual Hall of Famer. Whatever works!
BookMaker
has the Rams' over/under win total set at 5.5.
L. Lawrence Frank
. In the Clippers' front-office shakeup, Frank will have more power as the team's vice president of basketball operations. Head coach Doc Rivers is now focusing exclusively on coaching and has been relieved as president of basketball operations. Both Rivers and Frank will keep their titles as employees of a franchise that cannot contend in the Western Conference.
M. Matsuyama, Hideki
. It wasn't exactly Spieth at the British Open because the Bridgestone Invitational is not a major, but Matsuyama was sensational on Sunday in Akron. The Japanese star fired a nine-under 61 and birdied four of the last six holes to win by five shots. Matsuyama is a +1200 third choice at
Bovada Sportsbook
to win this week's PGA Championship. Rory McIlroy is a +700 favorite.
N. New York Mets
. The Mets needed a huge second-half charge to have any chance for a playoff berth and they came out of the all-star break to win eight of their first 12 games. But they are 3-9 in their last 12-even after beating Texas on Tuesday. New York is 15.5 games behind Washington in the NL East and a similarly daunting 12.5 games out of a wild-card spot.
GT Bets
has the Nationals at +600 to win the World Series.
O. Ohio State
. Ohio State defensive coordinator Greg Schiano says the Buckeyes' defensive line is the most talented he has ever coached-including in the NFL. Keep in mind that Schiano's line while head coach of the Buccaneers included Gerald McCoy, Michael Bennett, and former first-round pick Adrian Clayborn. "It is, and that's not a joke," Schiano said of the OSU line. If he has to claim that it's not a joke, then it probably is.
P. Paris Saint-Germain
. Neymar is on the move to Paris Saint-Germain for a cool transfer fee of approximately $260 million. And cash-stricken (yeah right) NFL players continue to wonder why they are playing football instead of futbol.
Q. Quitting . Is it becoming a trend in AAU basketball? A few weeks after LaVar Ball pulled his team off the floor, a youth team featuring five-star prospect BolBol forfeited early in the fourth quarter after being called for a sixth technical foul.


R. Rodriguez, Sean . It was quite a Pittsburgh homecoming for Rodriguez this past Sunday. Traded from the Braves back to the Pirates one day earlier, the veteran infielder hit a walkoff home run in the bottom of the 12th inning to give his team a 5-4 victory over San Diego. Pittsburgh (Nova) is a +116 underdog at Detroit (Verlander) on Wednesday, according to BetOnline Sportsbook.

S. Snapchat . A team from Atlee, Va. was disqualified from the Junior League Softball World Series after a picture was posted on Snapchat showing the girls giving the middle finger to the host team they had just defeated. You gotta stay off the Snapchat, kids.

T. Tale of the Tape . According to Floyd Mayweather, Conor McGregor has the edge over him on paper. "He's a lot younger," Mayweather said earlier this week."When you look at myself and Conor McGregor on paper, he's taller, has a longer reach, he's a bigger man from top to bottom. He's a lot younger, so youth is on his side. And I've been off a couple of years. And I'm in my 40s. So if you look at everything on paper, it leans toward Conor McGregor." Don't even try it, Floyd.

U. Umpire . Senior MLB umpire Joe West has been suspended three games stemming from a recent interview in which he called Adrian Beltre the biggest complainer in the league. Both parties said they have engaged in playful on-field banter with each other, and Beltre disagreed with the suspension. In more important news, the Rangers' third baseman recorded his 3,000th hit late last month.

V. Vince Wilfork . The veteran defensive tackle announced his retirement from the NFL after playing 11 seasons with the Patriots and two in Houston. If nothing else, it is sure going to diminish the average size of the Texans' defensive linemen. 5Dimes Sportsbook has the Patriots as +6 road underdogs against Arizona in Week 1.

W. Wawrinka, Stan . As if Roger Federer and Rafael Nadal haven't been good enough in this season, their top rivals are dropping by the wayside. First Novak Djokovic (elbow) announced that he is out for the year, and then Wawrinka (knee) did the same last week. World No. 1 Andy Murray and Wimbledon runner-up Marin Cilic are also injured. The rest of the year could be a Federer-Nadal party. Then again, this entire year already has been exactly that.

X. X . That's the score all of us amateur golfers give ourselves when we're knocking balls all over the course and just have to pick up. Playing in a real tournament last week, Stephen Curry could take no such liberties. He didn't have to. Curry fired consecutive rounds of 74 in his Web.com Tour debut at the Ellie Mae Classic, missing the cut by 11 strokes but tying Frank Lickliter II and beating four professionals (plus two others who struggled and then withdrew). The Warriors are -220 favorites at MyBookie.ag to win the 2017-18 NBA title.

Y. Yonder Alonso . The A's traded the veteran first baseman to Seattle this past weekend, and his first game as Mariner came-you guessed it-in Oakland on Tuesday. Alonso went 1-for-5 in a 7-6 Mariners' victory.

Z. Zlatan Ibrahimovic . Currently a free agent, Ibrahimovic is 35-years-old and he suffered a torn ACL. But the Swedish striker reportedly wants to come back and join Manchester United. Who can blame if he thinks he's still got it? Federer (36) and Tom Brady (40) are older than he is, and those guys aren't doing too shabby these days.
Doc's Sports has a great offer for new clients. You can get $60 worth of picks from any expert handicapper for any sport he handicaps. All with no obligation and no credit card needed. Claim your free picks today .
Read more articles by Ricky Dimon