This Week in Sports Betting, A-Z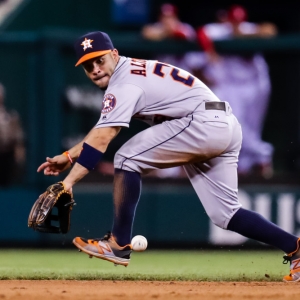 A. Astros . It would not have seemed fair if the Astros had won that epic Game 5 and then gone on to lose the World Series. They didn't. Los Angeles extended the battle to a seventh game, but Houston got off to a strong start in the decider last Wednesday and coasted to a 5-1 victory. Thus the Dodgers are still in search of their first World Series title since 1988. L.A. is a +600 favorite at BetOnline Sportsbook to win it in 2018.

B. Breeders' Cup Classic . Arrogate, the highest-earning horse in history, faded down the stretch last weekend and tied for fifth. Gun Runner won the Classic, more than two lengths ahead of runner-up Collected.

C. Caroline Wozniacki . Rory McIlroy's loss is David Lee's gain. Wozniacki, once engaged to the former No. 1 golfer in the world, announced her engagement to Lee last week. Winning the 2015 NBA title with Golden State is no longer Lee's best accomplishment. GT Bets has the Warriors as -260 favorites to win the Western Conference this season.

D. Duke . For the ninth time and for the second straight year, Duke is the preseason No. 1 in the AP poll. Only once (1991-92) have the Blue Devils gone on to win it all following that distinction. And we all saw how preseason No. 1 worked out for them last year: arch rival North Carolina captured the National Championship.

E. Ezekiel Elliott . Will he or won't he? That is the weekly question regarding Elliott's playing status. For several straight weeks he has been suspended, appealed, and then cleared to play. The Cowboys' running back will reportedly find out his Week 10 status on Thursday. Dallas is a +3 underdog at Atlanta on Sunday, per MyBookie.ag.

F. Fight . The NFL has announced that it will not suspend Bengals' receiver A.J. Green for fighting. Perhaps the league should suspend him for stupidity. In a fracas with Jaguars' cornerback Jalen Ramsey during Cincinnati's 23-7 loss, Green punched Ramsey several times in the head area. Of course, there was just one minor problem. Ramsey was wearing his helmet.

G. GOP tax plan . House Republicans unveiled their tax plan last week, and only one name is mentioned in it: Stephen Curry. That's right; an NBA player is the only person named. Republicans were making a comparison between Curry's salary and that of "Steve's Bike Shop." Golden State's star guard promptly took to Twitter: "I wonder if Steve's Bike shop is hiring…" The Warriors are -11 home favorites over Minnesota on Wednesday, according to BookMaker.

H. Halladay, Roy . The former ace of the Phillies and Blue Jays was killed on Tuesday when his plane crashed in the Gulf of Mexico. Halladay was 40 years old. R.I.P.

I. Iowa . With three losses, the Hawkeyes are not going anywhere of note this season. But they are doing a nice job in the spoiler role. One week after Ohio State stunned Penn State with a 39-38 comeback victory, J.T. Barrett was picked off four times in a 55-24 loss at Iowa. The Hawkeyes unofficially eliminated OSU from College Football Playoff contention and will try to do the same to Wisconsin on Saturday.

J. Jahlil Okafor . The 76ers' big man wants to be traded or have his contract bought out. And why not? Okafor has played in just two of 10 games this season, logging a total of 25 minutes. It's safe to say he is not part of the process.

K. Kevin Bieksa . Anaheim has lost four games in a row, but Bieksa dropped Philadelphia defenseman Radko Gudas with just one punch during their fight last week. Bieksa missed the next contest with a hand injury ,but it must have been worth it. By the way, how great of a name is Radko Gudas?

L. Luck, Andrew . The Colts placed Luck on injured reserve last week, ending his season. On Tuesday, owner Jim Irsay said the quarterback's shoulder injury is really "inside his head." 5Dimes Sportsbook has Indianapolis as a +11.5 home underdog against Pittsburgh on Sunday.

M. Mayfield, Baker . Two losses for Saquon Barkley's Penn State squad, four interceptions by Barrett, and a meager 69-yard performance by Stanford's Bryce Love is all well and good for Mayfield's Heisman Trophy campaign. His own performance last weekend was even better for the cause. Oklahoma's senior QB threw for 598 yards and five touchdowns in a 62-52 win at Oklahoma State. Mayfield is a -250 favorite at MyBookie.ag to win the Heisman.

N. Nadal, Rafael . Nadal withdrew from last week's event in Paris prior to the quarterfinals, and his knee injury makes him questionable for next week's year-end championship in London. The Spaniard is the top seed ahead of No. 2 Roger Federer.

O. Okogie, Josh . Well, the season opener between Georgia Tech and UCLA on Friday should be interesting. For the Yellow Jackets, Okogie and Tadric Jackson are suspended indefinitely for receiving improper benefits. For the Bruins, three players-including LiAngelo Ball-were arrested in China for shoplifting earlier this week.

P. Pregame . LeBron James was nowhere to be found when was introduced during the starting lineups for Sunday's home game against Atlanta. The Cavs were nowhere to be found the entire night, as they lost to the previously 1-8 Hawks 117-115.


Q. Quarterback quandary . Kids these days use "savage" in a good way. But there is nothing good when Savage is the Texans' starting quarterback. But he is, because Deshaun Watson's season-ending torn ACL means Tom Savage is back under center. He completed only 19 of 44 passes in Houston's recent 20-14 Week 9 loss to Indianapolis.


R. Rose, Justin . Golf may be in its proverbial offseason, but don't tell Rose. Fresh off a World Golf Championship title at the HSBC Champions in Shanghai, Rose went back-to-back with a victory at last week's Turkish Airlines Open. Of course, he will probably never win again since Tiger Woods is coming back in a few weeks. Yeah, right.

S. Sports Illustrated . In the summer of 2014, a Sports Illustrated cover predicted the Astros would be 2017 World Series champions. And if you think that's good, how about this? George Springer, who became 2017 World Series MVP, was the player on that cover.

T. Turnover chain . When someone on Miami (FL) forces a turnover, they have bestowed upon them a 36-inch, 5.5-pound chain of sapphires. If it is used for motivation, it's working. The Hurricanes are undefeated at 7-0 and have 18 takeaways. Miami (FL) is a +3 home underdog against Notre Dame on Saturday, per BetOnline Sportsbook.

U. Unacceptable . That's what Florida linebacker David Reese had to say about his team's performance in last week's 45-16 loss a Missouri squad that was 3-5 at the time. "It's sometimes disappointing when everybody doesn't want to come together and just play for each other," Reese commented. "That's sad to see. We've still got a lot to play for. Me personally and our defense, we want to play for those guys. We can't have appearances like we just had today. That's unacceptable." So is the Gators being 3-5.

V. Vanney, Greg . According to Vanney, the manager of Toronto FC, Jozy Altidore was "ambushed" by New York Red Bulls players in the tunnel while on his way to the locker room for halftime. Both Altidore and New York captain Sacha Kljestan were given red cards. Toronto won the two-leg MLS quarterfinal on the away goals tiebreaker (it was 2-2 on aggregate). Bovada Sportsbook has Toronto as a +120 favorite to win the MLS Cup.

W. Winston, Jameis . At 2-6, Tampa Bay is just about finished. The case appears to be the same for Winston, who left last week's 30-10 loss to New Orleans at halftime because of a shoulder injury. There are some reports out there that the former Florida State standout may be shut down for the rest of the season.

X. Xavier Rhodes . The Vikings' cornerback is not yet willing to call his defense elite, even though they are 6-2 and only one opponent has reached the 20-point mark. "We can say that when it's Week 17, the season is over and we're in the playoffs and we're going for the Super Bowl. That's when we can say we're an elite defense." Of course, if Minnesota's defense is in the business of injuring one of the best quarterbacks in the NFL and thus giving it a much better chance to win the NFC North, then it is most definitely elite. Just ask Antony Barr. The Vikings are +700 at BookMaker to win the NFC.

Y. Yanni Gourde . The Lightning are 11-2-2 and have taken points in 12 of their last 13 games. Gourde, a 5-foot-9 forward, had one goal in the first 12 contests. He has currently scored in three straight games. Tampa Bay is a -105 underdog at San Jose on Wednesday, as indicated by GT Bets.

Z. Zero . That's how many points Lonzo Ball scored in last Thursday's loss to Portland. After attempting only two shots in that outing, Ball decided he was going to score in the next two contests. He forked up a total of 28 shots in wins over Brooklyn and Memphis, making only six of them for only six points vs. the Nets and nine vs. the Grizzlies. The No. 2 overall pick is shooting a horrendous 29.9 percent from the floor.
Want free sports betting picks? Doc's Sports has you covered - get $60 worth of picks free from any of Doc's Sports expert handicappers. Click here for free picks (new clients only) .
Read more articles by Ricky Dimon