This Week in Sports Betting, A-Z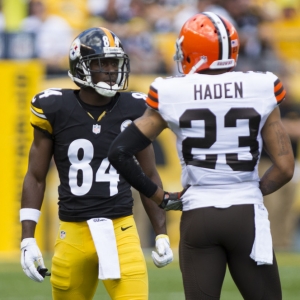 A. Antonio Brown . Safest bet of championship weekend in the NFL: Brown will not broadcast Pittsburgh head coach Mike Tomlin's postgame speech in the locker room on Facebook Live. That's exactly what Brown did, however, after the Steelers beat Kansas City 18-16 last Sunday night. 5Dimes Sportsbook has Pittsburgh as a +6 underdog at New England in the AFC Championship.

B. Blowout . The Warriors muffed up their first game against Cleveland of this regular season after muffing up last year's NBA Finals even worse. To say that did not make the same mistake a third time, though, would be a gross understatement. Golden State avenged its recent losses in the league's best rivalry by destroying the Cavaliers 126-91 on Monday.

C. Chargers . See ya, San Diego. The Chargers are relocating to Los Angeles and doing to immediately. Perhaps the L.A. population is asking a simple question: why have one terrible team when you can have two?

D. Derrick Rose . In the greatest disappearing act since Amelia Earhart, Rose went missing from the Knicks last week. Okay, that may not be a good comparison because Rose isn't dead whereas Earhart presumably is (she'd be 119 years old if she isn't!). He was totally absent from New York's loss to New Orleans, and no one and any idea of his whereabouts. The Bulls must be thinking, "If only Rajon Rondo would do the same thing!" The Knicks are +2.5 home underdogs against Washington on Thursday, according to GT Bets.

E. Embiid, Joel . The Process is trusting the process. Pretty soon others may trust it, too. Philadelphia is 5-1 in its last six outings and 7-2 in its last nine. The 76ers are 5-0 in their last five in which Embiid has played. In an injury-delayed rookie season, "The Process" is averaging 19.9 points, 7.8 rebounds, and 2.4 blocks per game.

F. Forty . That's how many consecutive matches Real Madrid played without losing across all competitions. It set a new Spanish record-one that Real was satisfied with, apparently. The Whites promptly lost their next two contests, 2-1 to both Sevilla and Celta Vigo.

G. Green Bay Packers . "Gentlemen, we will be successful this year if you can focus on three things and three things only: you're family, you're religion, and the Green Bay Packers." - Vince Lombardi, as recited by Jim Valvano during his famous ESPYs speech. Well, success has come for the Packers-but not before starting the season 4-6. They have now won eight straight games after prevailing at Dallas in a 34-31 epic last weekend. Green Bay is +400 at BetOnline Sportsbook to win the Super Bowl.

H. Hart, Josh . Baylor's stay outside the Top 25 was a short one to begin the season. Its stay at No. 1 was even shorter. In their first outing as the top-ranked team in the land, the Bears got blown out 89-68 at West Virginia last week. They have at least done will to bounce back with wins over Kansas State and Texas. MyBookie.ag has 'Nova at +750 to win the National Championship.

I. Invitation . Jake Arrieta declined one to visit the White House with the Cubs on Monday. Jon Lester also did not attend, but that was due to a death in the family. Arrieta missed it for "family issues." Yeah, right. Let's see if the "family issues" continue into this weekend's inauguration!

J. Justin Thomas . Thomas had a mediocre trek through Hawaii this month. All he did was win the Tournament of Champions, shoot a 59, win the Sony Open, and break the all-time PGA Tour scoring record for a single event.

K. Krzyzewski, Mike . Coach K can't come back soon enough. Then again, Duke had already lost twice even before he underwent back surgery. The Blue Devils have lost twice in three games without him, currently in the midst of a two-game slump at the hands of Florida State and Louisville. Louisville is a -5.5 home favorite over Clemson on Thursday, as indicated by Bovada Sportsbook.

L. Losing streak . Not one, not two, not three, not four, not five…. No, the Nets have lost a ridiculous 11 games in a row. They have not won since Dec. 26 and they have won only once since Dec. 14 (1-16 in their last 17). For those counting, that's more than a month with just a single victory.

M. Mack, Tevin . Texas announced last Thursday that Mack is suspended indefinitely for a violation of team rules. "We have a set of standards that we expect people in our program to adhere to," head coach Shaka Smart said. "Tevin has failed to reach them." The sophomore forward leads the team in scoring at 14.8 points per game.

N. Novak Djokovic . Everyone thought Novak Djokovic had a tough first-round draw at the Australian Open. But it was the second round that got him. After rolling over Fernando Verdasco in his opener, the six-time Aussie champion was stunned by unheralded Denis Istomin 7-6(8), 5-7, 2-6, 7-6(5), 6-4 on Thursday. Congratulations to Andy Murray, Rafael Nadal, and all other title contenders…. Oh, and to Istomin. Murray is now an even-money favorite at BookMaker to win the Aussie Open.

O. Offense . Who can stop the Falcons' offense? That'd be no one. The best way to beat them is to score at least 40 points and do so with eight-minute drives to keep Matt Ryan and company off the field. Seattle did that last weekend…for half of one quarter. Atlanta quickly took control on the way to a 36-20 victory. The Falcons are -4.5 home favorites over Green Bay in the NFC Championship, per BetOnline Sportsbook.

P. Penguins . Not one, not two, not three, not four…. No, the Penguins scored eight goals against Washington on Monday. And they're lucky they did, because they also gave up a whopping seven.

Q. Quarterbacks . How's this for a last-four lineup of quarterback in the NFL: Rodgers, Ryan, Roethlisberger, and Tom Brady. Three have won Super Bowls. Brady alone has won four. Get your popcorn ready for what should be an awesome Sunday.


R. Rajon Rondo . The Bulls' veteran guard was reinstated to the rotation after five consecutive games of "DNP: Coach's Decision." Head coach Fred Hoiberg may be regretting the reinstatement, because Rondo scored a grand total of zero points on 0-for-4 shooting in 23 minutes during a 99-98 loss to Dallas on Tuesday. Rondo has scored more than six points only once in five outings since his return.

S. Serena Williams . Serena lost in the second round of her first tournament this season to someone named Madison Brengle. Not surprisingly, though, the 22-time Grand Slam champion looks a lot more inspired in Melbourne than she did in Auckland. Serena has made quick work of former top-10 players Belinda Bencic and Lucie Safarova on her way to the last 32. GT Bets has Serena as a -1660 favorite to win her next match against Nicole Gibbs.

T. Tim Tebow . Tebow was not invited to the Mets' major-league spring training. But fear not, fans! Even though the former NFL quarterback will report to the minor-league camp, manager Terry Collins and general manager Sandy Alderson indicated that Tebow will play in some Grapefruit League games with the main club.

U. UNC . North Carolina gave Roy Williams his 800th career win as a head coach in college basketball on Monday, when it hammered Syracuse 85-68. Williams became the ninth Division I head coach to reach the 800 mark.

V. Vance Joseph . Joseph was hired as head coach of the Broncos last week, and his tenure is already off to a rough start. One, Denver isn't any good anymore. Two, a 2004 Boulder, Colo. police report that included sexual assault allegations against him was recently made public. On the bright side, at least he took the Broncos' job and not the 49ers' gig. Now that would be rough.

W. Wild . This wasn't quite of Novak Djokovic vs. Denis Istomin-ian proportions, but the Wild lost to New Jersey on Tuesday. New Jersey, of course, stinks. Minnesota, on the other hand, had taken points in 19 of its last 20 games (18-1-1). The Wild are still 28-10-5 and tied for first with Chicago in the Western Conference. MyBookie.ag has Minnesota as a -305 home favorite over Arizona on Thursday.

X. Xander Bogaerts . The Red Sox avoided arbitration with their 24-year-old shortstop by signing him to $4.5 million extension last week. Bogaerts hit .294 with 21 home runs and 89 RBIs in 2016.

Y. Young, Thaddeus . In the span of three games, Young twice made six steals. The Pacers' forward made three more-a modest number by his standards-in Wednesday's win over Sacramento.

Z. Zabaleta, Pablo . Zabaleta turned 32 on Monday, and he is part of an aging Manchester City defense. Aging does not necessarily mean bad, but in this case it does. The Skye Blues gave up four goals in a 4-0 English Premier League loss to Everton this past Sunday. They also lost to Leicester City 4-2 last month. Man City is +1400 at Bovada Sportsbook to win the EPL title.
Read more articles by Ricky Dimon