This Week in Sports Betting, A-Z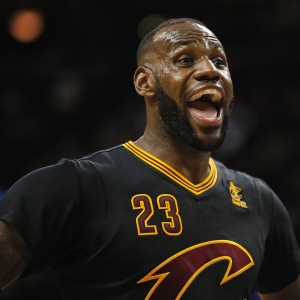 A. Adam Silver . In an effort to dissuade tanking (good luck with that!), the NBA commissioner and other higher-ups have approved a reform to the NBA Draft lottery. At present, the team with the worst record has a 25 percent chance of winning it, followed by 19.9 percent and 15.6 percent for the next worst. Starting in 2019, the three most inept clubs will all have a 14 percent shot at landing the No. 1 pick.

B. Bad beat .If you had the Redskins and the "under" in Monday night's game against the Chiefs, you endured the baddest beat in sports-betting history. Kansas City appeared to have won 23-20 on Harrison Butker's field goal with four seconds remaining. That would have allowed Washington to cover the +6.5 with the score staying under the 47.5 total. Justin Houston's fumble recovery for a touchdown on the last play of the game-a botched fumblerooski by the Redskins-reversed both bets. Are you not entertained?!?!

Free $60 in Member MLB Picks No Obligation Click Here
C. Cubs
. The Cubs are the first defending World Series champions to reach the playoffs since 2012. They got a stern test in the National League Central from Milwaukee and St. Louis, but those teams shied away from a postseason spot down the stretch as if they were watching the hit horror movie "It." Chicago is +275 at
GT Bets
to win the NL Pennant.
D. Deshaun Watson
. Houston's quarterback tied the rookie single-game touchdown record with five scores in his team's 57-14 victory over the Titans last weekend. Watson is the first rookie to pass for at least four touchdowns and rush for one in a single game since Fran Tarkenton in 1961. Count Alabama among those who are not surprised by his immediate success.
The Texans are +1 home underdogs
against Kansas City on Sunday night, per BetOnline Sportsbook.
E. English Premier League
. Manchester City remained atop the Premier League and sent Chelsea farther behind with a 1-0 road victory this past weekend. Man City and Man United are tied on the table at 19 points, five ahead of Tottenham and now six clear of the Blues.
F. Fired
. In news less surprising than two plus two equaling four, the Louisville athletic association's board voted unanimously on Monday to fire Rick Pitino. The 65-year-old had been on unpaid administrative leave after the basketball program was linked to a federal investigation into fraud and corruption in recruiting. When Bobby Petrino is the other head coach of a major sport at your university and you're the one getting fired for corruption, you know you've messed up pretty bad!
G. Gurley, Todd
. Gurley rushed for 121 yards, caught seven passes for 94 yards, and scored once in the Rams' 35-30 Week 4 upset of Dallas. That was preceded by a 149-yard, three-touchdown performance. Apologies in advance to anyone playing against Gurley in fantasy this week. Los Angeles is +380 at
MyBookie.ag
to win the NFC West.
H. Hugh Hefner
. The
Playboy
founder died last week at 91 years old. He leaves behind countless partners and only four children. Somewhere, Antonio Cromartie is extremely impressed by that low number.
I.
Iginla, Jarome
. Is it finally over for the 40-year-old's NHL career? The 2017-18 season begins today, and Iginla remains a free agent.
J. Justin Timberlake
.Timberlake is reportedly finalizing deal to be the halftime act for Super Bowl LII. No word yet if Janet Jackson will be present.
K. Kerr, Steve
. The Warriors' head coach has missed time in recent seasons due to a bad back. Now he has been out with…passport issues?!?! A passport processing center failed to return Kerr's passport in a timely matter and he was unable to travel with the team to Shenzhen, China. He ended up getting there on Tuesday, one day late.
BookMaker
has Golden State at -225 to win the NBA title.
L. Lewis, Ray
. Lewis is getting laced with backlash for kneeling during the National Anthem when the Ravens faced Jacksonville in London on Sept. 24. There were no protests at his statue outside Baltimore's stadium prior to last Sunday's game against Pittsburgh, but more than 70,000 have signed a petition for it to be removed.
M. Minnesota Twins
.These were the best twins since those sisters in the Coors Light commercials. In fact, they are so good that they became the first team in Major League Baseball history to reach the playoffs one year after losing 100 games. But it ended on Tuesday with an 8-4 loss at New York in the American League wild-card game.
N. Newton, Cam
. Carolina's quarterback threw for 316 yards and three touchdowns while also rushing for 44 yards and a score in his team's Week 4 victory. "I feel like this was a breakthrough game for us offensively," Newton said. And then he realized they were going up against the pathetic Patriots' defense.
5Dimes Sportsbook
has the Panthers as +1 underdogs at Detroit in Week 5.
O. Oakland Raiders
. To say it was an unfortunate week of football for Raiders' head coach Jack Del Rio would be a massive understatement. First, his son-a quarterback at Florida-suffered a season-ending collarbone injury. One day later, Oakland QB Derek Carr left with a transverse process fracture (what?) in his back and the Raiders lost at Denver 16-10. Carr will be sidelined for two to six weeks.
P. Phil Mickelson
. It's stupid how dominant the Americans were (and always are) in the Presidents Cup. Like, literally stupid. The competition was boringly over before the end of Saturday's play, with 12 Sunday singles matches still on the schedule. Mickelson played a big part on a team otherwise marked by relative youngsters, as the 47-year-old won two of his matches and halved the other. With Team USA presumably either hung over or still in a drunken stupor having all but clinched the cup on Saturday, Mickelson was one of just three Americans to win a singles match.
Q. Quarterback quandary . Michigan's Wilton Speight is likely out for multiple weeks with an undisclosed injury sustained on Sept. 23 during a win over Purdue. John O'Korn will start this Saturday against Michigan State.


R. Reunited . As expected, Dwyane Wade joined LeBron James in Cleveland after he cleared waivers following his buyout by the Bulls. But with Chris Bosh no longer in the fold, there was no "Not one, not two, not three, not four" celebratory bash. Bovada Sportsbook has the Cavaliers' over/under regular-season win total at 53.5.

S. Simpson, O.J. It was good week for Bills' fans, young and old. Buffalo upset the Falcons 23-17 on the road and Simpson got released from prison.

T. Troy . Talk about a disappointing return on investment! LSU paid Troy $985,000 to come to Baton Rouge for a game and then lost to the Trojans 24-21 this past weekend. Getting trolled by Troy University's Twitter handle immediately thereafter was presumably free of charge. "Hey @LSU, thanks for having us down for homecoming! We really enjoyed it!"

U. UGA . If the seat of LSU head coach Ed Orgeron is hot, then Tennessee boss Butch Jones is sitting on coals. The Volunteers lost to Florida, barely beat UMass, and got humiliated 41-0 by Georgia last Saturday. It was the Vols' worst loss in Neyland Stadium history. Chip Kelly is a +325 favorite at BetOnline Sportsbook to be head coach of Tennessee in 2018.

V.Vegas .Once again, it's time like these when sports provide a much-needed distraction. Las Vegas residents will soon get one in the form of their new hockey team.

W. Washington State . Seriously; is there anything better than a Mike Leach sound bite? Well, his team's performance against USC last Friday may have come close. The Cougars gained 462 total yards and treated their home crowd to a 30-27 upset of the Trojans. When asked about the atmosphere afterward, Leach quipped, "It's like Woodstock, except everybody's got their clothes on." Washington State is a -1 favorite at Oregon on Saturday, according to GT Bets.

X. Xbox . Rob Kelly and Keith Marshall of the Redskins bought a young boy an Xbox out of the blue last week. They were at a game store and overheard that the boy and his family did not have enough money. Perhaps even more impressively, they wanted to do it without the story getting out and having praise heaped upon them-but another bystander at the store made a social media post about what he witnessed.

Y. Yuli Gurriel . Houston, we have a playoff appearance. The Astros are back in the postseason and are looking or their first series win (not including a 2015 wild-card game victory) since advancing to the World Series in 2005. Gurriel, 33, is a veteran on an otherwise up-and-coming squad. The first baseman hit .319 in September with three home runs and 12 RBIs.

Z. Zack Greinke . The Diamondbacks' ace is taking the mound for tonight's National League wild-card game against the visiting Rockies. Colorado is countering with Jon Gray. Arizona is a -185 favorite , as indicated by MyBookie.ag.
Read more articles by Ricky Dimon