This Week in Sports Betting, A-Z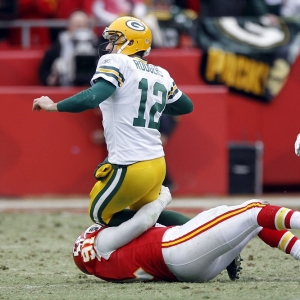 A. Adams, Davante . What a difference a week makes. In the Packers' win over Chicago, Adams made his way onto basically everyone's prayer list when he seemingly got his head knocked off by Danny Trevathan. Ten days later, Adams made seven catches for 66 yards and two touchdowns-including the game-winner-in a 35-31 victory at Dallas.Green Bay is a -300 favorite at Bovada Sportsbook to win the NFC North.

B. Bad start . And that's an understatement. Two games into the season, Winnipeg fans were probably just about ready to ship their team back to Atlanta-even paying for return postage! The Jets surrendered a horrendous 13 goals in losses to Toronto and Calgary. Out of nowhere, though, Winnipeg picked up a nice 5-2 road win over Edmonton on Monday.

C. Clown . In the greatest "clown" comment since Bryce Harper in 2012, James Harden went all in on former head coach Kevin McHale. It started when McHale went on TV and argued that the Rockets' star guard is "not a leader." Harden shot back, "He's a clown, honestly…. To go on air and just downplay my name, when honestly he's never taught me anything to be a leader...to go on air and downplay my name like that, it just shows his character…. It shows what type of person he is."

D. Duke . Blue Devils' guard Grayson Allen has been named a captain for the 2017-18 season. "I'm still growing and maturing," Allen said. Gosh, let's hope so!

E. Exum, Dante . Exum has an 'A' average at the Derrick Rose School of Getting Injured. Utah's season, though, may be getting a poor report card. The Utah Jazz's 22-year-old point guard is out for all of 2017-18 because of a separated left shoulder sustained during a preseason game last Friday. Exum also missed all of the 2015-16 campaign with a torn ACL.

F. Fields, Justin . Georgia may be Running Back University, but it is also stockpiling a horde of quarterbacks. Already with sophomore Jacob Eason and freshman Jake Fromm on board, the Bulldogs got a commitment from Fields-the top-rated player in the nation-last week. GT Bets has UGA at +1600 to win the College Football Playoff.

G. Giants . Will the Giants be able to field a football team this week? I guess. Will Eli Manning have anyone to throw to? Maybe not. Odell Beckham Jr. is out for the season with a broken ankle. Brandon Marshall is done due to ankle surgery of his own. Adding insult to injury, New York lost to the Chargers 22-17 last Saturday and is now 0-5. The Giants are +11.5 underdogs at Denver on Sunday night, per BetOnline Sportsbook.

H. Hat tricks . Yes, hat tricks-plural. Alex Ovechkin was every bit as good as Winnipeg was bad through two games of the 2017-18 NHL campaign. Ovechkin scored three goals in Washington's shootout win over Ottawa and four in a 6-1 blowout of Montreal before being held off the scoresheet in a 4-3 overtime loss at Tampa Bay on Monday. The Capitals are -130 home favorites over Pittsburgh on Wednesday, according to MyBookie.ag.

I. Iowa State . Iowa State stuck a flag in the middle of Oklahoma's field following last week's 38-31 upset and may have stuck a fork in Baker Mayfield's Heisman Trophy campaign. Mayfield passed for 306 yards and accounted for three touchdowns, but a bad loss to the Cyclones is a big dent in his resume-and in the Sooners' championship hopes.

J. Justin Thomas . As expected, Thomas earned PGA Tour Player of the Year honors last week. Thomas won five times-including the PGA Championship-and was the FedEx Cup winner.

K. Kicker . It didn't take the Chiefs long to find another good one after Cairo Santos went down with a groin injury and was waived. Enter Harrison Butker, signed off the Panthers' practice squad. In his NFL debut, Butker booted three field goals-including the game-winner-in a Monday night win over Washington. The former Georgia Tech Yellow Jacket then went 5-for-5 in last week's 42-34 defeat of Houston. 5Dimes Sportsbook has Kansas City as a -4.5 home favorite over Pittsburgh on Sunday.

L. Lynx . The Minnesota Lynx won their fourth WNBA title in the last seven years when they toppled the defending champion Los Angeles Sparks in a decisive Game 5 last Wednesday. Minnesota stayed alive with a road victory in Game 4 before taking the clincher 85-76 at home.

M. Myles Garrett . Garrett is off to a good start. So good, in fact, that the rookie defensive end-who missed Cleveland's first four games-had a sack on the first play of his career. He finished last week's 17-14 loss to the Jets with two sacks. It is safe to say, however, that the Browns are not off to a good start. Nope; they're 0-5.

N. Newton, Cam . Although he affected surprise that a female reporter knew about routes and got dropped by a yogurt company in between, Newton has been quite good on the field in his last two starts. During this stretch, Carolina's quarterback has 671 passing yards and seven total touchdowns compared to one interception. The Panthers are now 4-1 following three-point victories over New England and Detroit. BetOnline Sportsbook has Carolina at +1000 to win the NFC Championship.

O. Overtimes . Not one, not two, not three, not four…. No, last week's Western Michigan vs. Buffalo game required seven overtimes to be decided. Bulls' quarterback Drew Anderson threw for 597 yards and accounted for eight total touchdowns-and lost! The Broncos escaped Buffalo with a…wait for it…71-68 win.

P. Poison . Rat poison, to be more specific. Alabama head coach Nick Saban said the following after his team scraped past Texas A&M 27-19 last Saturday: "I'm trying to get our players to listen to me instead of you guys. All that stuff you write about how good we are? All that stuff they hear on ESPN? It's like poison. Like rat poison."


Q. Quintana, Jose . Quintana did not get the win when the Cubs hosted the Nationals in Game 3 on Monday, but he went toe-to-toe with Max Scherzer and did not allow a single earned run in 5.2 innings of work. Chicago battled back from a late 1-0 deficit to prevail 2-1 and take a 2-1 lead in the NLDS. Scherzer is +110 at MyBookie.ag to win the National League Cy Young Award.


R. Roethlisberger, Ben . Roethlisberger was out there setting records in Week 5. The 35-year-old became the first quarterback in NFL history to attempt more than 50 passes with no touchdowns and five interceptions as Pittsburgh got humiliated by Jacksonville 30-9. Roethlisberger also became the first Steeler since Mark Malone in 1987 to throw five interceptions in a single game, and he was victimized by two pick-sixes for the first time since 2006. The Jaguars' five interceptions set a franchise record of their own. The Steelers are +1000 at BookMaker to win the Super Bowl.

S. Shanghai . Both Rafael Nadal and Roger Federer are playing this week in Shanghai. While Nadal was busy winning another title in Beijing on Sunday, Federer stopped by the Warriors' locker room and chatted it up with Stephen Curry, Kevin Durant, and others.

T. Tom Petty . Petty died last week of a heart attack at age 66. Fans at last week's Florida vs. LSU game honored the Gainesville native by belting out "I Won't Back Down" in between the third and fourth quarters. R.I.P.

U. USMNT . No comment.

V. Vegas . Break up the Golden Knights! Las Vegas' expansion club is a perfect 3-0 through the first three regular-season games of its existence. It has taken care of Dallas 2-1, Arizona 2-1, and Arizona (again) 5-2. Will we already hear some "We want the cup! We want the cup!" chants when the Knights host Detroit on Friday?

W. Wilton Speight . Speight wasn't walkin' through that door for Michigan against rival Michigan State last weekend. And he won't be for the rest of the season. The senior quarterback missed his team's 14-10 loss to the Spartans and he was then diagnosed with three broken vertebrae in his back. Backup John O'Korn completed only 16 of 35 passes for 198 yards with no touchdowns and three interceptions. Michigan is a -7 favorite at Indiana on Saturday, per Bovada Sportsbook.

X. Xander Bogaerts . Boston manager John Farrell tweaked the top of his lineup for Game 4 against Houston on Monday, moving Dustin Pedroia to the leadoff spot and dropping Bogaerts to No. 2. It didn't work. Bogaerts went 2-for-3 with an RBI and two runs scored, but Pedroia went 0-for-5 and made the final out-of both the game and the season. The Astros' 5-4 road win allowed them to take the series 3-1.

Y. Yankees . Let's play five! New York lost its first two ALDS contests in Cleveland but bounced back to take both Game 3 and Game 4 at home. Aaron Judge is still hitting home runs, and now he's even robbing them. The Yankees (Sabathia) are +162 road underdogs against the Indians (Kluber) on Wednesday, as indicated by GT Bets.

Z. Zerrick Cooper . Head coach Dabo Swinney expects starting quarterback Kelly Bryant to play in undefeated Clemson's road date with Syracuse on Friday. But Cooper better be ready, because Kelly left last week's win over Wake Forest with an ankle injury. Cooper and fellow Hunter Johnson shared relief against the Demon Deacons after Kelly went down.
Read more articles by Ricky Dimon