This Week in Sports Betting, A-Z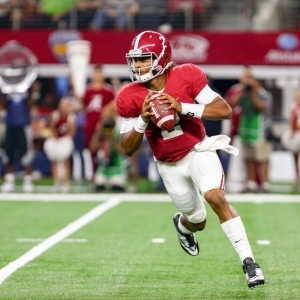 A. Alabama . Lane Kiffin won't be around for next Monday's National Championship. His former team will be. Two days after Alabama clobbered Washington 24-7 in the College Football Playoff, Kiffin and head coach Nick Saban came to a "mutual" agreement that the offensive coordinator will begin his duties with Florida Atlantic effective immediately. Translation: Kiffin got fired one week before the title game. The Crimson Tide are -6.5 favorites over Clemson, per BetOnline Sportsbook.

B. Blue Jackets . Not one, not two, not three, not four, not five…not 13, not 14. No, Columbus has won a whopping 15 games in a row heading into Tuesday's home date with Edmonton. The Jackets are 26-5-4 and lead the entire NHL with 56 points.

C. Clemson . The Alabama-Washington game was supposed to be bad. It was. The Clemson-Ohio State game was supposed to be good. It wasn't. Clemson dominated 31-0 to set up a rematch of last year's College Football Playoff championship, which the Crimson Tide won in a shootout. 5Dimes Sportsbook has the over/under at 51.

D. Duke . Star guard Grayson Allen is one the sidelines. Head coach Mike Krzyzewski will soon be joining him. Allen missed the first game of his indefinite suspension when the Blue Devils visited Virginia Tech last Saturday and they promptly lost 89-75. Krzyzewski, meanwhile, will coach against Georgia Tech on Wednesday but will then undergo back surgery and be absent for approximately four weeks. MyBookie.ag has Duke as a +330 favorite to win the National Championship.

E. Engaged . Serena Williams got engaged to Reddit co-founder Alexis Ohanian last week. So much for those Serena-Drake rumors. Love-love! Serena is a +175 favorite at Bovada Sportsbook to win this month's Australian Open.

F. Fired . Chip Kelly stayed four years at Oregon. He lasted three years with the Eagles. He could not even get to two years with the 49ers. Kelly was fired after one season with San Francisco, which completed a disastrous 2-14 campaign this past Sunday. The 49ers' only two wins came at the expense of the laughingstock that was the Los Angeles Rams.

G. Garrett, Myles . Texas A&M's star defensive end announced last Saturday that he will skip his senior season and enter the NFL Draft. He must not know that the Cleveland Browns have the No. 1 overall pick. Garrett had 32.5 sacks and 48.5 tackles for loss in three years with the Aggies.

H. Harden, James . Russell Westbrook has been the triple-double machine this season, but Harden did something on New Year's Eve that not even Westbrook has done. In fact, no player in NBA history had ever done it. Harden became the first to have at least 50 points, 15 rebounds, and 15 assists in a single game. He finished with 53 points, 16 rebounds, and 17 assists in Houston's 129-122 victory over New York. GT Bets has the Rockets at +1600 to win the Western Conference.

I. Indians . If you can't beat 'em, join 'em. Edwin Encarnacion, whose Blue Jays lost to Cleveland in five games in the ALCS, signed a three-year, $60 million deal with the Indians last month. Encarnacion batted .262 this past season, tied David Ortiz for the AL lead with 127 RBIs, and matched his career-high with 42 home runs.

J. Julio Jones . Jones wrapped up a somewhat injury-plagued regular season by scoring his first touchdown since Nov. 3 in Atlanta's 39-32 win over New Orleans in Week 17. He finished with 96 yards on seven receptions as the Falcons clinched the No. 2 seed and a first-round bye in the NFC playoffs. Atlanta is +830 at BookMaker to win the Super Bowl.

K. Kubiak, Gary . One year after leading the Broncos to a Super Bowl win, Kubiak is out as head coach. Citing health concerns, the 55-year-old stepped down during an emotional press conference on Monday.

L. Liverpool . Second-place Liverpool showed signs of putting some real pressure on Chelsea in the English Premier League when it beat Manchester City 1-0 last weekend. But the Reds slumped to a 2-2 draw at lowly Sunderland on Monday, leaving them five points back of the league-leading Blues on the table.

M. Mubadala World Tennis Championship . In an unofficial start to the tennis season last week, Rafael Nadal won a six-man tournament in Abu Dhabi with wins over Tomas Berdych, Milos Raonic, and Andy Murray. Nadal and Roger Federer may be a combined 5,000 years old, but the sport really needs them to come back healthy in 2017.

N. New Jersey Devils . Too bad the Devils no longer have the Nets in New Jersey to make them look good. Now there is nothing good about this team. The Devils are 3-9-1 in their last 13 games and 6-14-4 after a five-game winning streak came to an end on Nov. 17. They at least did well to bounce back from a 6-2 loss to Washington on New Year's Eve by blanking Boston 3-0 on Monday.

O. Orange Bowl . Who says that the other bowls have been killed off by the College Football Playoff? Whereas the two semifinals were complete clunkers, the Orange Bowl and the Rose Bowl produced absolute thrillers. Florida State held off Michigan 33-32 last Friday to win the Orange before Monday's granddaddy of them all saw USC win a wild one 52-49 over Penn State.

P. Porzingis, Kristaps . Things are going only slightly better for the Knicks than they did for Mariah Carey on New Year's Eve. New York has lost five games in a row and Porzingis has missed two straight with a sore Achilles'. The Knicks are two games below .500 for the first time since they were 5-7 back in mid-November.

Q. Quack . There was a whole lot of quacking going on last week, when Oregon handed UCLA its first loss of the season. The Ducks got a three-pointer from Dillon Brooks with 0.8 seconds remaining to stun the Bruins 89-87. They treated their home crowd to another win, this time over USC last Friday, to improve to 2-0 in Pac-12 play.


R. Rajon Rondo . Rondo was benched for the entire second half of Chicago's loss at Indiana last Friday. If he thought that was bad, he had something else coming for him on New Year's Eve. The veteran point guard was a healthy scratch from his team's home setback against Milwaukee and again in a win over Charlotte on Monday. "Absolutely," Rondo said when asked if he will seek a trade if the diminished role continues.

S. Subban, P.K. The Predators' defenseman suffered an upper-body injury last week and was placed on injured reserve this past Sunday. He will be reevaluated in two to three weeks. Subban has seven goals and 10 assists in 27 games this season. Nashville is a -125 home favorite over Montreal on Tuesday, as indicated by MyBookie.ag.

T. Tiger Woods . Tiger won't be playing the Hawaii swing this month, but he will be in action at Riviera in February. It was the site of his first PGA Tour event in 1992 (as an amateur), but the 14-time major champion has not played there since 2006.

U. UFC . In her first fight since losing to Holly Holm, Ronda Rousey lasted a mere 48 seconds against Amanda Nunes at UFC 207 in Las Vegas last Friday. All you need to know about how Rousey is taking the loss is that she has not posted on Twitter since last Thursday.

V. Vegas . No team has been bet on to win the Super Bowl more at the Vegas sportsbooks than Green Bay. And why not? Once 4-6, the Packers reeled off six wins in a row to win the NFC North and earn the conference's No. 4 seed at 10-6. Green Bay is a -4 home favorite over the Giants on Sunday, according to GT Bets.

W. Washington Redskins . Redskins' quarterbacks are no strangers to throwing footballs to other teams. It's just especially bad when they do it with the playoffs on the line. In a win-and-in situation, Washington found itself trailing the Giants by just three points midway through the fourth quarter. Kirk Cousins, though, got picked off by Dominique Rodgers-Cromartie for a second time and New York held on for a 19-10 victory. Thus the 'Skins were eliminated, allowing the Detroit-Green Bay loser (which turned out to be Detroit) to reach the playoffs.

X. Xavier Rathan-Mayes . The Mayes family has produced the first father-son duo in ACC history to score 1,000 career points apiece. Tharon Mayes played for Florida State from 1988 through 1990 and scored 1,260 points in 77 games. Current Seminole Xavier Rathan-Mayes reached the milestone during last Wednesday's 88-72 win over Wake Forest. He now has 1,029 points in 80 games. Wake Forest, meanwhile, is a -15 home favorite over Boston College on Tuesday, per Bovada Sportsbook.

Y. Yankees-Red Sox . The best rivalry in baseball could be taking its talents to London in 2018. Boston and New York may play a series across the pond one season from now, according to reports. The new collective bargaining agreement has opened the door for Major League Baseball to play games outside of North America, but no agreements have been confirmed.

Z. Zlatan Ibrahimovic . Ibrahimovic scored once in Manchester United's 2-0 victory over West Ham on Monday. The 35-year-old now has 18 goals in 18 matches this season since joining the Red Devils. Take that, critics! "It gives me a lot of energy, trust me," Ibrahimovic said. "Because they get paid to talk shit and I get paid to play with my feet. That's how I enjoy it. I came to the Premier League and everyone thought it would not be possible (to do well), but-like always-I make them eat their balls." Welp. Man U is +2000 at BetOnline Sportsbook to win the EPL title.
Read more articles by Ricky Dimon