This Week in Sports Betting, A-Z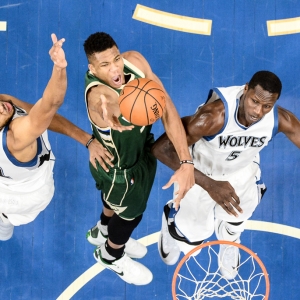 A. Antetokounmpo, Giannis . There may be a new MVP in the NBA town, and his name is Giannis Antetokotompantemoetounpemotokopoko-or something. Antetokounmpo-or how about just Giannis?-is averaging 30.6 points, 10.0 rebounds, 4.6 assists, 1.9 blocks, and 1.6 steals per game so far in 2017-18. And even though this is fifth NBA season, he is young enough (22) to be in college.

B. Ball, Lonzo . Ball one-upped LeBron James. The Lakers' rookie became the youngest player in NBA history to record a triple-double when he delivered one at 20 years and 15 days old-beating LeBron's mark by five days. Ball had 19 points, 13 assists, 12 rebounds, four blocks, three steals, and one brother locked up in China during a 98-90 loss to Milwaukee last Saturday.

C. Clippers . The Clippers were once 4-0. They are now 5-8. You can't make this stuff up, folks. For those counting, that means they are 1-8 in their last nine outings and their current six-game skid is the longest in the NBA. Los Angeles has not beaten anyone except Dallas (the worst team in the league at 2-13) since Oct. 26.

D. Davidson . Stephen Curry's college team is balling as if its most famous former player is still there. How about this for a stat: the Wildcats were plus-25 in three-pointers to turnovers margin in a season-opening 110-62 rout of Charleston Southern. Yes, they made 26 threes and turn the ball over just once. In their second game, Davidson blasted UNC-Wilmington 108-81. Golden State is a -7 favorite at Boston on Thursday, per BetOnline Sportsbook.

E. Ezekiel Elliott . At long last, Elliott was suspended-like, actually suspended. In other words, he got suspended and somehow did not get un-suspended in time for last week's trip to Atlanta. Without their star running back, the Cowboys lost 27-7.

F. Fired . Well, at least Butch Jones lasted longer than former Florida head coach Jim McElwain. Finally, though, Jones got the boot from Tennessee following last Saturday's 50-17 blowout loss to Missouri. The Volunteers are 1-5 in their last six games, a stretch that also includes losses of 41-0 to Georgia and 45-7 to Alabama. Jon Gruden is a +195 favorite at Bovada Sportsbook to be Tennessee's next head coach.

G. Gordon, Josh . Afroman may have written his hit "Because I Got High" for Gordon. 'Josh, why did you play so well today?' 'Because I got high.' The Browns' receiver, who has been conditionally reinstated to the NFL, admitted last week that he used to drink and smoke before every single game

H. Hundred . Six games in the history of men's college basketball involving a Division I team have been decided by at least 100 points. The sixth took place last Saturday, when Appalachian State annihilated Toccoa Falls 135-34. That's right; the Mountaineers won their season opener by 101 points at the expense of a National Christian College Athletic Association opponent. Toccoa Falls promptly lost to Mercer by a 110-43 margin on day later.

I. Iron Bowl . It's shaping up to be a big one. Even with two losses, Auburn is still in the College Football Playoff picture thanks to its tough schedule. Alabama, of course, remains undefeated.

J. Jonathan Bernier . Attention, Avalanche: put Semyon Varlamov in goal and leave him there. In his last four starts, Bernier has allowed a combined 17 goals. He is 2-4 in six games this season with a 3.71 goals-against average and .887 save percentage. Varlamov, on the other hand, is a more respectable 6-3-1 with a 3.18 GAA and .908 SVP. Colorado is a +115 home underdog against Washington on Thursday, according to MyBookie.ag.

K. Kenseth, Matt . Kenseth won last weekend's Monster Cup race in Phoenix and added himself to Brad Keselowski's Christmas card list. By holding off Chase Elliott, Kenseth denied Elliott a spot among the final four Monster Cup contenders and allowed Keselowski to advance.

L. LiAngelo Ball . Ball and the two other UCLA hooligans are back from China after being arrested for shoplifting. And now President Donald Trump wants to be thanked for his help-presumably by the Ball family. The story isn't over yet!

M. McAdoo, Ben . When an owner insists that someone is their head coach, the translation is that they won't be the head coach for much longer. "Ben McAdoo is our head coach." Translation: "Ben McAdoo is not our head coach for much longer." Giants' owners released that statement earlier this week with their team sitting at 1-8. 5Dimes Sportsbook has New York as a +11.5 home underdog against Kansas City on Sunday.

N. New Jersey Devils . Brian Boyle, who was diagnosed with Chronic Myeloid/Myelogenous Leukemia during training camp, scored his first goal of the season last Thursday. That's a win, even though the Devils lost 3-2 in overtime to Edmonton.

O. Oklahoma . Thanks to losses by Georgia and Auburn plus its own victory over TCU, Oklahoma is now in College Football Playoff position at No. 4. And quarterback Baker Mayfield is the clear Heisman Trophy frontrunner. The Sooners are -37 favorites at Kansas this weekend, as indicated by GT Bets.

P. Pearl, Bruce .This is probably not an ideal start to Pearl's latest season as Auburn head coach: assistant coach Chuck Person was arrested by the FBI in connection to an investigation into corruption, and now the school is doing its own internal investigation of the program. On that note, it hasn't been an ideal start to the season for all of college basketball.


Q. Quarterback sneak . Leave it to the Browns to do that. With 15 seconds left in the first half of last week's game at Detroit, Cleveland-with no timeouts remaining-found itself with a second-and-goal situation at the Lions' two-yard line. So, what do the Browns do? Run a quarterback sneak, get tackled in bounds, and watch the clock run out, of course. They lost 38-24 and are now the NFL's only winless team at 0-9.


R. R.J. Barrett . It has been a nice week for preseason No. 1 Duke. The Blue Devils got a commitment from Barrett, the No. 1 recruit in the nation, and beat second-ranked Michigan State 88-81 on Tuesday.

S. Sherman, Richard . Sherman already despised Thursday Night Football. He will despise it even more now. Playing on just three days of rest, the Seahawks beat Arizona 22-16 last week but lost Sherman for the season with a torn Achilles'. He was one of seven injury-plagued players who left the game early. Seattle is a -3 home favorite over Atlanta on Monday night, per Bovada Sportsbook.

T. Titanic . Cam Newton on Carolina's recent trade of wide receiver Kelvin Benjamin: "We just lost a great player, but nevertheless, the Titanic still has to go." Um, did someone forget to tell Newton what happened to the Titanic? Fortunately for the Panthers, they have not sunk yet. Following Monday night's win over Miami, they are sitting nicely at 7-3 and riding a three-game winning streak. BetOnline Sportsbook has Carolina at -130 to make the playoffs.

U. Urban Meyer . Meyer's current season with Ohio State has had more ups and downs than the Goliath ride at the Six Flags in California. The Buckeyes have lost twice (by a combined 46 points, it should be noted) but sandwiched their most recent setback with their two biggest victories: a wild 39-38 comeback against Penn State and last week's 48-3 drubbing of Michigan State.

V. Vikings . Teddy Bridgewater is in. Sam Bradford is out. But whereas "out" truly means "out" for Bradford (he is done for the season with a knee injury), "in" doesn't truly mean "in" for Bridgewater. Although the former Louisville star made an emotional return to Minnesota's active roster last week, he may never see the field because Case Keenum is on fire. You read that right; Case Keenum of all quarterbacks in on fire.

W. Westbrook, Russell . This isn't the same Westbrook that averaged a triple-double in 2016-17. It doesn't have to be with Carmelo Anthony and Paul George now in Oklahoma City. For the fifth time this season, Westbrook attempted no more than 13 shots in a game when the Thunder beat Chicago 92-79 on Wednesday. OKC is +1200 at GT Bets to win the Western Conference.

X. Xabi Prieto . The 34-year-old captain of Real Sociedad said last month that this season in La Liga will likely be his last. Sociedad is currently seventh on the table with a 5-4-2 record. It is +250 atBookMaker to win its Europa League group.

Y. Young, Malek . Miami (FL) brought out the turnover chain four times during its 41-8 shellacking of Notre Dame last weekend. Young was among the four Hurricanes who had the now-famous jewelry bestowed upon them, as he intercepted an errant Irish throw in the second quarter. The undefeated 'Canes are up to No. 3 in the College Football Playoff rankings.

Z. Zucker, Jason . Nino Niederreiter, you ruined everything! Zucker had scored each of the Wild's last six goals during a span of three games. He was one away from tying the NHL record. Niederreiter broke the streak just 12 seconds into Tuesday's contest against Philadelphia, and as it turns out, the ending of Zucker's streak was not necessary. Zucker, himself, scored-again-later in the game and his goal would have been enough because Minnesota shut out the Flyers 3-0. Speaking of streaks, it was goalie Devin Dubnyk's third consecutive shutout. MyBookie.ag has the Wild as -130 home favorites over Nashville on Thursday.
Read more articles by Ricky Dimon