Case of the Mondays: Chiefs, Cowboys Fail to Clinch in Week 15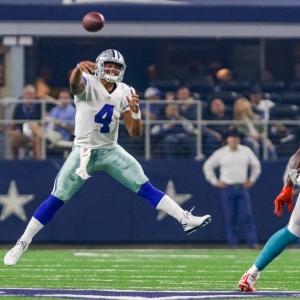 It was all right there for the Cowboys to wrap up the NFC East on Sunday, with a game against Indianapolis on their schedule while Philadelphia had to face the Rams on the road. Instead, Dallas lost-and lost big-before the Eagles pulled off an upset in Los Angeles. As for the Chiefs, they collapsed at the end of their Thursday night showdown with the Chargers to make the AFC West race the most interesting one in the NFL.

All odds provided by Bovada Sportsbook .

Kansas City Chiefs . It's all tied up in the AFC West, with Kansas City (11-3) holding the tiebreaker over Los Angeles (11-3) due to a superior division record. But the Chargers kept themselves alive in improbable fashion, erasing a 14-point deficit in the final two minutes. Philip Rivers threw a touchdown pass to Mike Williams with four seconds left and then connected with Williams again after head coach Anthony Lynn confidently called for a two-point conversion. "As long as we learn from it, that's the important thing right now," Chiefs head coach Andy Reid noted following the 29-28 loss. "You don't take anything for granted at home or anywhere else. You have to bear down.… The best thing we can do is learn from it and make ourselves a better football team." K.C. is a -2.5 favorite at Seattle this weekend .

Amari Cooper . The Cowboys also had a chance to seal their own deal in the NFC East, but to say they didn't come close to getting the job done would be a gross understatement. Dallas went into Indianapolis and got embarrassed 23-0 by a mediocre opponent. One week after going off for 217 yards and three touchdowns on 10 catches in a win over Philadelphia, Cooper was held to 32 yards on four receptions by the Colts (also now 8-6). Nobody else did much of anything, either. Quarterback Dak Prescott threw for 206 yards while getting picked off once, and running back Ezekiel Elliott gained 87 yards on 18 carries in addition to one lost fumble. The Cowboys are -7 favorites over Tampa Bay on Sunday.

Memphis Tigers . Memphis will be without its star running back in the Birmingham Bowl against Wake Forest this coming Saturday, as Darrell Henderson has announced that he will focus on the 2019 NFL Draft. Henderson, a junior, is second all-time in school history in rushing yards (3,545), all-purpose yards (4,790), 100-yard rushing games (16), and total touchdowns (45). He finished 10th in this year's Heisman Trophy voting, becoming the first Memphis player to receive votes since DeAngelo Williams (2005). The Tigers are -3.5 favorite over the Demon Deacons .

Memphis Grizzlies . As for Memphis' NBA team, the Grizzlies were part of the debacle that was the Trevor Ariza trade negotiations. Their three-way deal with the Suns and Wizards infamously fell through when Memphis and Phoenix were on opposite pages regarding which Brooks-MarShon or Dillon-was involved. "What happened [Friday] night was unfathomable; I've never experienced this before," Grizzlies general manager Chris Wallace fumed. "That forced me to do something I've never done in 30-plus years working in this league with seven teams, is to drag two players out of a locker room and tell them they've been traded and then eventually have to come back and tell them, 'Oh, no, you haven't been traded.'" The Suns and Wizards eventually agreed to an Ariza trade without involving Memphis. The Grizzlies are +11.5 underdogs at Golden State on Monday.

J.T. Realmuto . It looks like Realmuto may be staying with the Marlins after all. Perhaps the most talked-about trade bait on the market this offseason, the 27-year-old catcher has been at various times to be headed for Atlanta, Cincinnati, New York (both Yankees and Mets), and Tampa Bay. The Braves had been considered the favorite before reportedly backing out of talks this past weekend. As for their National League East rivals, the Mets recently took themselves out of the Realmuto sweepstakes when they signed catcher Wilson Ramos to a two-year deal. Atlanta is +1400 to win the World Series.

Anthony Stolarz . The Flyers have lost four games in a row to fall into last place in the Eastern Conference. Stolarz has been the primary goalie dating back to late November, but he is saddled with a 2-3-2 record, 3.90 goals-against average, and .880 save percentage. Adding insult to injury, or vice versa, Stolarz left Saturday's 5-1 setback against Vancouver early with a lower-body injury. Philadelphia is tied for last at +7000 to win the Eastern Conference.

Manchester United . Man United's English Premier League woes continued with a 3-1 loss to Liverpool on Sunday. Manager Jose Mourinho's club is now a disappointing 7-5-5 and a laughable 19 points back of the first-place Reds on the table. The Red Devils eight points out of fifth (Arsenal) and 11 out of fourth (Chelsea). Mourinho has given up on anything better than a No. 4 finish. "We can still finish fourth," he indicated. "It is not easy. For sure, for sure we are going to finish in the top six but the best we can get is fourth. We can look to the fifth and probably later we can look to the fourth." With that kind of attitude, Man U may want to focus its attention on the UEFA Champions League. But it won't have things any easier in that competition, as the round of 16 draw was held last weekend and United has to go up against Paris Saint-Germain. As for Liverpool, it is a +225 second choice to win the Premier League title; Manchester City is a -250 favorite.


Read more articles by Ricky Dimon