Case of the Mondays: Astros Opening the Door in AL West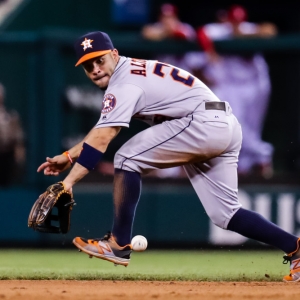 The Houston Astros have had designs of running away with the American League West at times this season, but getting swept this past weekend was not part of the plan. Getting swept by the division rival Seattle Mariners made it even worse. On the golf course, meanwhile, Tiger Woods came close yet again, and Justin Thomas' bid to defend his PGA Championship title came up short.

All odds provided by Bovada Sportsbook unless otherwise indicated.

Houston Astros . The Mariners were eight games out of first place in the AL West heading into last week's four-game series. They promptly sliced that deficit in half. Seattle beat the Astros 8-6, 5-2, 3-2, and 4-3 to get back in the division discussion. And the biggest problem for Houston is that the Mariners are not even its top threat at the moment; that would be the Oakland Athletics, who are now just 2.5 games back in the division with a two-game winning streak and a 9-2 record in their last 11. "It feels like a really bad weekend," Houston manager A.J. Hinch admitted following Sunday's setback. "Which is all it is.... But we'll be fine. This is not something we can't overcome." The Astros are +210 to win the American League and +400 to win the World Series.

Kenta Maeda . In the National League West, meanwhile, things have also taken a turn for the worse for the Los Angeles Dodgers. They just lost three in a row to the Colorado Rockies and have been overtaken in the division by the Arizona Diamondbacks. With L.A. trying to shake things up, coinciding with Hyun-Jin Ryu's return from injury, Maeda and Ross Stripling have been sent from the starting rotation to the bullpen. Maeda is 7-7 with a respectable 3.80 ERA, and although he has been decent of late he has gone seven straight outings without producing a quality start. The 30-year-old's stay in the bullpen is expected to be permanent, while Stripling's could be temporary. Los Angeles (Kershaw) is a -200 home favorite over the San Francisco Giants (Bumgarner) on Monday night.

Derrius Guice . Guice's first NFL season is over before it started. The second-round draft pick out of LSU suffered a torn ACL in the Washington Redskins' first preseason game last Thursday night, a 26-17 loss to the New England Patriots. Guice, who rushed for 19 yards on six carries, was expected to be a major contributor at running back for Washington in 2018. He rushed for more than 1,200 yards in each of his last two college campaigns while combining for 29 total touchdowns during that span. "We have guys in here," head coach Jay Gruden noted. "We drafted Derrius because he was the best player, not because we weren't satisfied with the backs we have. We're pretty good at the running back spot. We'll have it covered no problem, but we are disappointed." The spread is even in the Redskins' Week 1 road date with the Arizona Cardinals.

Maryland . Maryland's football program has been embroiled in turmoil ever since offensive lineman Jordan McNair died in June after showing signs of heatstroke during a workout in late May. The university is currently investigating allegations of abuse and disparagement in football program, and it has placed head coach D.J. Durkin on paid administrative leave. Offensive coordinator Matt Canada will serve as the team's interim coach. The "over/under" for Maryland wins in the regular season is five .

Isaiah Thomas . In a recent social media post that was quickly deleted, the former Cleveland Cavaliers guard called the city of Cleveland a "s---h---." Thomas added, "I can see why LeBron left-again." The 29-year-old did his best to backtrack by not only deleting the post but also by making apologies on Twitter and Instagram Live. It is another instance of negative publicity for Thomas, whose fall from grace has been rapid ever since he was dealt for Kyrie Irving from the Boston Celtics to the Cavaliers. Once in line to be a max player, Thomas signed a one-year, $2 million deal with the Denver Nuggets this offseason. Denver is +7000 to win the Western Conference.

Arsenal . New manager Unai Emery faced a tough test in his Arsenal debut, and it proved to be too tough in his team's 2018-19 English Premier League season opener on Sunday. The Gunners welcomed defending champion Manchester City to town and got blanked 2-0. City found the back of the net in the 14 th minute (goal by Raheem Sterling) to take control and again in the 64th minute (goal by Bernardo Silva) to wrap it up. "We need to continue to work…to shorten the difference today between Manchester City and us," said Emery, whose club held possession just 42 percent of the time and finished with three shots on goal to the Sky Blues' eight. Arsenal is a +330 underdog against Chelsea on Saturday.

Justin Thomas . Thomas knew he had to be special on Sunday to defend at the PGA Championship, trailing Brooks Koepka by four strokes. He was for a while, going 3-under through seven holes and 4-under through 11. But a dreadful three-putt bogey that should have been a birdie on nine was eventually followed by bogeys on 14 and 16 to end his chances. The 25-year-old American finished in a tie for sixth, six shots behind Koepka-who is now a three-time major champion. Tiger was solo second, two strokes back, while Adam Scott placed third. Thomas is +1100 to win the Masters next year; Tiger is +1200. The United States, meanwhile, is a -110 favorite to win the Ryder Cup this fall.
Read more articles by Ricky Dimon