Case of the Mondays: Crosby Misses Five Kicks in Packers' 31-23 Loss to Lions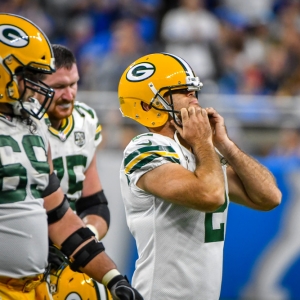 Four missed field goals; one missed extra point. Those were Mason Crosby's failures during Green Bay's Week 5 setback against Detroit. He finished 1-for-6 overall, making a single field goal while erring on his lone PAT (the Packers went for two twice). It was also a rough weekend for a couple of Florida-based teams-the NFL's Jaguars and Florida State on the college gridiron.

Odds provided by MyBookie.ag unless otherwise indicated.

Mason Crosby . The Packers are 0-1-1 in their last two games against NFC North rivals. They could have been 2-0 in those crucial contests if Crosby had simply made a couple of more kicks. The 12-year veteran missed a 52-yarder at the end of regulation in what proved to be a 29-29 Week 2 tie against Minnesota. He was off the mark on tries of 41, 42, 38, and 56 yards in this past Sunday's 31-23 loss to the Lions. "Well, obviously (I'm) shocked; it's never happened to me," Crosby admitted. "It doesn't happen. So I'm going to evaluate it, but I'm going to [chalk] it up to something that is an anomaly in life that I've never even been a part of. So I'm going to evaluate the details like I do every week and move on. Because that one for me is something that I've never been a part of and hope to never be part of again." Green Bay is a -9.5 home favorite over San Francisco next Monday night .
Jacksonville Jaguars . With Leonard Fournette out indefinitely due to a right hamstring strain, Jacksonville saw Corey Grant go down with a likely season-ending Lisfranc injury last weekend. That means there are just two healthy running backs on the current roster, leaving T.J. Yeldon to shoulder the load perhaps the entire rest of the way. Adding insult to injury, the Jaguars lost to undefeated Kansas City 30-14. It was a classic matchup of offense vs. defense, and clearly the offense had the upper hand. Patrick Mahomes passed for 313 yards and the Chiefs rushed for 126 yards as a team, while the Jaguars were also doomed by committing a ridiculous five turnovers. Jacksonville is a -130 favorite to win the AFC South.

Florida State . As +13 underdogs, the Seminoles were not supposed to win this past Saturday at rival Miami (FL). But they were when they led 27-7 midway through the third quarter. In fact, at one point (leading by 20 and possessing the ball) ESPN had Florida State with a 95.1 percent chance of prevailing. Instead, the Hurricanes stormed back for a stunning 28-27 victory, scoring three touchdowns in the span of less than 10 minutes. "Our guys were playing well," FSU head coach Willie Taggart said of his team building its huge lead. "Probably by far the best we played all year. I guess that's why it's really frustrating. I did see signs of progress. But we didn't finish. We came here to win, and we didn't win." Miami is a -6.5 favorite at Virginia on Saturday night .

Bryce Love . Stanford's College Football Playoff hopes are over with two losses, and Love can pretty much kiss his Heisman Trophy chances goodbye as well. Following their 38-17 blowout loss to Notre Dame, the Cardinal fell at home to Utah 40-21 last week. Love missed the latest loss due to an ankle injury that he sustained against the Fighting Irish, who limited him to 73 yards on 17 attempts. The senior is averaging just 4.3 yards per carry this season after going for 8.1 in 2017. Notre Dame is +1200 to win the National Championship ( Bovada Sportsbook ).

Colorado Rockies . Colorado did well to bounce back from losing its National League West tiebreaker loss against the Dodgers by winning the NL wild-card game in Chicago. But the Rockies' roller-coaster ride went from down to up and back down again with a three-game sweep at Milwaukee's hands in the NLDS. They dropped the first two contests on the road by 3-2 and 4-0 decisions before getting eliminated with a 6-0 home setback on Sunday evening. That's right; Colorado did not score a single run in either of the last two contests. The three remaining series are all continuing on Monday, culminating with Game 3 between the Yankees and Red Sox. New York (Severino) is a -180 home favorite over Boston (Eovaldi).

San Antonio Spurs . The Spurs have plenty of issues going into this season, and not just because another era is over with Manu Ginobili's retirement. Rookie guard Lonnie Walker IV is expected to miss at least six weeks because of a torn right meniscus, and starting point guard Dejounte Murray suffered a right-knee injury during Sunday's preseason game against Houston. An MRI on Monday confirmed San Antonio's worst fears-a torn ACL. "He's our starting PG and he's worked hard over the summer to get better," forward LaMarcus Aldridge said. "I think it was showing. You just feel for him because he's worked so hard to be ready for this season." The Spurs' over/under regular-season win total is 45.

Phil Mickelson . After finishing dead last at the TOUR Championship at 13-over par, Mickelson delivered a predictably disastrous performance at the Ryder Cup (no points scored for the Americans in their loss to Europe). The 48-year-old showed signs of getting back on track with opening rounds of 65 and 69 at last week's Safeway Open-the fall-swing start of the 2019 season. But it all fell apart for him thereafter, as Mickelson fell from 10-under to 8-under with weekend rounds of 74 and 72 en route to a T17 finish. Kevin Tway won a three-man playoff with Brandt Snedeker and Ryan Moore to lift the trophy. Mickelson is a +170 underdog to win his $10 million match against Tiger Woods next month and he is +140 to wear a white shirt during that competition (black is a +150 second choice).
Read more articles by Ricky Dimon