Case of the Mondays: From Bad to Worse-and Inexplicable-for Bills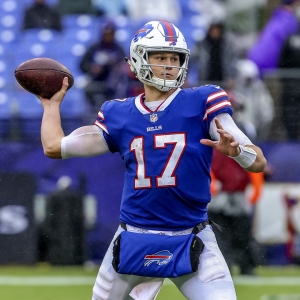 The Bills playing bad football is something everyone has seen before, but even they came up with a new one on Sunday. Cornerback Vontae Davis retired-like, completely retired from football-at halftime of his team's home loss to the Chargers. On the college gridiron, meanwhile, Arkansas also suffered its second setback of the season. The Hogs went down in flames at home to underdog North Texas.

All odds provided by Bovada Sportsbook .

Buffalo Bills . "I never have seen that," Buffalo linebacker Lorenzo Alexander said of his teammate's sudden retirement. "Pop Warner, high school, pros…never heard of it. Never seen it. It's just completely disrespectful to his teammates.... He didn't say nothing to nobody. I found out going into the second half of the game. They said he's not coming out, he retired. That's it." Of course, Davis' exit is the least of the Bills' problems these days. They are 0-2 following Sunday's setback 31-20 setback against Los Angeles and have been outscored 78-23 through two games. Buffalo trailed the Chargers 28-3 late in the second quarter before putting some relatively meaningless points on the board the rest of the way. The Bills are incredible +17 underdogs at Minnesota in Week 3.

Daniel Carlson . A tie at Lambeau Field against a tough division rival is never exactly a bad thing…unless you're Carlson. The Vikings' kicker missed a 35-yard field goal as the overtime clock expired, thus ending the Minnesota-Green Bay showdown in a 29-29 draw. Carlson also botched a 48-yarder in the second quarter and a 49-yarder earlier in overtime, with all three miscues going wide right. It would have been a better day for the rookie out of Auburn (but not for the Vikings as a whole) if Packers kicker Mason Crosby had nailed a 52-yarder as time expired in regulation. Carlson is -500 to be cut before Week 3.

Wisconsin . In this era of the College Football Playoff, you can recover from one loss-especially in the early going. But a home loss to BYU is such that Wisconsin will have to be incredibly impressive, and obviously undefeated, the rest of the way. The Badgers fell to the Cougars 24-21 this past Saturday after Rafael Gaglianone gagged on a potential game-tying 42-yard field goal with 36 seconds left. BYU racked up 191 rushing yards on Wisconsin and did not turn the ball over a single time. The Badgers are -3.5 favorites at Iowa this weekend .

Cole Kelly . Arkansas' special teams had the lowest of the lowlights in its humiliating 44-17 home loss to North Texas, giving up on a punt return that Keegan Brewer didn't fair catch and took 90 yards to the house. But Kelly was incredibly bad. The sophomore quarterback completed a mere 16 of 35 passes for 185 yards, no touchdowns, and four interceptions before getting benched. "(I'm) disappointed," first-year head coach Chad Morris assured. "We took a punch today, especially in the first half.... I think they scored 17 points in 16 plays in the first half and just stunned us right there. We never could rally back." Arkansas has not been able to rally back from its woes for many years now, as its combined record dating back six seasons is the program's worst such stretch in more than 70 years. The Razorbacks are 1-2 so far in 2018, their next three games come against Auburn, Texas A&M, and Alabama, and they still have a date with LSU and a road trip to Mississippi State. Arkansas is a +26 underdog at Auburn this Saturday.

St. Louis Cardinals . St. Louis blanked the Dodgers 5-0 on Sunday night, but it is still 1-4 in its last five contests after allowing a total of 33 runs in the four losses. There are five playoff spots available among six remaining teams in the National League, and the Cardinals could be the odd men out. They are 5.5 games behind the Cubs in the NL Central and tied with the Dodgers for the league's second wild-card spot. Their schedule does not get any easier, with three of four series down the stretch against Atlanta, Milwaukee, and the Cubs. The Cardinals are +1000 to win the National League Pennant.

Tottenham Hotspur . It's still super early, but Tottenham is digging itself a hole in the English Premier League. The Spurs suffered their second loss in the first five matches of the 2018-19 campaign, falling 2-1 to Liverpool at Wembley Stadium last weekend. The trailed 2-0 after 54 minutes and did not get on the scoreboard until two minutes of stoppage time had elapsed. "This type of game shows we need to improve if we are going to be contenders," manager Mauricio Pochettino admitted. Tottenham is tied for sixth on the EPL table, trailing the likes of AFC Bournemouth and Watford and six points back of Liverpool and Chelsea. Manchester City is a -150 favorite to win the Premier League; Liverpool is a +225 second choice.

Jordan Spieth . The TOUR Championship is taking place this week, and it will come and go without Spieth in the field. Spieth missed the top 30 cutoff by one spot, missing out on his chance when he shot a final-round 73 at the BMW Championship to finish T55. Failing to make it to Atlanta is what really stings, but the adding insult to injury is that the 25-year-old American will actually be fined for his failure. The PGA Tour has a rule called the "strength of field regulation," which requires players to either appear in 25 tournaments in the current or previous season or add a new tournament in the current season that they did not play in the previous season. Spieth ends 2018 with 24, as the TOUR Championship would have been No. 25. The former world No. 1 also ended last year with less than 25 and did not add anything new this season. Justin Rose is a +750 favorite to triumph this weekend at East Lake.
Read more articles by Ricky Dimon