Case of the Mondays: Heartbreak Again for Georgia Against Alabama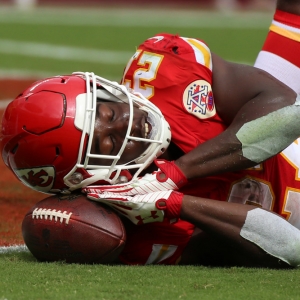 It was heartbreak again in Atlanta, specifically at Mercedes-Benz Stadium, for fans throughout the state of Georgia. For the second time in this calendar year, UGA suffered a devastating loss to Alabama-this time in the SEC Championship. Basically the same fan-base will have a chance for some kind of redemption when the Benz turns from American football to real football with the Atlanta vs. Portland MLS Cup on Saturday.

Odds provided by Bovada Sportsbook unless otherwise indicated.

Georgia . Following a script that not even Hollywood or Shakespeare could have penned, Alabama won a 35-28 thriller over Georgia this past weekend. In the 2017-18 National Championship, Tua Tagovailoa replaced Jalen Hurts at halftime and led the Crimson Tide to a 26-23 overtime triumph at the Bulldogs' expense. Roles were reversed in the rematch, with Hurts coming to the rescue of an injured Tagovailoa in an epic fourth-quarter performance. 'Bama, which trailed UGA 13-0 at halftime and by double-digits in the fourth quarter of the National Championship, erased a 28-14 second-half deficit en route to a 35-28 victory. Adding insult to injury, Georgia was left out of the College Football Playoff on Sunday-missing by one ranking spot as Oklahoma snagged the fourth and final seed. Alabama is a -240 favorite to win the national title.


Kareem Hunt . Hunt did not last long with the Chiefs after video surfaced last week showing him shoving and kicking a woman earlier this year. The star running back was placed on the commissioner's exempt list by the NFL and then promptly released by Kansas City. "I didn't tell them everything," Hunt said of the Chiefs, referencing reports that he was not truthful with the team during an offseason discussion about the incident. "I don't blame them for anything. My actions caused this. The Chiefs did what was right." The former Toledo standout had rushed for 824 yards, added 378 receiving yards, and scored 14 total touchdowns this season. The Chiefs are +225 co-favorites along with New England to win the AFC championship.

Cam Newton . The Saints suffered a bad loss to Dallas in Week 13, but they have Carolina to thank for moving to within one game of clinching the NFC South. Newton threw a ridiculous four interceptions as the Panthers fell 24-17 at Tampa Bay on Sunday for their fourth loss in a row. Once 6-2, they are now 6-6 following setbacks against the Steelers, Lions, Seahawks, and Bucs. Newton has been picked off at least once in all four of the recent losses. Carolina is a -1 favorite at Cleveland in Week 14 .

Dwight Howard . To say the Wizards' season is off a tumultuous start would be a gross understatement. They are 9-14 (not terrible considering they were once 1-7) and star guard John Wall dropped an f-bomb on head coach Scott Brooks last month. "We moved on from it as a team," Brooks said a few days following the incident. "(I'm) not trying to minimize what happened, but in all sports, all teams I've been on-I've been in the league for almost 30 years as a player, as an assistant coach, (and) as a head coach-that has happened." Washington is moving on without Howard, who is sidelined for at least two months following back surgery to alleviate a gluteal injury. Howard is averaging 12.8 points and 9.2 rebounds per game. The Wizards are -1 road favorites over the Knicks on Monday.

Washington Capitals . While Georgia's collapse came on a much, much grander scale, no blown lead last weekend was more shocking that that of the Capitals. Winners of seven in a row, the defending Stanley Cup champions were well on their way to an eighth straight victory with a 5-1 advantage over Anaheim on Sunday. Out of absolutely nowhere, however, the Ducks scored an unbelievable five consecutive goals in a 20-minute span from 14:31 of the second period to 14:55 in the third on their way to a stunning 6-5 road upset. Washington is +1000 to win the Eastern Conference.

New York Red Bulls . New York has compiled the best record in Major League Soccer's Eastern Conference five of the last nine years, including four of the last six. Shockingly, the club has never advanced to the MLS Cup (despite now qualifying for the playoffs in 19 of 23 seasons). The Red Bulls captured the 2018 Supporters' Shield with the league's best record, but they lost to Atlanta 3-1 on aggregate in the conference final after dropping the first leg 3-0. "A part of me is numb to all of it because of the overwhelming amount of disappointment," goalie Luis Robles admitted. "That disappointment may not go away, but I can say that it will fuel me for next season. As long as we haven't won it, there's going to be this motivation to continue to go. Because it's all you can do." Atlanta is a -230 favorite to beat Portland in regulation and lift the trophy this weekend (MyBookie.ag).

Tiger Woods . The end of a long and mostly encouraging comeback season came to an unceremonious end for Tiger this past week. At his own tournament, the Hero World Challenge, he finished second-to-last ahead of only Hideki Matsuyama. The 14-time major champion struggled to a 1-under result with rounds of 73, 69, 72, and 73 while 11 of his competitors raced to double-figures under par. John Rahm triumphed at 20-under, defeating Tony Finau by four strokes. Tiger is +250 to win at least one major in 2019 and he is a +1000 co-favorite along with Jordan Spieth to win the Masters.
Read more articles by Ricky Dimon