Case of the Mondays: Lightning Striking Out So Far Against Capitals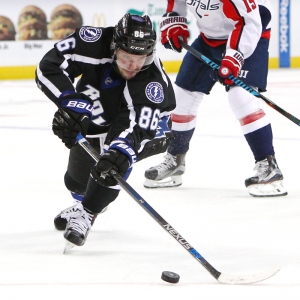 During the regular season, the Nashville Predators compiled the best record in all of hockey and the Tampa Bay Lightning earned the most points in the Eastern Conference. The south looked like hockey country in the United States, but suddenly that is no longer the case. Nashville was eliminated by the Winnipeg Jets in the Western Conference semifinals, while the Washington Capitals are just two wins away from sending Tampa Bay home.

All odds provided by Bovada Sportsbook .

Tampa Bay Lightning . There appears to be no stopping the Capitals after they finally got over the hump that was the Pittsburgh Penguins. After ousting Pittsburgh in six games during the Eastern Conference semis, Washington took the first two contests in Tampa Bay-4-2 in the opener and by an even more convincing 6-2 margin on Sunday. The Lightning led 2-1 following one period in Game 2 but allowed three goals in the second-including two in the final 1:02. "For a team that's been used to being able to make some plays, we sure haven't made them in these two games," head coach Jon Cooper admitted. "It's very uncharacteristic of us. That's the difference. They've made plays; we haven't…. We've just played tentative and a little bit slow. We didn't get 113 points by playing that way. We didn't win the first two rounds by playing that way. For some reason for two games, that's the way we've played." The Capitals are -120 home favorites in Game 3 on Tuesday.

Pekka Rinne . Rinne (42-13-4, 2.31 goals-against average, .927 save percentage) was one of the NHL's best goalies in the regular season. But he was not the same Rinne against Winnipeg. The 35-year-old got pulled three times in Nashville's seven games against the Jets, including the quickest Game 7 hook in league history after 10 minutes and seven seconds last Thursday. Rinne allowed two first-period goals as the Predators eventually fell 5-1. They went a shocking 1-3 at home during the series and did not win a single home game in regulation. Even Winnipeg goalie Connor Hellebuyck called Rinne's early exit "heartbreaking." The Jets, who beat the Vegas Golden Knights 4-2 this past Saturday, are -145 home favorites in Game 2 on Monday.

Cleveland Cavaliers . Boston Celtics' forward Marcus Morris said he could guard LeBron James, and that is exactly what he did in Game 1 on Sunday. Morris, who also scored 21 points and grabbed 10 rebounds, forced LeBron into a playoff-high seven turnovers and held him to a playoff-low 15 points on 5-for-16 shooting in Boston's 108-83 blowout. The Cavaliers shot 36.0 percent from the floor as a team, including a horrendous 4-for-26 from three-point range. Cleveland is a +1 road underdog in Game 2 on Tuesday.

Robinson Cano . The Seattle Mariners' second baseman left Sunday's 5-4 loss to the Detroit Tigers after getting hit by a pitch and sustaining a broken right hand. Cano, an eight-time all-star who hit 39 home runs for Seattle in 2016 and 23 last season, is batting .287 with four homers and 23 RBIs. He will see a specialist on Tuesday but does not sound optimistic, saying it is "broken bad" and admitting the real possibility of surgery. The Mariners (22-17) are +500 to in the American League West.

Matt Patricia . Is a sexual assault charge from 22 years ago that was eventually dropped 10 months after the incident a fireable offense? So far, at least, no. Still, it is causing a major headache for the Detroit Lions and their new head coach. Charges against Patricia stemming from a 1996 hotel-room incident resurfaced last week, and he has spent the last several days scrambling to deny any wrongdoing. "As someone who was falsely accused of this very serious charge over 22 years ago and never given the opportunity to defend myself and clear my name," the 43-year-old stated, "I find it incredibly unfair, disappointing, and frustrating that this story would resurface now with the only purpose being to damage my character and reputation. I firmly maintain my innocence, as I have always done." Detroit's regular-season over/under win total is 8.

Rafael Nadal . The King of Clay had won 50 consecutive sets on his favorite surface dating back to last year's French Open. But Nadal did not just lose a set during last Friday's Madrid quarterfinal showdown against Dominic Thiem. Nadal lost the entire match. Previously 14-0 on the red stuff this season, the Spaniard succumbed to Thiem 7-5, 6-3 while getting his serve broken a whopping five times in 11 service games. As a result, the ongoing see-saw battle for the No. 1 ranking between Nadal and Roger Federer once again tipped back in Federer's favor. Now ranked second, the 16-time major champion will regain the top spot if he wins the Rome title this week (Federer is once again skipping the entire clay-court swing). Nadal is a -225 favorite to win the French Open for an 11th time next month.

FC Barcelona . Barcelona was two matches away from completing an undefeated season in La Liga. Levante (which was-and still is-in 15th place on the table out of 20 teams) had other ideas. Barca suffered a stunning 5-4 loss on Sunday, marking the first time it had been beaten by Levante since 1964. FCB, previously 27-0-9 in 2017-18, had won 43 straight La Liga matches dating back to April of 2017 and had not allowed five goals in a La Liga outing since December of 2003. Lionel Messi and company were bidding to become the league's first unbeaten club since Real Madrid accomplished the feat in 1931-32 (when the schedule consisted of just 18 matches instead of 38). Real is a -155 favorite to beat Liverpool in the Champions League final.
Read more articles by Ricky Dimon