NFL Season Win Totals Predictions with Odds for Every Team and Expert Analysis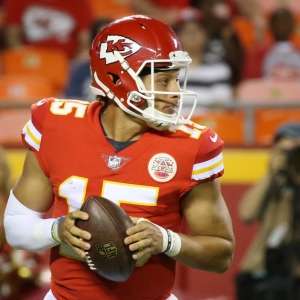 The NFL Draft is in the books. Free agency is in the rearview mirror. Coaching changes have been made, and front offices have been overhauled. There is a lot of time between now and the start of the football season, but what teams look like now will mostly be what they look like when games get underway. So, it's a good time to take a first look at season win totals. The numbers are fresh, and people aren't paying a lot of attention yet, so there might even be some value to be had.
New York Giants ("over/under" 6.5 wins): This team was bad last year. The offensive line is reworked but not great, Eli Manning isn't getting any younger, and Odell Beckham Jr. seems determined to be a distraction. Lots to hate here. Take the under.
Free $60 in Member NFL Picks No Obligation Click Here
Washington (7): I like Alex Smith and like his addition here reasonably well. And Derrius Guice should be running angry after falling to the 59th pick. There are decent pieces here, and this number feels beatable for this team. Take the over.
Dallas (8.5): The Cowboys seem to be treading water in recent years, and they have made a whole lot of changes on offense. I don't trust the leadership - coaching or management - so I am not excited about the team. Take the under.
Philadelphia (10.5): If Carson Wentz comes back healthy then they have all of the tools here. But defending a title is hard for any team, never mind one with not a lot of experience to fall back on. For that reason I would lean to the under, but not with any excitement.
Tampa Bay (6.5): The Bucs have done a lot of work on this team this offseason, and the defensive line in particular has improved significantly. If Jameis Winston can bounce back from a lousy season - and he is capable of doing so - then the over is quite attractive here.
Carolina (9): I like that they changed offensive coordinators - they needed to. But Norv Turner was far from the most inspiring choice, and the offensive line isn't as improved as it should be. I like the under.
Atlanta (9): They won't have the Super Bowl hangover to deal with, they added a nice offensive weapon in Calvin Ridley, and they have nice pieces on both sides of the ball. There is good value in the over.
New Orleans (9.5): They made a first-round trade at the draft that makes us believe that they feel like they are close. I can see that - and with Drew Brees not getting younger, this could be their last shot at it. Take the over.
Chicago (6.5): The Bears had a rough year this year, but Mitch Trubisky should take a step forward this year, and the team is improving on the field. They badly needed a coaching change, and they made a good one. I lean to the over.
Detroit (8): I'm not crazy about Matt Patricia as a coaching hire here, but I do like lots of the pieces, and I don't think that they overachieved to win nine last year. I like the over.
Green Bay (10): If Aaron Rodgers is healthy then the over here is a nice bet. But Rodgers being healthy is not a lock at all these days. I still lean to the over, but not enthusiastically.
Minnesota (10): The defense is back, and they splashed out in a big way for Kirk Cousins. If they don't go over this number then there will be major issues. The over is the only way to go here.
Arizona (5.5): They have to go through a change at QB, but they have a lousy offensive line, some questions in talent, and a defense that is a year away from primetime - at best. The under is probably the choice here, but not a strong one.
Seattle (8): The defense has gone through a lot of turnover, and the offensive line is still a big question mark. I like the Rashaad Penny addition, but I still don't like the team much. Under.
San Francisco (9): The magic of Jimmy G. Can he possibly live up to the hype? They had a solid offseason, but this number feels aggressive - a year too early for a team that has had a lot of rebuilding to do. Under.
L.A. Rams (10): They got humbled in the playoffs last year. If they can learn from that then they certainly have the tools to crush this number They return the important pieces from last year for the most part and had a very active and positive offseason. I like the over.
New York Jets (6): If they can get Sam Darnold acclimatized without getting him killed then the season is a success. But that won't win them games. Take the under.
Miami (6): They lost more pieces than would be ideal, and Ryan Tannehill is as durable as a carton of eggs. But I believe in Adam Gase as a coach, and this number feels pessimistic to me. Lean over.
Buffalo (6.5): A.J. McCarron and Josh Allen mean that there is a whole lot of uncertainty with this team. They won't be great, but they could be good. Or not. I lean ever so slightly to the over but would never bet on this team right now.
New England (11): They have gone over this number every year since 2009, they are favored to win the Super Bowl, and despite a bit of an odd offseason they still have tools and strong coaching - especially with the unexpected return of Josh McDaniels. I don't see how you cannot take the over - especially in a division that continues to have issues.
Indianapolis (6.5): Since the team cut Peyton Manning and drafted Andrew Luck, Manning has won more NFL games. Think about that for a second - it's not good. Luck hasn't thrown for so long that we almost forget what he looks like. Can he finally be healthy? If he can then they could go over this by a little. But that is no lock. Too little certainty to make a play here.
Tennessee (8): I'm surprised by this number a little. I don't love the Mike Vrabel hire, but this is a very good defense potentially and an offensive line that has a lot going for it. And Marcus Mariota still has room to grow. Take the over.
Houston (8.5): How you feel about this number depends entirely on how you feel about Deshaun Watson's ability to heal - and, to a lesser extent, J.J. Watt. If you believe then you can take the over. If not then you can't.
Jacksonville (9): I don't think that last year was a fluke, the defense is back, and the offense is improved. The over is a comfortable play here.
Cleveland (5.5): The Browns are doing some things right, and I like the Baker Mayfield pick. But they were lousy last year and have a whole lot of changes to make and issues to overcome. There is a lot of room for them to improve and still go under this number. I can't justify the over.
Cincinnati (7): I have hated this team for several years. And yet they kept Marvin Lewis - the worst coach in all of football - around for some reason. Why is a total and utter mystery. And it gets in the way of this team. The offensive line should be a little better, but there are still issues - starting with a redhead QB. Under.
Baltimore (8): This could be the last year for Joe Flacco - he's playing for his life. Dead man walking? Probably. Not a ton to get excited about here. Take the under.
Pittsburgh (10.5): The offense is again strong, and the defense has a chance to be improved. The team has a very manageable division and should again be the class of it. Take the over.
Denver (7): The team drafted well and has generally had a good offseason. I like the Case Keenum addition, too. But the biggest issue is that the offensive line isn't guaranteed to be improved, and that could hurt the running game, too - if they even have one. The defense should be strong, but will it be enough? I'd take the over but wouldn't bet my mortgage on it.
Oakland (8): How is Jon Gruden going to do? Who knows. I tend to think the bite won't match the bark, but it's hard to know. This is another team that has made lots of changes. I like the draft they had for the most part, though. Just too tough to judge. If a gun was to my head I'd take the over, I guess, but I would pass on this one for sure.
Kansas City (8.5): It was a rough offseason for the defense and one of transition for the offense. If Patrick Mahomes can hit the ground running I would lean to the over, but that's a big if. The AFC West is an odd division - this is another pass.
L.A. Chargers (9): It's strange times when the Chargers are the favorites in a division. But not unjustified, I guess. They have some questions, and need to take a leap, but they are capable. A soft over for me.
Doc's Sports is offering $60 worth of member's picks absolutely free - no obligation, no sales people - you don't even have to enter credit card information. You can use this $60 credit any way you please for any handicapper and any sport on Doc's Sports list of expert sports handicappers. Get $60 worth of premium members' picks free .
Read more articles by Trevor Whenham