2020 NFL Season Win Totals Predictions
by Chris Vasile - 7/8/2020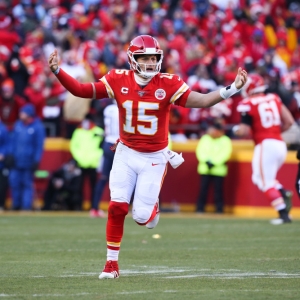 There's a lot going on in the world today, but I'm not here to talk about the negative. I hope everyone remains safe and we are through the worst of it. What I do want to talk on and ramble out is every NFL team's season win total, with predictions, provided there is a full NFL season waiting for us come September. The main NFL story line this summer has been the QB carousel with Tom Brady, Cam Newton, Jameis Winston, Teddy Bridgewater all moving to new teams. There were some excellent draft picks made by a few teams, and there were some head-scratchers. Let's take a look at how I see NFL teams faring this coming season.
All lines are juiced to the over.
Arizona Cardinals: "Over/Under" 7.5 Wins (-125): Kliff Kingsbury couldn't have asked for a better offseason. His team acquired one of the best wide receivers in the game in DeAndre Hopkins. And with Kyler Murray set to take a step forward in year two, the Cardinals offense is going to start to take shape in a big way. This line opened at 6.5 and has jumped a full win. Defensively, the Cardinals will be okay, but the division they play is going to be their demise. Eight wins is going to be tough to get to, but an upset or two along the way will get them there. Take the over.
Atlanta Falcons: "Over/Under" 7.5 Wins (-130): The Falcons had an extremely weird season last year as they started out 1-7 before beating the Saints to get to 2-7. They finished the season with four straight wins to finish at 7-9, which could signal some sort of momentum heading into the offseason. They are still heavily reliant on Matt Ryan and Julio Jones to make plays, but we are okay with that. The defense had a good draft in the offseason, picking up A.J Terrell out of Clemson to slot in at cornerback and defensive end Marlon Davidson out of Auburn to rush the passer. Nonetheless, tough division, tough schedule, give me the under 7.5 wins.
Baltimore Ravens: "Over/Under" 11.5 Wins (-110): What more can the Ravens do in the upcoming season besides win the Super Bowl? The Ravens stormed through the regular season last year en route to a 14-2 record. This year they are tagged with a total of 11.5 wins, and we just think that's one win too low. We can see them finishing what they started and steamrolling the league once again en route an AFC title game. Lamar Jackson will not be denied greatness. And with the majority of the roster remaining intact, we like the Ravens to go over this win total.
Buffalo Bills: "Over/Under" 8.5 Wins (-125): The Bills win total for the upcoming season is 8.5, with the juice bet towards the over. The Bills were busy this offseason, acquiring Stefon Diggs from Minnesota in exchange for their first-round pick. However, the Bills still had a solid draft, picking up some guys that can plug in right away. With the offense set to take a step forward, and the defense still figuring to be elite, the time is now for the Bills to dethrone the Patriots and win the division. Give me the over on their win total.
Carolina Panthers: "Over/Under" 5.5 Wins (-130): If the Panthers didn't have Christian McCaffrey in their lineup every week, they'd be among the worst teams in the league. The Panthers will roll into the 2020/21 season with Teddy Bridgewater under center and a new head coach. Bridgewater proved to be a reliable fill in while Brees was out, but Carolina has nowhere near the talent that the Saints have. In a division like the NFC South where all three teams figure to be good, the Panthers are going to have to claw their way to six wins, and I don't see that happening.
Chicago Bears: "Over/Under" 8.5 Wins (-190): The Bears were extremely mediocre last season, finishing 8-8 and showing no signs of taking the next step under Matt Nagy and Mitch Trubisky. Hell, even with Nick Foles on the roster, we don't see any improvements on the horizon. The Packers and Vikings are the ones to beat in the NFC North, and the Bears figure to be a .500 or worse team (hence the heavy juice to the under).
Cincinnati Bengals: "Over/Under" 5.5 Wins (-135): Joe Burrow or no Joe Burrow, the Bengals are going to be a bad team once again and pick near the top of the draft next year. They have very unreliable weapons in A.J Green, John Ross and Tyler Boyd on the outside, while Joe Mixon remains the only bright spot on what should be a bad team. Joe Burrow may have won everywhere he's played, but it's going to take a while for him to experience winning at the highest level playing for the Bengals. Take the under.
Cleveland Browns: "Over/Under" 8.5 Wins (-130): The Analysis for the Browns is actually quite simple. It's either put up or shut up time. I'm tired of every year being the "Browns' year" only to watch them embarrass themselves and finish at .500. They have the weapons in place to have a solid season, and I'll give them one more chance at making good on all their talk. Give me the over this year.
Dallas Cowboys: "Over/Under" 9.5 Wins (-165): The Cowboys finally did the right thing in the offseason by letting Jason Garrett go and hiring Mike McCarthy. McCarthy's presence and game-planning should be enough to get the Cowboys to the postseason with the roster they have, which in turn would make sense to go over this win total of 9.5 wins. We know the juice is high, so if you can find 10 for better odds, that could be worth a look as well.
Denver Broncos: "Over/Under" 7.5 Wins (-135): What I see when I look at the Broncos is a team that has no real direction. They will rely on Drew Lock to lead the way under center and have one or two decent weapons on offense to help him with. Defensively, the team is not as dominant as it has been during the last few seasons, but they play in a division with the Chargers and Raiders, both of whom are going to be bad this year. That could be four wins in the bank. And getting to eight may not be as hard as you'd think.
Detroit Lions: "Over/Under" 6.5 Wins (-160): Poor Matthew Stafford. For everything he's done for this organization from a leadership and statistical point of view, this team should repay him with some consistency. The only consistent thing from year to year is that they suck. And despite having a solid draft – drafting Jeff Okudah third overall and D'Andre Swift 35th overall -- the Lions figure to have another losing season.
Green Bay Packers: "Over/Under" 9 Wins (+100): I'm calling it now; this season is going to the Aaron Rodgers "eff-you" season and he's going to put up MVP-caliber numbers just to stick it to the Packers brass. The Packers wasted first-round draft capital on Jordan Love (Rodgers QB replacement), and Rodgers wasn't too happy about that. He's going to carry this team with the help of a health Davante Adams and an emerging Aaron Jones. Give me the over and give me the Pack to win the division.
Houston Texans: "Over/Under" 7.5 Wins (-115): So long as Bill O'Brien remains in charge of this football team, the Houston Texans will go nowhere. Case in point – trading DeAndre Hopkins (one of the top receivers in the game and Watson's only trusted target) to Arizona in exchange for an over-the-hill running back in David Johnson. I have no clue what the Texans are doing, and I don't believe they do either. Give me the under.
Indianapolis Colts: "Over/Under" 8.5 Wins (-200): Are we sure that Philip Rivers is the answer in Indy? I mean don't get me wrong, Rivers has the ability to put up some great fantasy numbers. However, can he win ball games in crunch time? The defense will be solid, but laying -200 for the Colts to get to nine wins is something I wouldn't recommend doing. They should get there, but barely.
Jacksonville Jaguars: "Over/Under" 5 Wins (+120): Another franchise that's a massive disappointment. The Jaguars are not that far removed from an AFC title game, but the roster change over makes this win total look really high for a team as inconsistent as the Jags. The win total tells you all you need to know – plus money on getting to five wins. I still don't think they do it.
Kansas City Chiefs: "Over/Under" 11.5 Wins (-130): The Chiefs are going to be one of the best teams in the league once again. They have a better chance of winning 12 games then they do 11. And with a fully returned roster intact and Mahomes healthy, 12 wins and an AFC West title is once again on the cards.
Las Vegas Raiders: "Over/Under" 7.5 Wins (+100): The Raiders showed signs of life last season but ultimately collapsed late in the season. They have some good pieces but simply can't get out of their own way. Now they have to deal with a new stadium and fan base and all the pressures that come with that. This could be a down year for the Raiders, but I do think 8-8 is possible, especially with the Chargers and Broncos expected to struggle.
Los Angeles Chargers: "Over/Under" 7.5 Wins (-130): The Chargers decided to roll the dice and try to sign Tom Brady but failed. Now they are stuck with Tyrod Taylor as the starter. And did you see what he did in Buffalo? Not much. They have Justin Herbert waiting in the wings (drafted 6th overall) but they'll likely let him sit back and watch and develop slowly. They let Melvin Gordon walk this offseason, trusting Austin Ekeler with the full workload. The defense still has plenty of talent, but we just aren't sure they are capable of getting to eight wins this season.
Los Angeles Rams: "Over/Under" 8.5 Wins (+110): The Rams are due for a bounce-back year, but Vegas doesn't think it's coming. They opened up at -8.5 -140, and now it's been flipped to +110. The offense may never get back to what it was when they made the Super Bowl, whereas the defense flopped big time to close out the year last year. I'd grab the under, especially considering the division they play in.
Miami Dolphins: "Over/Under" 6 Wins (-150): By all accounts, the Dolphins had a solid draft this past offseason, drafting Tua Tagovailoa with the sixth pick and offensive tackle Austin Jackson from USC with the 18th pick. They are still many pieces away from pushing for a .500 season, let alone a playoff spot, but I do think they'll be competitive this year. I'll take a shot with the over on the Fish.
Minnesota Vikings: "Over/Under" 9 Wins (-120): Kirk Cousins showed us last year that he can, in fact, win big football games – with the exception of the game against SF. The pieces are still there, with the exception of Stefon Diggs, who was shipped out to Buffalo. The Vikings used their first-round draft capital on receiver, Justin Jefferson out of LSU, and he could fit in right away and produce. We still believe the Packers are the team to beat in the NFC North, but the Vikings can get to 10 wins.
New England Patriots: "Over/Under" 9.5 Wins (-120): Until I see Cam Newton healthy and performing at the caliber he did when he took the Panthers to the Super Bowl, I'll be fading the Patriots. They have no real weapons on offense, and their elite defense from last year figures to regress. They were simply playing at too high of a level to keep it up through the entire season, and we saw them fall apart last year in the playoffs. I'll take the under here as I'm high on the Bills and I think it's their year to win the division.
New Orleans Saints: "Over/Under" 10.5 Wins (-115): The Saints lost another heartbreaking playoff game last season. What do they have for an encore? Well, they return Drew Brees and the entire offense but have to contend with a better Atlanta team and a better Tampa Bay team. I'm banking on them regressing this year while the aforementioned teams got better. Give me the under.
New York Giants: "Over/Under" 6.5 Wins (+125): The pieces are in place for the Giants to have a solid season, but they need a few things to go their way. They need Daniel Jones to mature in his second season, they need to stay healthy, and they need the defense to perform better than last year. They aren't grabbing any wins in the division, so it'll be tough to get to that seven-win mark. Give me the under.
New York Jets: "Over/Under" 6.5 Wins (-125): The Jets are a terrible football team. Until otherwise noted, they will continue to be a fade for me. Sam Darnold has shown flashes, but the rest of the team isn't anything to write home about. I'd take them under the number, and the drop in juice (-150 to -125) tells you this team is a border lining top-five draft pick next year.
Philadelphia Eagles: "Over/Under" 9.5 Wins (+100): The Eagles were the beneficiary of playing in a terrible division last year to sneak into the playoffs. They could have beat Seattle, but Wentz went down injured (again). The health of the entire team is a concern. However, when they are fully healthy, they can put up points in a hurry. I like the addition of Jalen Reagor to the receiving corps, and I believe he'll have an immediate impact. I'll take the over considering they have to play the Washington team and the Giants twice each.
Pittsburgh Steelers: "Over/Under" 9 Wins (-125): The question you have to ask yourself with the Steelers is can they stay healthy for the entire season. We all know Big Ben missed almost the entire season and will be back to start the upcoming season. However, can Juju and Conner stay healthy for all 16 games? They have the defense to contend in the AFC, but the offense leaves a lot to be desired. Based on their division I'll take a shot with the over as they should win three of four games between the Bengals and Browns.
San Francisco 49ers: "Over/Under" 10.5 Wins (-105): The only thing stopping the 49ers from posting another 11-win season is the Super Bowl hangover. We saw how bad it affected Atlanta, Philadelphia and Los Angeles over the course of the last three seasons, so the 49ers biggest enemy is themselves. They have the team to contend once again this year, but we do believe the NFC West is going to be one of the best divisions in football again. This number is tough, but I'd lean to the under based on expected regression.
Seattle Seahawks: "Over/Under" 9.5 Wins (-105): Oh, what could have been for the Seahawks. They were about two inches away from capturing the NFC West and setting themselves up with home field throughout the playoffs. Instead, they had to go on the road to GB, where they lost a close one. This number is pretty high given the division they play in, but if the rumours about Antonio Brown to the Seahawks comes to fruition, Russell Wilson will have the elite playmaker he's been missing since he's been in the league. I'll take a shot with the over.
Tampa Bay Buccaneers: "Over/Under" 9.5 Wins (-145): The Buccaneers were already one of the best teams to watch in the entire NFL if you love scoring, crazy plays and mistake-filled football. Jameis Winston is out, but Tom Brady draws in and figures to be the answer for the Bucs this coming season. Brady will lead an explosive offense, and his mature demeanour and winning resume should be the calming force for a team that simply couldn't get out of their own way. Ten wins is a big ask, but we believe they can do it at the expense of the rest of the NFC South.
Tennessee Titans: "Over/Under" 8.5 Wins (-135): The Titans are juiced to the over in this year's win total, and rightfully so. I like what they are doing over there and with the AFC South figuring to be a weaker division than usual, the Titans could very well be headed to another playoff berth. Ryan Tannehill gives them stability, and their running games allows them to dictate time of possession, which allows them to stay in every game. I'll take the over and a division title.
Washington "Football Team": "Over/Under" 5.5 Wins (+110): I have no clue if they are going to change their team name, but I will proceed under the assumption that they do. Washington continues to be a mess of an organization, but I like them to go over the win total in the upcoming year. They definitely have something to build off of with Dwayne Haskins experiencing live NFL football last season. They also drafted Chase Young second overall out of Ohio State to fill a major void on the defensive side of the ball. They were competitive in more games than not last year, so I think they find a way to get to six wins this year.
Be sure to visit our popular NFL Picks page. Want free NFL picks? Doc's has you covered. New clients can take advantage of this great offer of $60 in free Doc's Sports members' picks for any handicapper on Doc's Expert Handicapper list. Just check out these guys' pages and see what great work they have done making money for themselves and their clients over the years. Get $60 worth of premium members' picks free. Also, get three handicappers for the price of one when you sign up for a full-season football package! Click Here for details.