This Week in Sports Betting, A-Z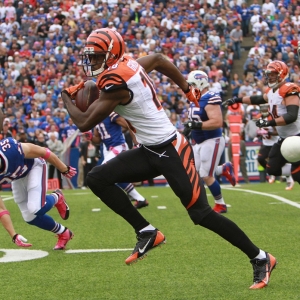 A. A.J. Green . The Bengals are one of seven 2-0 teams, and they have the second-best point differential among those seven teams at +22 (trailing only the Rams' ridiculous +54 margin). Green deserves plenty of credit as he has four receiving touchdowns through two weeks-including three in last Thursday's 34-23 victory over Baltimore. YouWager.eu has Cincinnati as a +3 underdog at Carolina in Week 3.

B. Burr and Hamilton . White Sox pitchers Ryan Burr and Ian Hamilton were recently photographed sitting next to each other in the bullpen, with their uniform names conveniently showing. You're probably not a history buff if you needed to Google why that's good stuff.

C. Cardinals . St. Louis lost four in a row last week, but it is now on a three-game winning streak-taking a 1.5-game lead over Colorado for the second wild-card spot in the National League. The Cardinals have one more game in Atlanta and two of their final three series are against the Brewers and Cubs. Not easy.

D. Davis Cup . Contrary to popular belief, the tennis season did not end with the epic Serena Williams vs. Carlos Ramos spat at the year's final major that made Canelo vs. GGG seem like an undercard. The show goes on, and the season will eventually conclude in November with the Davis Cup final. France and Croatia punched their tickets this past weekend with respective victories over Spain and the United States.

E. Eagles . The Super Bowl MVP is out. The potential would-have-been NFL MVP is in. Carson Wentz has been cleared for action, and Philadelphia head coach Doug Peterson has confirmed that Wentz will start on Sunday. The Eagles are -6.5 home favorites over Indianapolis, per Bovada Sportsbook.

F. FedEx Cup . The 2018 PGA Tour season comes to a close this week in Atlanta. Only 30 golfers remain in the running for the FedEx Cup, with the top five controlling their own destiny at the TOUR Championship. Bryson DeChambeau, who has won two playoff events, is atop the standings. Justin Rose and Dustin Johnson are +800 co-favorites at BetOnline Sportsbook to prevail at East Lake.

G. Gordon, Josh . Has anything ever been in less doubt than Gordon signing with the Patriots following his release from the Browns? Well, that's exactly what happened on Monday.

H. Hurricane Florence . Sports may be the least of concerns when it comes to hurricane impact, but here it is: 11 college football games were either postponed or cancelled and many others had their start times moved or were relocated.

I. Ibrahimovic, Zlatan . Zlatan always talks the talk and he often walks the walk. He certainly did the latter this time, saving one of his best goals for No. 500 of his career. The L.A. Galaxy striker scored it with some kind wild, roundhouse volley during his club's 5-3 loss to Toronto FC this past Saturday.

J. Jordan Spieth . Raise your hand if you had Tiger Woods qualifying for the TOUR Championship and Spieth failing to do so when this season started.... Adding insult to injury for Spieth's failure is that he will be fined an undisclosed amount by the PGA Tour stemming from some bizarre rule that no one had previously heard of which stipulates that golfers must play 25 tournaments in the current or previous season or add a new one in which they did not participate in the previous season. The 25-year-old American, for whom the TOUR Championship would have been No. 25, did neither. Oh well, time to rest up for next week's Ryder Cup. XBet.ag has Team USA as a -160 favorite to beat Europe.

K. Keegan Brewer . Brewer achieved instant legend status, at least on the campus of North Texas, when he delivered one of the plays of the year during one of the upsets of the year. The sophomore receiver just stood there after catching a punt, as if he fair-caught it, before taking off to the races as the majority of Arkansas' coverage team headed for the sideline. Ninety yards later, Brewer had an epic touchdown and North Texas was off and running to a 44-17 rout of the host Razorbacks. Arkansas is a +29.5 underdog at Auburn this weekend, according to MyBookie.ag.

L. Liverpool . In the biggest match of Day 1 action in the 2018-19 UEFA Champions League, Liverpool edged Paris Saint-Germain 3-2 in Group C. World Cup sensation Kylian Mbappe scored an equalizer for the Parisians in the 83 rd minute, but Liverpool's Roberto Firmino found the back of the net one minute into stoppage time for the winner. The Reds are also off to a 5-0-0 start in the Premier League, sitting atop the table with Chelsea.

M. Mayweather-Pacquiao . Floyd Mayweather has indicated that a rematch with Manny Pacquiao will come before the end of 2018. If Sharknado didn't need a sequel, Mayweather-Pacquiao also certainly doesn't.

N. Ninety-one . That's how many points Davidson scored in a game last Thursday. Was Stephen Curry hot from three?!?! Nope; it's football season. Yes, the Wildcats racked up 91 on the gridiron in a 91-61 victory over Guilford. They set NCAA records for total yards (964) and rushing yards (685) in a single game.

O. Ohio State . The Buckeyes may stink at public relations, but they are good at football. In the last game of Urban Meyer's suspension, his team beat TCU 40-28 last Saturday night. Ohio State is +520 at BookMaker to win the National Championship.

P. Patrick Mahomes . Mahomes backing up Alex Smith is like Katy Perry on backup vocals for P.O.D. It sure seems that way, at least. Now getting his opportunity, Mahomes is the MVP of the league through two weeks with 582 passing yards, 10 TDs, and no INTs for the 2-0 Chiefs. 5Dimes Sportsbook has Kansas City as a -7 home favorite over San Francisco on Sunday.


Q. Quarterbacks . There are good problems to have, and then there's the quarterback situation at Alabama. That now looks like a great problem. Tua Tagovailoa, currently the Heisman Trophy favorite, has thrown for 646 yards with nine total touchdowns (eight passing). Jalen Hurts is 19-of-28 for 248 yards, four TDs, and one INT.
R. Rizzo, Anthony . The Cubs actually have a day off on Thursday-their first scheduled day off since way back on Aug. 20. Rizzo (three-game hitting streak) and company are handling the workload well, regaining control of the NL Central (3.5-game lead over Milwaukee) with a 5-1 record in their last six outings. The Cubs are +280 favorites at GT Bets to win the National League Pennant.

S. Seguin, Tyler . Mario Kart characters have been in the news recently for very different reasons. One…well…you know…. As for the other, it made news because the Stars announced a recent eight-year, $78.8 million contract extension for Seguin via a video in which Mario successfully skated his way through a level of Super Mario Bros.

T. Tie . Thanks to the ineptitude of Vikings kicker Daniel Carlson (and to a lesser extent of the Packers' Mason Crosby), Minnesota and Green Bay tied 29-29 at Lambeau Field in Week 2. Ties stink…but they aren't as bad as all of these roughing the passer calls. Bovada Sportsbook has Minnesota as an even-money favorite in the NFC North, while Green Bay is +150.

U. Upset . Wisconsin kicker Rafael Gaglianone probably felt better when he watched all kinds of buffoonery from NFL kickers this past Sunday. Still, he could not have felt good about his performance one day earlier. The senior missed a 42-yard field goal that would have tied the game with 36 seconds left as the Badgers lost to +23.5 underdog BYU 24-21.

V. Vontae Davis . Rafael Nadal retired from his recent U.S. Open semifinal match. He didn't retire from tennis completely, of course. Davis, on the other hand, didn't just retired at halftime from Buffalo's Week 2 loss to the Chargers. He retired from football completely. You can't make this stuff up, folks. Yes, Davis retired at halftime of a game. Fifty-two other players on the Bills probably wanted to-and still want to-do the same thing, let's be honest. That's how bad they are. But the 30-year-old cornerback actually did it.

W. Wright, David . Wright will play in the Mets' final home-stand of the season and then retire. He announced that decision last week, adding that he is unable to continue beyond 2018 due to physical problems. The Mets (Syndergaard) are -130 favorites at Philadelphia (Eflin) on Wednesday, as indicated by YouWager.eu.

X. Denotes clinched division . The Indians became the first team to clinch a division last Saturday, even though they have a record 18.5 games worse than that of the Red Sox. Yes, that's just how freaking pathetic the American League Central is.

Y. Young, Nick . Young was arrested late last month after failing to cooperate with police in the aftermath of a routine traffic violation. He has a court date on Wednesday. Swaggy P would do well to stay out of trouble and convince Golden State to re-sign him. The Warriors are -185 favorites at MyBookie.ag to win the NBA title.

Z. Zetterberg, Henrik . The 37-year-old announced his retirement from the NHL last week, citing a recurring back injury. Zetterberg finished with 337 goals and 960 points in 15 seasons, all with the Red Wings.
Read more articles by Ricky Dimon