This Week in Sports Betting, A-Z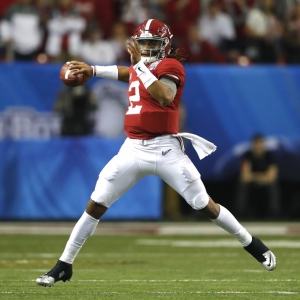 A. Alabama . In the 2018-19 title game, Tua Tagovailoa replaced a struggling Jalen Hurts and led Alabama to a 26-23 OT triumph over Georgia after trailing by 10 in the fourth quarter. In last Saturday's SEC Championship, Hurts replaced an injured an ineffective Tagovailoa and led the Crimson Tide to a 35-28 victory over UGA after trailing by 14 in the second half. You can't make this stuff up, folks. 'Bama is a -250 favorite at MyBookie.ag to win the National Championship.

B. Bush, George H.W. The 41st President of the United States died last Friday at 94 years old. Perhaps the most sporting POTUS ever, Bush especially enjoyed golf, tennis, and was captain of the Yale baseball team. R.I.P.

C. College Football Playoff . Following the aforementioned SEC result, Alabama is the No. 1 seed and Georgia is the first team out at No. 5. It's the Crimson Tide vs. Oklahoma in the Orange Bowl and Clemson-Notre Dame in the Cotton Bowl. GT Bets has the Tigers as -12.5 favorites over the Fighting Irish.

D. Dwight Howard . Normally having your starting center sidelined for two months by a butt injury would be as bad as it gets for a team. But this is the Wizards we are talking about, and Howard's backside woes are the least of their problems. They started 1-7, remain four games under .500, and star guard John Wall dropped an f-bomb on head coach Scott Brooks last month.

E. Earnie Stewart . The former USMNT midfielder was named general manager of the squad in June and he didn't have to wait long to make a big decision. Stewart got his man last week, hiring Gregg Berhalter as the next manager. Berhalter was at the helm of Major League Soccer's Columbus Crew SC for the past five seasons.

F. Fury, Tyson . An entertaining heavyweight title fight last weekend saw Fury and Deontay Wilder battle to a split decision. Wilder delivered two knockdowns, but many believed Fury was the deserved winner for having the upper hand most of the way. Whatever the case, Wilder retained the WBC title.

G. Geno Auriemma . In a rematch of last season's national semifinal thriller, Connecticut came out on top against Notre Dame this time around. The Huskies prevailed 89-71 on Sunday, after which 2018 Final Four star Arike Ogunbowale griped that Auriemma "baited" her and several teammates into losing their poise. Ogunbowale was hit with a late technical foul for arguing.

H. Hunt, Kareem . Hunt is done with the Chiefs after video surfaced last week showing him shoving and kicking a woman earlier this year. He was placed on the commissioner's exempt list by the NFL and then promptly released by K.C. The former Toledo star had gained 824 yards on the ground, 378 more worth of receptions, and scored 14 total touchdowns. Kansas City is a -6 home favorite over Baltimore in Week 14, per BookMaker.

I. Interceptions . Cam Newton's season has been more up-and-down than the Ben Simmons-Kendall Jenner relationship. Once in the distant MVP discussion with Carolina at 6-2, Newton has been picked off at least once in four straight games-all of which his team lost en route to a sudden 6-6 record. He threw four interceptions during a 24-17 setback against Tampa Bay in Week 13.

J. Jon Rahm . It was nice finish to the 2018 campaign for Rahm. The 24-year-old Spaniard beat Tiger Woods in singles to help Europe win the Ryder Cup and he won Tiger's tournament last week. He triumphed at the Hero World Challenge with a score of 20-under, beating Tony Finau by four shots.

K. Kawhi Leonard . Remember when Leonard didn't want to play for the Raptors? Yeah, those were the days…. Fast forward a few months and Toronto is 20-5 and leading the Eastern Conference by 3.5 games. Leonard 25.6 points, 8.5 rebounds, and 1.6 steals per game. Over the last three contests he poured in 32.7 ppg on 35-for-64 shooting, plus a 21-for-21 effort from the free-throw line. BetOnline Sportsbook has Toronto as a +800 second choice to win the NBA title.

L. Luka Modric . For the first time since the Mesozoic Era (well, 2007 to be exact) someone other than Cristiano Ronaldo or Lionel Messi has won the Ballon d'Or. As expected, Modric took home the honors as 2018's best soccer player on Monday.

M. MLS Cup . Football in this country thankfully still has two more glorious months left. Futbol in this country (some might also say thankfully!) has just one more match left. The MLS Cup is this Saturday, when Atlanta United hosts the Portland Timbers. Atlanta is a -400 favorite at XBet.ag.

N. Nylander, William . Not a moment too soon before the Dec. 1 deadline, the Maple Leafs signed Nylander to a six-year, $41.8 million contract. 'Tis the season for getting! Toronto is a -155 road favorite over Buffalo on Tuesday, as indicated by Bovada Sportsbook.

O. Oklahoma . Tagovailoa benefited from one amazing comeback (that of Hurts), but he may be the victim of a different kind of comeback. The lefty's struggles in the SEC Championship combined with Kyler Murray's performance in OU's Big 12 Championship win over Texas mean the race is on for the Heisman Trophy. Murray-and everyone else-has been a huge underdog all season long behind Tagovailoa, but he is now a slight favorite.

P. Popovich, Gregg . "I've got to do a better job" and "we've got a lot of work to do" were comments made by Pop following back-to-back losses of more than 30 points for the Spurs. Job done! San Antonio hammered Portland 131-118 on Monday The Spurs are +6 underdogs at Utah on Tuesday, according to MyBookie.ag.


Q. Quick, Jonathan . Quick has been an injury-plagued disaster so far this season, but he returned from a month-long absence last week, and the second start of his latest comeback was a strong one. The Kings' veteran goalie posted his first shutout of 2018-19 on Sunday, blanking Carolina in a 2-0 L.A. win while making 34 saves. YouWager.eu has Los Angeles as a -120 home favorite over Arizona on Tuesday.
R. Robinson Cano . The Mets have traded for the 36-year-old second baseman, acquiring him from Seattle. That would have been a good move…like…several years ago. But, hey, at least they got the Mariners to fork over $20 million for New York to take Cano off their hands.

S. Stephen Curry . Curry is back after missing three weeks with a groin injury. Early returns were modest (27 points on 10-for-21 shooting and five turnovers in a 111-102 loss at Detroit), but the former Davidson standout erupted for 17 points in the first quarter alone against Atlanta on Monday. Curry could sleepwalk the rest of the way in Golden State's blowout, finishing with 30 points on a 10-for-17 performance (6-for-10 from long range).

T. Tiger Woods . Rahm won the Hero World Challenge; Tiger most definitely did not . The 42-year-old's mostly encouraging comeback season ended with a dud at his own tournament, as he finished second-to-last ahead of only Hideki Matsuyama-19 strokes off the pace. Bovada Sportsbook has Tiger at +250 to win at least one major in 2019 and he is a +1000 co-favorite along with Jordan Spieth to win the Masters.

U. Undefeated . It's all up to LSU to save us from Central Florida once again parading themselves around as false National Champions. UCF went undefeated for a second straight regular season by staging a comeback against Memphis last weekend, and it is headed to the Fiesta Bowl for a date with the Tigers. You have one job, Ed Orgeron!

V. Vick, Lagerald . How's this for progression? Vick's season points-per-game averages are 2.1, 7.4, 12.1 and now 20.8 in 4.8, 24.4, 33.1, and 37.8 minutes. It's safe to say both Vick and the Jayhawks are benefitting from his return for a last hoorah as a senior. Kansas is a -15.5 home favorite over Wofford on Tuesday, per BetOnline Sportsbook.

W. Washington Capitals . The defending Stanley Cup champions had won seven in a row and led Anaheim 5-1 this past Sunday. And lost. That's right; the Capitals surrendered five consecutive goals during a 20-minute span from 14:31 of the second period to 14:55 in the third, suffering a shocking 6-5 loss.

X. Denotes clinched playoff berth . Those will soon be popping up all over the NFL standings. Right now, though, it's a lone "z" on the table and it comes next to the Los Angeles Rams after they clinched the NFC West this past Sunday. L.A. improved to 11-1 with a 30-16 victory at Detroit and it now controls its own destiny for the NFC's top seed thanks to New Orleans' loss to Dallas. 5Dimes Sportsbook has the Rams as +3 underdogs at Chicago on Sunday.

Y. Yoeli Childs . BYU stinks, with consecutive losses to Illinois State and Weber State in which it allowed a total of 205 points. But don't sleep on Childs. The junior forward is averaging 22.0 points and 11.9 rebounds per game, and he went for 27 and 31 points in the two most recent setbacks.

Z. Zverev, Alexander . The tennis season ended with a surprising result last month, as Zverev pulled off back-to-back upsets of Roger Federer and world No. 1 Novak Djokovic to win the Nitto ATP Finals. Zverev, just 21, finished the year at fourth in the rankings. Djokovic is a +125 favorite at BookMaker to win next month's Australian Open.
Read more articles by Ricky Dimon