This Week in Sports Betting, A-Z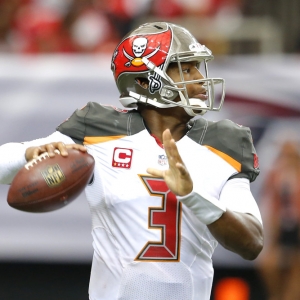 A. Appalachian State . App State's stay in the top 25 did not last long. The Mountaineers were ranked for the first time in school history heading into last Thursday's game against Georgia Southern, but they promptly lost it 34-14. Even Moonlight Graham's MLB career lasted longer than that. BookMaker has Appalachian State as a -15.5 favorite at Coastal Carolina this weekend.

B. Boston Red Sox . For the fourth time in the last 15 years, the Red Sox are World Series champions. During this amazing stretch, they have not gone more than five seasons without winning it all. In 2018, Boston dominated the regular season with a 108-54 record before losing only three times in the playoffs-finishing it off by beating the Dodgers in five games.

C. Coyotes . Road Runner ain't walkin' through that door; not this season, at least. The Coyotes, who went a horrendous 29-41-12 for 70 points in 2017-18, are suddenly enjoying some smoothing sailing. They are 6-5-0 and in the midst of a four-game winning streak.

D. Derrick Rose . If Derrick was once left for basketball dead, he Rose from it on Wednesday. The 30-year-old poured in a career-high 50 points, leading Minnesota to a 128-105 victory over Utah. Epic-and understandably emotional-scenes!

E. Ejected . Leave it to DeMarcus Cousins to get ejected from a game in which he did not even participate. The Warriors' big man, who is out until January with an Achilles' injury, got the boot during last week's rout of the Knicks after jawing with New York center Enes Kanter.

F. Fired . The Browns were finally improving under Hue Jackson; they just didn't improve enough, apparently. Jackson got canned after Cleveland lost at Pittsburgh 33-18 in Week 8, falling to 2-5-1. He finished with a shocking 3-36-1 record two-plus seasons with the franchise. Rams quarterbacks coach Zac Taylor is a +200 favorite at XBet.ag to be Cleveland's next head coach.

G. Green Bay Packers . The Packers are just 3-3-1, traded Ty Montgomery to Baltimore, and dealt Ha-Ha Clinton-Dix to Washington. What could possibly be worse? Oh, they have to play at New England on Sunday night. Green Bay is a +5.5 underdog , per MyBookie.ag.

H. Hugo Cruz . For the first time in the Super Bowl era, the NFL has fired an official simply for on-field performance-or lack thereof. Cruz got the axe after last working in Week 6, when he missed a blatant false start on an eventual scoring play for the Chargers against Cleveland. Perhaps Major League Baseball should take not (ahem, Angel Hernandez).

I. Innings . There were a whole lot of them in Game 3 of the World Series, which the Dodgers finally won at home on a Max Muncy homer in the bottom of the 18th. Of course, L.A. did not win any games either before or after that instant classic. Boston and Houston are +700 co-favorites at BetOnline Sportsbook to win it all in 2019.

J. Jameis Winston . The Bucs' quarterback carousel is not as embarrassing as their defense, but Winston is making it close. The pendulum has swung back in Ryan Fitzpatrick's favor, and this time-based on the numbers-it should be permanent. Winston got picked off four times before getting benched in last week's 37-34 loss to Cincinnati, and he has thrown multiple interceptions in all four of his appearances this year.

K. Kirby Smart . Smart got criticized for not putting in freshman Justin Fields as Georgia's offense struggled during a recent loss at LSU. But he stuck to his guns-his guns being Jake Fromm-and played Fromm the whole way against Florida last weekend. It paid off, as the sophomore threw for 240 yards and three touchdowns in the Bulldogs' 36-17 rout.

L. Leftwich, Byron . Arizona offensive coordinator Mike McCoy was fired following a 45-10 Week 7 loss to Denver. Enter Leftwich. The jury is still out on him in the wake of last Sunday's unspectacular 18-15 win over San Francisco, but one thing is sure: if Josh Rosen ever gets hurt, expect Lefwich to have the offensive line carry Rosen down the field in between plays.

M. Matthews, Auston . Matthews (10 goals, six assists in 11 games) will not require surgery on his injured shoulder, but he is expected to miss at least four weeks. Toronto residents are suddenly coming down from the high of marijuana being legalized in Canada. The Maple Leafs are -135 home favorites over Dallas on Thursday, according to Bovada Sportsbook.

N. New York Red Bulls . New York stole the Supporters' Shield (best record in Major League Soccer) from Atlanta on the final day of the regular season, beating Orlando City 1-0 while ATL got blown out at Toronto 4-1. Wait, so now an Atlanta team is choking before the playoffs?!?!

O. Oakland Raiders . The Raiders stunk with Amari Cooper, and now they will stink without him. Last week's trade deadline saw the 24-year-old receiver get shipped to Dallas in exchange for a 2019 first-round draft pick. 5Dimes Sportsbook has Oakland as a +2.5 underdog at San Francisco on Thursday night.

P. Perfect . The Bucks are the NBA's last undefeated team, having started the season 7-0. Giannis Antetokounmpo is averaging 25.0 ppg and 14.2 rpg. Milwaukee is a +2 underdog at Boston on Thursday, as indicated by BookMaker.


Q. Quick, Jonathan . The Kings' goalie played one game before going on IR with a lower-body injury, returned for three more contests, and is now on IR again and out indefinitely following surgery to repair a torn meniscus. This season has been an all-around disaster for Quick, who is 0-3-1 with a 4.55 goals-against average and .845 save percentage.
R. Rafael Nadal . Nadal was scheduled to play this week in Paris for the first time since the U.S. Open. But the Spaniard, who had been dealing with a knee injury, withdrew citing an abdominal strain. If that's the last we see of Nadal this year, he will likely finish it at No. 2 in the world on the strength of his 11th French Open title.

S. Stephen Curry . Curry (33.0 ppg) has been the Warriors' most consistent play so far, but all three stars have taken turns lighting it up. The former Davidson standout scored 51 points against Washington last week, Kevin Durant went for 41 two days later against New York, and Klay Thompson hit an insane 14 threes during a 52-point outburst as Golden State hammered Chicago on Monday. The Warriors are -220 at GT Bets to win the NBA title.

T. Tyronn Lue . Lue did not make it far into Cleveland's post-LeBron James era. Following a 0-6 start to this season, the 41-year-old got his marching orders. Larry Drew took over as interim and the Cavaliers promptly destroyed Atlanta 136-114 on Tuesday. MyBookie.ag has Drew at +150 to be head coach of the Cavs in 2019-20.

U. University of Maryland . Penn State, probably: "no one will ever produce a bigger college sports scandal than us." Michigan State: "hold my beer." Ohio State: "no, hold mine." Maryland: "hold mine, too." What is it with these Big Ten programs?!?!

V. Von Rosenberg, Zach . Von Rosenberg punted seven times during LSU's 19-3 win over Mississippi State on Oct. 20. That kind of offense is not going to get the job done against visiting Alabama on Saturday night. LSU is a +14.5 underdog , per BetOnline Sportsbook.

W. Willie McCovey . The Giants' Hall of Fame first baseman died at 80 years old on Wednesday. He hit 521 home runs during his 22-year career. R.I.P.

X. Xavier Sneed . The college basketball season begins next week, and don't sleep on Kansas State. Led in part by Sneed's 11.1 ppg, KSU made a run to the Elite Eight before falling to upstart Loyola-Chicago. Sneed, now a junior, had 22 points in the Sweet 16 against Kentucky and 18 against the Ramblers. Bovada Sportsbook has the Wildcats at +10000 to win the National Championship; Duke and Kentucky are +500 co-favorites.

Y. Year-end championship . Elina Svitolina triumphed at tennis' prestigious eight-woman tournament in Singapore last week, beating Sloane Stephens in the final. The men's version will be held later this month in London, where soon-to-be world No. 1 Novak Djokovic is sure to be the favorite.

Z. Zaccheaus, Olamide . Virginia's 5'8'' receiver has a great name and an even better game. Zaccheaus became the school's all-time leader in receptions with 213 after making 10 for 108 yards during last week's win over North Carolina. The senior has 56 catches for 690 yards and six touchdowns this season. YouWager.eu has the Wahoos as -7.5 home favorites over Pittsburgh on Friday.
Read more articles by Ricky Dimon