This Week in Sports Betting, A-Z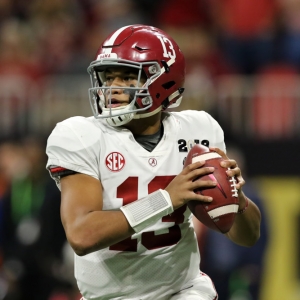 A. Air Force Falcon . Army and Navy have a long tradition of stealing each other's mascots ahead of rivalry games, but no one had previously been able to heist an Air Force falcon. That was until last weekend, when two West Point cadets managed to take several Falcons-with a 22-year-old injuring a winging likely from thrashing in a crate. She was reportedly faring better on Sunday after the cadets returned her on Saturday.

B. 'Bama vs. UGA . The SEC Championship is set, and it's a rematch of the 2017-18 National Championship. Alabama punched its ticket to Atlanta with a 29-0 rout of LSU last weekend, while Georgia took care of upstart Kentucky 34-17. BookMaker has the Crimson Tide at -260 to win the National Championship.

C. Champions Classic . In the words of Dennis Green, "If you're going to crown 'em, then crown 'em!" It might already be time to crown Duke, because the Blue Devils are who we thought they were-and Kentucky let 'em off the hook. The Devils hammered UK 118-84 in the Champions Classic on Tuesday. Wednesday's marquee college basketball matchup pits Ohio State against Cincinnati. The Bearcats are -5.5 home favorites , per MyBookie.ag.

D. DeChambeau, Bryson . Last week was an eventful one for DeChambeau, starting with his revelation that he will sometimes putt with the flagstick in the cup when new USGA rules take effect on Jan. 1. The 25-year-old American then proceeded to in the Shriners Hospital for Children Open, finishing at 21-under par-one stroke better than Patrick Cantlay.

E. Extension . Pekka Rinne signed a two-year extension with the Predators last weekend, keeping him in Nashville through the 2020-21 campaign. The reigning Vezina Trophy winner as the NHL's best goalie is 5-1-0 this season with a stellar 1.63 goals-against average and .948 save percentage.

F. Freak, The Greek . The Bucks are 8-2, and Giannis Antetokounmpo is averaging 26.1 points, 13.9 rebounds, and 5.7 assists per game. He has already delivered two triple-doubles, including in last Sunday's 144-109 demolition of Sacramento. Antetokounmpo is a +200 favorite at BetOnline Sportsbook to win NBA MVP.

G. Green, A.J. Cincinnati's star receiver may be sidelined for multiple games after sustaining a toe injury during a Week 8 win over Tampa Bay. It could have been even longer, but doctors recently determined that Green does not need surgery. 5Dimes Sportsbook has the Bengals as +5 home underdogs against New Orleans on Sunday.

H. Hot stove . Clayton Kershaw will not be a part of December's hot stove proceedings. The Dodgers' ace recently agreed to a three-year, $93 million extension that will keep him in Los Angeles through 2021. L.A. is +750 at XBet.ag to win the 2019 World Series.

I. Interceptions . You have to wonder what the Bills are thinking as they continue to send Nathan Peterman on the field. Like…he is terrible at playing football. The second-year quarterback out of Pittsburgh is a human interception machine. He threw three more picks during a 41-9 loss to Chicago this past Sunday, giving him a 1-to-7 touchdown-to-interception ratio this season. For his career, Peterman has three TDs and 12 INTs.

J. Josh Gordon . Tom Brady recently lost the Sexiest Man Alive vote to Idris Elba. But, hey, there is at least some good news for Brady: he gets to throw footballs to Gordon! The 27-year-old enjoyed his best performance since 2013 when he caught five passes for 130 yards and one touchdown during the Patriots' 31-17 Sunday night win over Green Bay. New England is a -7 favorite at Tennessee in Week 10, according to Bovada Sportsbook.

K. Kevin Harvick . The senate wasn't the only recent race in Texas. Harvick took home the checkered flag from Fort Worth this past Sunday, thus securing his spot among the final four Monster Cup contenders later this month in Miami.

L. Los Angeles Kings . The Kings fired John Stevens from his head-coaching position last weekend on the heels of a 4-8-1 start. Former Vancouver head coach Willie Desjardins has taken over as interim. In Desjardins' team debut on Tuesday, L.A. defeated Anaheim 4-1.

M. Michael Thomas . Joe Horn probably didn't think he would be trending worldwide on Twitter when he woke up last Sunday morning. But perhaps the 46-year-old likes surprises. Trending he was after Thomas recreated Horn's infamous cell-phone touchdown celebration. Thomas caught 12 passes for 211 yards during the Saints' huge 45-35 win over the Rams and capped off his one touchdown reception by paying homage to Horn's 2003 antics. New Orleans is +450 at GT Bets to win the Super Bowl.

N. Novak Djokovic . Djokovic regained the No. 1 world ranking for the first time since November of 2016 on Monday. The Serb was as low as 22nd as recently as June 24 of this summer, but he captured back-to-back Grand Slam titles at Wimbledon and the U.S. Open. Djokovic is 31-2 in his last 33 matches.

O. Oakland Raiders . At this rate there could be a Georgia Tech vs. Cumberland College situation with the Raiders. They are 1-7 and have a point differential of minus-85 over their last four games after getting blown out by lowly San Francisco 34-3 in Week 9. YouWager.eu has Oakland as a +10 home underdog against the Chargers this weekend.

P. Pittsburgh Penguins . What the heck is going on with the Penguins? Since stating the season 6-1-2, they are 0-3-1 and have allowed a horrendous 19 goals during this four-match losing streak. Pittsburgh goalie Matt Murray is now saddled with a dreadful 3.87 goals-against average and .886 save percentage. The Penguins are +103 underdogs at Washington on Wednesday, as indicated by BookMaker.


Q. Quenneville, Joel . Pittsburgh head coach Mike Sullivan won't be on the hot seat after leading the team to two Stanley Cup titles in the last three seasons. The same cannot be said of Quenneville, whose seat in Chicago went from hot to burned up on Monday. The 60-year-old was fired by the Blackhawks, who have not won a playoff series since 2014-15. They are currently 6-6-3 and in the midst of a five-game losing streak. Quenneville led the 'Hawks to Stanley Cup triumphs in 2009-10, 2012-13, and 2014-15.
R. Raptors . The Raptors are 10-1, but it's not all because of newcomer Kawhi Leonard. Power forward Serge Ibaka is averaging 18.0 points, 7.4 rebounds, and 1.3 blocks per game.

S. Sister Jean . It's that time of year again when the legend Jean Dolores Schmidt is back in the news. No, it's not March; but the college basketball season began on Tuesday. Loyola-Chicago raised its Final Four banner at Gentile Arena with Sister Jean in attendance before beating Missouri-Kansas City 76-45.

T. Timberwolves . Eleven games into the season, Butler still finds himself in Minnesota. The four-time all-star has sat out three contests for "rest," including this past Sunday's 111-81 loss at Portland. The T-Wolves are a disappointing 4-7 and have currently lost three in a row. They are +5 underdogs at the Lakers on Wednesday, according to YouWager.eu.

U. UM . Thanks to LSU's setback, Michigan moved into the current College Football Playoff picture as the lone one-loss team in the field. The Wolverines extended their winning streak to eight by destroying Penn State 42-7 last Saturday. UM is a massive -38.5 favorite at Rutgers this weekend, per BetOnline Sportsbook.

V. Vegas . "Disaster." "The worst." "Never seen" anything like it. Those comments sound more like Simon Cowell judging a reality show, but they were recently uttered by sportsbook managers. Vegas suffered record losses in Week 9 of the NFL (more than $10 million), as the betting public risked big and won big on big favorites like the Chiefs, Patriots, and Vikings.

W. Walton, Luke . Magic Johnson says he upset with Walton's offense, with Walton's defense, and with Walton's assistant coaches. But, hey, other than that everything is great! MyBookie.ag has the Lakers, who are 4-6, at +200 to sign Kevin Durant this offseason.

X. Xhaka, Granit . Arsenal moved Xhaka from midfield to left back in October, and it sounds like the change could be permanent. The Gunners are undefeated in their last four matches (2-0-2)-including three in the English Premier League. Following a 1-1 draw against Liverpool this past Saturday, they are fifth on the EPL table and six points behind league-leading Manchester City.

Y. Year-end championship . Given Djokovic's dominant form of late, will they all be playing for second place at next week's year-end championship in London? Maybe, but Djokovic just barely scraped past Roger Federer 7-6(6), 5-7, 7-6(3) in last week's Paris semifinals and then lost to unseeded Karen Khachanov in the title match. Both Rafael Nadal and Juan Martin Del Potro are out due to injury, though, so Federer is likely Djokovic's top-and perhaps only-threat.

Z. Zack Steffen . Top-seeded New York has some work to do if it wants to reach the Eastern Conference finals in the Major League Soccer playoffs. The Red Bulls lost the road leg of their series against Columbus 1-0 this past weekend. They almost came up with an equalizing goal in stoppage time only to see Steffen stuff Bradley Wright-Phillips with an amazing save. Atlanta, which beat the other New York club 1-0 on the other side of the Eastern Conference draw, is a +200 favorite at Bovada Sportsbook to win the MLS Cup.
Read more articles by Ricky Dimon