This Week in Sports Betting A-Z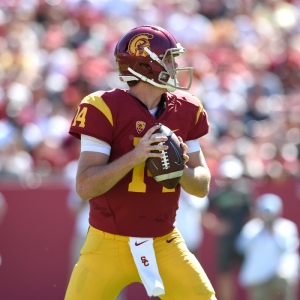 A. Arsene Wenger . The longtime Arsenal manager has announced that this season will be his last one. Wenger, 68, is by far the most successful manager in Arsenal history, and no English Premier League manager has ever enjoyed a longer tenure with one club.

B. Bautista, Jose . The Braves signed Bautista to a minor-league contract last week. That would have been an advisable move, say, several years ago. At least a minor-league deal is not exactly one that can be considered high-risk. Bautista, 37, batted .203 in 157 games with Toronto last season.

C. Called up . Highly-touted prospect Gleyber Torres, a 21-year-old infielder, made his debut with the Yankees this past Sunday. Torres went 0-for-4 in a 5-1 win over Toronto. But he struck out only once, which basically means he is better than Giancarlo Stanton. Or something. 5Dimes Sportsbook has New York (Sabathia) as a -124 favorite over Minnesota (Berrios) on Tuesday.

D. Draft . NFL Draft week is here. And when draft week ends, Mel Kiper and Todd McShay's 52-week buildup to the 2019 draft will begin. Sam Darnold is a -250 favorite at BetOnline Sportsbook to be the No.1 pick.

E. Erin Popovich . The wife of Spurs' head coach Gregg Popovich died last week at 67 years old following a long illness. Popovich will miss a third straight game against Golden State on Tuesday. R.I.P.

F. Fired . The Price was wrong in Cincinnati. Following a 3-15 start to the season, Reds' manager Bryan Price became the first in 2018 to get his marching orders. Things aren't much better under Jim Riggleman, as Cincinnati is 1-3 since he was named interim.

G. Gronkowski . Rob Gronkowski now has a minority stake in…Gronkowski! The Patriots' tight end recently purchased an undisclosed share in the horse that was once Kentucky Derby bound but has since withdrawn due to illness. Stop me if you've heard this one before: Gronkowski can't play on his sport's biggest stage. BookMaker has Justify as a +365 favorite.

H. Harvey, Matt . After giving up six runs in six innings during a 12-4 loss at Atlanta last Thursday, Harvey insisted, "I'm a starting pitcher." You know that when you feel compelled to tell the media you're a starting pitcher, your starting pitcher days are probably numbered. And they were for the 29-year-old, who-along with his 6.00 ERA-was demoted to the bullpen by manager Mickey Callaway two days later.

I. Iniesta, Andres . Iniesta likely played in his last final with FC Barcelona when the Spanish club hammered Sevilla 5-0 for the Copa del Rey title last weekend. One can only assume that was a farewell, because Iniesta was crying harder than a teenage girl at a One Direction concert when he left the pitch and saluted the crowd.

J. Joel Embiid . Trust the mask? Embiid has been trying to finagle his way out of wearing the protective headgear, but 76ers' head coach Brett Brown is not having it. Despite the mask that protects his fractured orbital bone, Embiid has averaged 18.5 points, 9.5 rebounds, and 4.0 blocks in 30.5 minutes per contest since returning for Game 3. Philadelphia won twice in Miami to take a 3-1 lead. The 76ers are -10 home favorites on Tuesday, per BetOnline Sportsbook.

K. Kucherov, Nikita . The Lightning's star forward won't be suspended for his hit that knocked Devils' defenseman Sami Vatanen out of Game 4 last Wednesday. Vatanen also did not play in Game 5, as Tampa Bay wrapped up the series with a 3-1 victory.

L. Lillard, Damian . Only one team got swept out of the NBA playoffs in round one. Minnesota? Nope. San Antonio? Nope. That would be none other than the third-seeded Blazers, who lost their Western Conference first-round series against New Orleans 4-0. Lillard shot just 35.2 percent from the floor and scored less than 19.0 ppg-eight worse than his regular-season average. In fairness to Portland, though, the Pelicans looked awesome.

M. Manaea, Sean . It wasn't as amazing as a Bartolo Colon perfect game against defending World Series champion Houston would have been, but Manaea was masterful this past Saturday. Facing the best team in baseball, the Athletics' 26-year-old southpaw baffled Boston with a no-hitter-striking out 10 and walking two in a 3-0 victory.

N. NFL schedule . The 2018 NFL schedule was released last week, starting with an opening Thursday night showdown between Philadelphia and Atlanta. That means it's the time of year when fans start dissecting their teams' 16-game slates, marking up games eight months down the road as either wins or losses. Or if you're a Browns' fan: loss, loss, loss, loss, loss, loss, loss, loss, loss, loss, loss, loss, loss, loss, loss, loss.

O. Ovechkin, Alex . After the Capitals lost each of the first two games of their series with Columbus at home, Ovechkin said they would be going back to Washington, D.C. tied 2-2. That is exactly what they did. And they did a lot more, winning the whole series 4-2 with a 6-3 road victory on Monday. The only Game 7 in the first round will see the Maple Leafs visit the Bruins on Wednesday. Boston is a -163 favorite , according to BetOnline Sportsbook.

P. Penguins . Jake Guentzel made sure the Penguins would not have to play a Game 7 against Philadelphia. He scored four goals in Pittsburgh's 8-5 clincher this past Sunday, doing enough to survive a hat trick on a torn MCL by Flyers' center Sean Couturier. Couturier was listed as "out" for Game 6. Welp, not so much!


Q. Quarterback quandary . It looks like Jalen Hurts is not transferring, so Alabama's QB carousel still includes both Hurts and National Championship sensation Tua Tagovailoa. With the latter sidelined by a finger injury, only Hurts played in the spring game last weekend. The rising junior went 19-of-37 for 195 yards with one interception and no touchdowns.


R. Rafael Nadal . Not one, not two, not three, not four, not five…not nine, not 10…. No, Nadal has now won the Monte-Carlo title an incredible 11 times. No other player in ATP Tour history has ever won a single tournament on so many occasions. The world No. 1, who was won 36 consecutive sets on clay dating back to last season, crushed Kei Nishikori 6-3, 6-2 in the final. Bovada Sportsbook has Nadal as a -200 favorite to win an 11th French Open title.

S. Spieth, Jordan . Smylie Kaufman is ruining more than just his own golf game these days. Kaufman, who has missed the cut in 12 of his last 13 appearances and has gone 17 rounds without breaking par, got married earlier this month-the same week when he, Spieth, Justin Thomas, and Rickie Fowler normally take a spring break at Baker's Bay. It's safe to say their social media posts from Baker's Bay are always far more entertaining than those from Kaufman's wedding. But there's always next year…. Spieth is +1200 at MyBookie.ag to win the U.S. Open in June.

T. Tom Brady . Brady has not yet committed to playing in 2018. Yeah, and Tiger Woods hasn't committed to wearing red the next time he plays on a Sunday…. Gronkowski also hasn't confirmed his status for the upcoming NFL season, but the Patriots expect both to play.

U. UFC . Greg Hardy is expected to make his MMA debut in June. That's a scary proposition going up against the former NFL defensive lineman in the ring. Of course, going up against him somewhere other than the ring may be even scarier.

V. Valero Texas Open . Someone named Andrew Landry triumphed at last week's PGA Tour stop in San Antonio. The 30-year-old American beat Trey Mullinax (also who?) and Sean O'Hair (kind of who?) by two strokes. That's a 2019 Masters invite for Landry.

W. Western Conference semifinals . It's the Sharks vs. the Golden Knights following respective first-round sweeps. One day after Vegas finished off Los Angeles last Tuesday, San Jose completed its whitewash of Anaheim. The Sharks gave up a grand total of four goals in four games. GT Bets has the Golden Knights as -130 favorites to win the series.

X. X . That's what amateur golfers generally give themselves on their scorecards whenever they take so many hacks on one hole they get tired of playing. Unfortunately for everyone involved at this past Sunday's Giants vs. Angels game, there was no such luxury when Brandon Belt faced Jaime Barria in the first inning. San Francisco's first baseman set a major-league record with a 21-pitch at-bat, fouling off 16 two-strike pitches before finally lining out. The at-bat lasted a laughable 12 minutes and 45 seconds.

Y. Yu Darvish . An 0-2 record and a 6.86 ERA is not exactly what the Cubs had in mind for Darvish through four starts when they signed him this past offseason. The World Series Game 7 hangover appears to be very real…. Chicago (Chatwood) is a +105 underdog at Cleveland (Tomlin) on Tuesday, as indicated by BookMaker.

Z. Zeller, Tyler . Not only is Zeller a starting center in the NBA, but he is a starting center on a playoff team that is looking like an Eastern Conference title contender (isn't everyone in the East?). With fellow former UNC Tar Heel John Henson sidelined by a back injury, Zeller started Game 3 and Game 4 against Boston. He averaged 15 minutes, 3.0 points, and 3.0 rebounds in those two contests.
Read more articles by Ricky Dimon