This Week in Sports Betting A-Z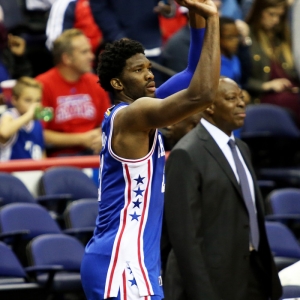 A. Abdul-Jabbar, Kareem . It was announced last week that Abdul-Jabbar will be among the athletes participating in the next Dancing With the Stars, along with Josh Norman and Tonya Harding. If he's even half as good at dancing as he was at acting in "Airplane," Abdul-Jabbar should contend.

B. Boston Marathon . The Boston Marathon took place in atrocious weather conditions on Monday, when Desiree Lindon became the first American woman in 33 years to win it. On the men's side, Yuki Kawauchi became the first Japanese man in 31 years to prevail.

C. Colin Kaepernick . The Seahawks cancelled last week's scheduled meeting with Kaepernick after he did not guarantee that would stop protesting during the National Anthem. They promptly signed some person named Austin Davis instead.

D. Deven Marrero . Alex Avila owes Marrero and owes him bigtime. The latter appeared to hit his fifth career home run and first with the Diamondbacks this past Saturday, but the former-who was on first base-retreated to the bag thinking the ball may be caught and he would tag up. Marrero rounded first base was deemed to have passed Avila, resulting in the batter being out and the hit reduced from a three-run homer to a two-run single. Fortunately for Arizona, it still destroyed the Dodgers 9-1 in that game and is 12-4 overall. 5Dimes Sportsbook has the Diamondbacks (Ray) as -150 home favorites over San Francisco (Stratton) on Wednesday.

E. English Premier League . Manchester United delayed the inevitable when it stunned Manchester City 3-2 from 2-0 down earlier this month. The Red Devils should have delayed the inevitable again when they went up against last-place West Bromwich this past weekend. Instead, they suffered a laughable 1-0 home loss, allowing rival Man City to clinch the Premier League title.

F. Food City 500 . Kyle Busch won the rain-delayed race at Bristol Motor Speedway on Monday. As is tradition at the track nicknamed The Last Great Colosseum, Busch celebrated his victory with a gladiator sword. Strength and honor!

G. Gregg Popovich . Popovich + already being mad because Donald Trump is president + miffed by the Kawhi Leonard situation + San Antonio losing = press conference gold. The Spurs' head coach has been up to his usual standards with the media, to the extent that his interviews have been far more entertaining than the actual games. Golden State, unsurprisingly, leads 2-0.

H. Honda Center . The Honda Center has not always been kind to Anaheim in the playoffs. Last year, the Ducks lost the first two games at home in their first-round series against Edmonton before recovering to win in seven. They will hope to have the same magic trick up their sleeve this time around, as San Jose just went into Anaheim and took each of the first two contests before dominating Game 3 at home 8-1. The Ducks are +152 road underdogs on Wednesday, per BetOnline Sportsbook.

I. Injury . Steve Barton suffered a dislocated kneecap and a torn quadriceps during Game 2 between the Capitals and Blue Jackets last weekend. Oh, it should be noted that Barton is a referee…..

J. Joel Embiid . Embiid is the ringleader of Philadelphia's Trust the Process movement. But it looks like not even he is trusting it. Following a Game 2 loss to Miami from which Embiid was held out against his will, he took to Instagram and dropped an f-bomb while saying that he is "tired of being babied." The 24-year-old center has been sidelined since late March with a fractured orbital bone. Bovada Sportsbook has the 76ers at +350 to win the Eastern Conference.

K. Kelly Kraft . Kraft got a birdie! Well, not that kind of birdie. The 29-year-old American watched helplessly as his tee shot on the par-3 14 th hole during second-round action at last week's RBC Heritage collided with a bird and plunged into a water hazard. Kraft ended up carding a double-bogey and missed the cut by…yep…one stroke.

L. LeBron James . The Cavaliers did not appear to have any interest raising their intensity level during the regular season. Now might be a good time to start. Fourth-seeded Cleveland got blown out at home 98-80 by Indian this past Sunday, marking the first time LeBron lost Game 1 of a first-round playoff series (previously 12-0 in his career). "I'm down 0-1 in the first round," he said afterward. "I was down 3-1 in the (NBA) Finals." In the words of Aaron Rodgers, "R-E-L-A-X." The Cavs are -8 home favorites on Wednesday, according to MyBookie.ag.

M. Magnum Moon . Get your mint juleps and crazy hats ready for next month's Kentucky Derby. Magnum Moon appears to have his legs ready, as he won the Arkansas Derby last week to cement himself as a contender at Churchill Downs. He is +825 at BookMaker to win the Kentucky Derby.

N. Nash, Rick . For the first time since sustaining a concussion on March 17, Nash is back. He played in each of the first three contests of Boston's first-round series against Toronto, scoring a goal in a Game 2 victory. The Bruins lead 2-1 heading into Thursday, with the home team having won all three of the games. MyBookie.ag has both Boston and Toronto at -110 in Game 4.

O. Ohtani, Shohei . Oh, no. That is not how the script was supposed to go. In the first bad start of his career, Ohtani gave up three runs on four hits and two walks before leaving after two innings with a blister on his right hand as the Angles got blown out by Boston 10-1 on Tuesday.

P. Perfect game . Bartolo Colon-yes, that Bartolo Colon-was six outs away this past Sunday. Colon tossing a perfect game against defending World Series champion Houston would have been the greatest thing in sports history. No…. That would have been the greatest thing in the history of the universe, period. The 44-year-old eventually allowed a walk, a hit, and a run before leaving after 7.2 innings, but Texas beat the Astros 3-1 in 10 innings.


Q. Qualifying offer . The Chargers withdrew their qualifying offer to defensive end Chris McCain earlier this week. That means McCain, who had five sacks and two forced fumbles last season, becomes an unrestricted free agent.
R. Released . The Cowboys released Dez Bryant last week. With the end of the Bryant Era in Dallas, the "Garrett Guys" Era is here. The Cowboys are +1000 at GT Bets to win the NFC title.

S. Sanchez, Mark . Sanchez was suspended by the NFL last week for four games, stemming from a violation of the league's performance-enhancing drug policy. As expected, he blamed it on a "unknowing supplement contamination." Whatever the case, Sanchez being out for four games is probably good news for whatever team has the misfortune of signing him.

T. Tiger Woods . Tiger has officially entered this summer's U.S. Open. In news that may or may not be related, sky is blue. Of course, the former news is way more exciting.

U. UEFA Champions League . The semifinal draw was held last week, and it resulted in a showdown between two-time defending champion Real Madrid and Bayern Munich. On the other side, upstarts FC Roma and Liverpool will go head-to-head. Roma stunned Barcelona in the quarters, while Liverpool knocked out Premier League rival Manchester City.

V. Vegas Golden Knights . The Cinderella story that is expansion Vegas is not slowing down in the playoffs. With Tuesday's 1-0 shutout of Los Angeles, the Golden Knights became the first expansion franchise to sweep a postseason series. Vegas is a +450 favorite at BetOnline Sportsbook to win the Stanley Cup.

W. Western Conference semifinals . That is Stephen Curry's targeted return, according to a recent report. And that is bad news for either Portland or New Orleans because…yes…the conference semifinals are the next round. For the sake of Popovich's sanity, at least his team is not losing even worse with Curry on the floor than it already is without Curry on the floor.

X. Xander Bogaerts . Bogaerts has been sidelined since April 8 by a cracked bone in his left ankle. He is batting .368 with two homers, nine RBIs, and seven runs scored in limited time this season. Boston (Porcello) is a +110 underdog at the Angels (Skaggs) on Thursday, as indicated by Bovada Sportsbook.

Y. Yankees . The injury news is not all well and good for the Yankees, either. Jacoby Ellsbury, who is dealing with plantar fasciitis, has suffered a recent setback in his rehab and a May return is now looking optimistic. Of course, their lineup should be just fine without him…if Giancarlo Stanton stops striking out every time he comes to the plate.

Z. Zlatan Ibrahimovic . The L.A. Galaxy picked up another Major League Soccer win last Saturday, beating Chicago 1-0. And, you guessed it, the lone goal of the match was scored by Ibrahimovic. Making his first start with his new club, the 36-year-old Swede found the back of the net with a header during first-half stoppage time.
Get free picks from any of Doc's Sports expert handicappers - and with no obligation or credit card. You can use these free picks for any sport, and you will never deal with a salesman. Get $60 worth of premium members' picks free .
Read more articles by Ricky Dimon