Sports Betting Futures Odds: Cavs Shake Up Playoff Picture-and Themselves-at Trade Deadline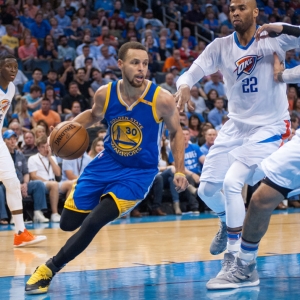 The Cavaliers parted ways with Dwyane Wade, Derrick Rose, and Channing Frye-just to name a few-at the trade deadline. In exchange they welcomed Larry Nance Jr., Jordan Clarkson, and George Hill to LeBron James' supporting cast. Is the balance of power shifting in the NBA as a result of last week's chaos? We will really start to find out at some point after the league returns from this weekend's all-star break.

All odds provided by BetOnline Sportsbook .

NBA title

Golden State Warriors (+500) - Golden State did not do anything at the trade deadline, but it also didn't have to. The Warriors own the best record in the NBA at 44-13-a half-game better than Houston. Like Cleveland, the defending champions are likely waiting until the playoffs to showcase their absolute best stuff.

Free $60 in Member MLB Picks No Obligation Click Here
Houston Rockets (+800)
- With Chris Paul now running the offense at point guard, the James Harden-led offensive is a well-oiled machine. The Rockets look poised to make a real run at Golden State in the Western Conference playoffs, although a potential conference semifinal date with San Antonio could not be overlooked.
Cleveland Cavaliers (+1000)
- The Cavaliers have won four games in a row-not quite the nine-game winning streak for Houston, but a relative surge by the Cavs' regular-season standards. Cleveland is 2-0 since the trade-deadline deal, including a road win over the Thunder on Tuesday. At the very least, the Eastern Conference is on notice.
Boston Celtics (+1400)
- Prior to the trade, the Cavaliers were once again sleepwalking through a regular season. They are still in third even after four straight wins, six games behind Toronto and five south of Boston. The Celtics (40-18) are looking extremely impressive despite the opening-day loss of Gordon Hayward.
Slam Dunk Contest

Dennis Smith Jr. (+175)
- Zach Lavine and Aaron Gordon brought the dunk contest back in 2016, but it returned to its boring, downright disastrous ways last year. Can it be resurrected again this weekend in Los Angeles? Smith's athleticism and all-around stellar play have made the Mavericks' rookie a relatively well-known commodity.
Donovan Mitchell (+225)
- Aside from the horrific 2014 team competition and from DeAndre Jordan's appearance last season, the dunk contest has been a young man's game in recent times. That trend continues now, as Mitchell is also a rookie. He has been even better than Smith, turning heads left and right with the on-fire Jazz.
Larry Nance Jr. (+275)
- At 25 years old, Nance and Victor Oladipo are the veterans of this year's group. Nance will be representing Cleveland as opposed to the hometown Lakers, having changed locations in the massive trade-deadline deal. If he is as inspired by the trade as LeBron appears to be, the sky is the limit on Saturday night.

Victor Oladipo (+450)
- Oladipo is the only one in this quartet with any slam dunk contest experience. He accounted himself decently in 2015, finishing runner-up to Lavine and well ahead of Giannis Antetokounmpo and Mason Plumlee. But the former Indiana standout may not have the same hops as Smith, Mitchell, and Nance.
Women's figure skating gold medal

Evgeniia Medvedeva, OAR (+100)
- The 18-year-old is a two-time Russian national champion, a two-time European champion, and a two-time European champion (all in 2016 and 2017). Medvedeva owns the world record for scores in the short program and the free skate.
Alina Zagitova, OAR (+170)
- Russia can't claim the hardware its athletes rack up in Pyeongchang, but the Russians are expected to garner plenty of individual glory in figure skating. Zagitova, just 15, is the second favorite behind her countrywoman as the reigning European champion.
Kaetlyn Osmond, Canada (+400)
- A relative veteran in this sport at 22 years old, Osmond is a three-time Canadian champion (2013, 2016, 2017), and she finished runner-up to Medvedeva at worlds last year. Osmond already led Canada to Olympic gold in the team event.
Maria Sotskova, OAR (+900)
- A clean sweep of the podium is not out of the question for the Olympic Athletes of Russia. Sotskova, 17, was third at the Russian championships in 2017 and second earlier this year. She won the silver medal at the 2016 Youth Olympics.

Genesis Open
Dustin Johnson (+500) - This week's festivities at Riviera are sure to generate plenty of headlines with Tiger Woods making his second start of the PGA Tour season. It is Johnson, though, who is the obvious title favorite. The world No. 1 is a two-time runner-up in Los Angeles (2014, 2015) in addition to being the defending champion.

Rory McIlroy (+1200) - McIlory is making a rare back-to-back appearance on the PGA Tour, having played last week at Pebble Beach (missed the third-round cut). The Northern Irishman, who finished T20 at this tournament in 2016, placed second a third at a pair of European Tour events in January.

Jordan Spieth (+1200) - Spieth does not have much of a history at Riviera, with a missed cut in 2016 and a T22 performance last season. Still, the 24-year-old American can never be counted out. He is ranked third in the world and has three top-20 showings out of four appearances during this 2018 campaign.

Justin Thomas (+1600) - Thomas' past performances in L.A. are also lackluster at best, most recently featuring a T54 in 2016 and a T39 in 2017. The fourth-ranked American is not on fire like he was in the early stages of last year, but he has not finished worse than 22nd in three 2018 starts. Tiger is +2000.


Read more articles by Ricky Dimon