Sports Betting Futures Odds: It's Playoff Time in NBA and NHL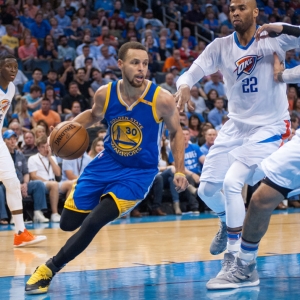 The NHL playoffs are underway, and the NBA will begin following suit on Saturday, when Golden State, Toronto, Philadelphia, and Portland-among others-tip off their bids for the title. Defending Stanley Cup champion Pittsburgh is squarely in the mix yet again, and they hammered Philadelphia 7-0 in Game 1 of that first-round series.

All odds provided by BetOnline Sportsbook .

NBA title

Golden State Warriors (+140) - Is it time-or past time-to press the panic button in Golden State? The Warriors went a horrendous 7-10 in their last 17 games of the regular season, punctuated by a 40-point humiliation at Utah's hands on Tuesday. Stephen Curry will miss round one against San Antonio but should be back thereafter.

Houston Rockets (+175) - The battle for the Western Conference's No. 1 seed was competitive for a while, but the Rockets (65-17) pulled away from Golden State (58-24) after the all-star break. Home-court advantage the whole way is their reward, but they also have a tough draw: Minnesota in round one and either OKC or Utah after that.

Cleveland Cavaliers (+700) - Like the Warriors out West, the longtime beasts of the East are looking vulnerable heading into the playoffs. At 50-32, Cleveland is the fourth seed and will likely not have home-court advantage at any point beyond the first round against Indiana. The Cavaliers compiled a modest 16-10 record in their last 26 games.

Toronto Raptors (+800) - Cleveland? Nope. Boston? Nope. It is none other than Toronto that has snagged the No. 1 seed in the East. And the Raptors did it going away, beating out the Celtics by four games. They have reached the conference finals only once in franchise history (2015-16) and have never made it to the NBA Finals.

Stanley Cup

Nashville Predators (+400) - Nashville won the Presidents' Trophy with the best record in the NHL (117 points) for the first time in franchise history. Lifting the Stanley Cup would also mark a franchise first. But it's not like the Predators don't have experience; they made it to the Stanley Cup Finals for the first time last season.

Tampa Bay Lightning (+575) - Tampa Bay owns home-ice advantage throughout the Eastern Conference playoffs after compiling a 54-23-5 record (113 points). The Lightning have all the tools both offensively and defensively. Nikita Kucherov was third in the NHL with 100 points, and Andrei Vasilevskiy tied for the most goalie wins with 44.

Boston Bruins (+600) - The Bruins were edged out for the Atlantic Division crown by just a single point (they finished with 112, one behind Tampa Bay). Boston, which won it all in 2010-11), has not advanced past the first round of the postseason since 2013-14. The team finished the regular season sixth in goals scored and fourth in goals allowed.

Pittsburgh Penguins (+650) - Pittsburgh, Nashville, Tampa Bay, and Boston are all off to fine starts to their respectively playoff campaigns. The Penguins' opener was the most impressive, as they humiliated Philadelphia by a touchdown on Wednesday. Pittsburgh is the defending cup champion. Winnipeg and Vegas are +800 fifth choices.

Food City 500

Kyle Busch (+300) - Busch has triumphed at the Food City 500 on three occasions, albeit not once since 2011. He was knocked out early in each of the last two installments of this event, but it's hard not to like his chances of a fourth victory in Bristol. Busch has finished in the top five of five consecutive races (one win).

Kevin Harvick (+400) - Harvick took home the checkered flag in 2005. He also placed seventh in 2016 and third last spring. The No. 4 car looks poised for more success as the current leader in the 2018 Monster Cup standings. Harvick has won three races (all in a row in late February and early March) plus a runner-up last week in Texas.

Martin Truex Jr. (+600) - Truex struggled this past weekend, but he had previously turned in five consecutive top-five performances-including a win in California. The No. 78 Toyota has never found victory lane at the Food City 500, but it managed to finish in the top 10 last year. Based on current form, Truex is an obvious contender on Sunday.

Kyle Larson (+650) - The 25-year-old already has some experience around this track, having placed sixth in 2017. There is no doubt that Larson has the car with which to seriously compete; he has started in the top 10 in six consecutive events-including three in the top five. Only three of those, though, have led to top-10 finishes.

U.S. Open

Jordan Spieth (+1000) - Spieth will be looking for his fourth major title and second at the U.S. Open when Shinnecock Hills hosts the festivities in June. The 24-year-old American had not done much this season until bookend rounds of 66 and 64 at the Masters, where he finished in the top three for the fourth time in five trips to Augusta.

Dustin Johnson (+1200) - After 11 top-10 performances in majors, including three at the U.S. Open, Johnson finally captured his first major at this event in 2016. The current world No. 1 missed the cut last summer, but he appears to be trending toward the other extreme now. He has finished in the top 16 in all eight of his starts this season.

Rory McIlroy (+1400) - McIlroy has not done much at the U.S. Open since lifting his first major trophy there in 2011, with three missed cuts and only one top-10 showing (T9 in 2015). The Northern Irishman has not won a major since 2014, but he owns seven top-10 finishes in his last 12 major appearances-including T5 at the recent Masters.

Tiger Woods (+1400) - Perhaps Tiger did not have quite enough time in his comeback to seriously contend at the Masters, where he placed T32. He has plenty of time before the U.S. Open, a tournament that the 42-year-old has won on three occasions. Justin Thomas, Justin Rose, and Rickie Fowler are also +1400 fourth choices.


Read more articles by Ricky Dimon