Thank God It's Friday: Duke, Kentucky Among Those Watching Final Four on TV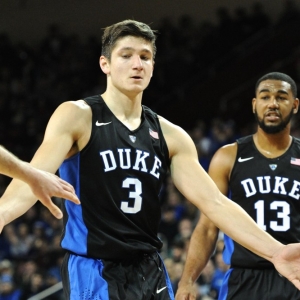 The Final Four will take center stage this weekend, and a pair of traditional powerhouses in Villanova and Kansas will be part of the festivities. Duke, Kentucky, Michigan State, Virginia, just to name a few? Not so much. All in all it is a fun time of year in the sports world, with baseball season underway and both the NBA and NHL heading down the home stretch toward the playoffs.

All odds provided by BetOnline Sportsbook .

Duke . It looked like Grayson Allen would go out with a bang, capping off his career by propelling the Blue Devils to the Final Four with a buzzer-beater and perhaps eventually helping them win another National Championship. The senior guard's floater at the end of regulation in last weekend's region final against Kansas went in, then out, then in, and then back out, sending the game to overtime. Kansas promptly controlled the extra frame from start to finish en route to an 85-81 victory at Duke's expense. "I was trying to drive right," Allen said of the fateful play. "Went back left. Their big stepped into help. I had to get a shot up over him. I tried to bank it in and it about went in." Coming close won't be any consolation for the Devils when they watch the Jayhawks play Villanova on Saturday. The Wildcats are -5 favorites .

Kentucky . Unlike on the other side of the NCAA Tournament bracket, the South Region was pure craziness. It was blown wide open right from the start, when UMBC made history by becoming the first No. 16 seed to take down a No. 1, stunning top overall seed Virginia. Kentucky was sitting even prettier when second-seeded Cincinnati lost to Nevada in the second round and SEC rival Tennessee fell to Loyola-Chicago. The highest seed remaining in the Sweet 16, UK flamed out at the hands of Kansas State via a 61-58 setback last week in Atlanta. Loyola-Chicago eventually captured the region title, hammering Kansas State 78-62 to punch a Final Four ticket. The Ramblers are +1000 behind Villanova, Kansas, and Michigan to win the National Championship.

Joel Embiid . Playing a role in Embiid getting injured is not what the 76ers had in mind for Markelle Fultz's return. Out with an injury of his own for all but the first four games of his rookie season, Fultz-the No. 1 overall pick in the 2017 NBA Draft-collided with Embiid on a pick play during Wednesday's win over New York, marking his second game back. The 24-year-old center from Cameroon suffered a fractured orbital bone and a concussion, likely keeping him out 2-4 weeks and putting his status for the first round of the playoffs in jeopardy. Philadelphia is +700 to win the Eastern Conference.

Carolina Hurricanes . The Hurricanes have been eliminated from playoff contention, although it is not exactly their own fault; at least it hasn't been their own fault of late. Carolina is 3-1 in its last four games, but it has fallen 10 points behind postseason hopeful New Jersey in the Metropolitan Division because the Devils are 7-3-1 in their last 11 outings-including a 4-3 win over the Hurricanes on Tuesday. The 'Canes are +180 underdogs at Washington on Friday.

Troy Tulowitzki . Even at full strength, the Blue Jays would be up against it in a loaded American League East that includes defending division champion Boston and an incredibly high-powered New York lineup. And full strength is not where Toronto finds itself as the season gets underway. Tulowitzki was placed on the 60-day disabled list earlier this week due to bone spurs in his right heel. "Troy's been big for this team,'' manager John Gibbons assured. "He's one of the best shortstops in the game, and you're not going to find a more professional guy. He's a leader on the field. From that end, we'll definitely miss him.'' Toronto (Sanchez) is a +134 home underdog against the Yankees (Tanaka) on Friday night.

Le'Veon Bell . Bell's contract situation with the Steelers is getting ugly, and he isn't happy about the negative media attention. The star running back tweeted the following on Thursday: "it's so hard to be a hero in a city that paints [you] out to be the villain.". Pittsburgh placed the franchise tag on Bell for a second consecutive season earlier this month, and it has since turned its attention to free agency and the NFL Draft. The 26-year-old out of Michigan State is ultimately seeking a long-term contract worth more than $14 million per season. He is threatening to sit out training camp-again-or even regular-season games if Pittsburgh does not agree to those kinds of terms. The Steelers are -275 favorites to win the AFC North.

Roger Federer . Federer went back-to-back at huge tournaments in Indian Wells and Miami last March. He failed to defend either title this month, losing to Juan Martin Del Potro in the Indian Wells final and to qualifier Thanasi Kokkinakis right away in Miami. What it means is that Rafael Nadal will make a return trip to No. 1 in the world despite having not played one match since the Australian Open in January. Federer lost 2,000 ranking points from last year's triumphs in Indian Wells and Miami while gaining only 610 points. Roles, however, could be reversed during the clay-court swing in April and May. Federer is not playing but has a great chance of regaining the top spot because Nadal has a boatload of points to defend from 2017 success. Del Potro, meanwhile, is a +135 favorite to capture the Miami title this weekend.



Read more articles by Ricky Dimon