Thank God It's Friday: Mayfield's Career Ends After Thrilling Rose Bowl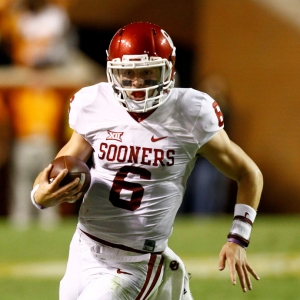 A smorgasbord of football is in the cards for the upcoming three-day stretch from Saturday through next Monday. The quantity may have diminished now that he NFL regular season is over and most of the bowl games have come and gone, but quality and intrigue should be high. It is wild-card weekend in the pros, while Georgia outlasted Baker Mayfield and Oklahoma in an epic Rose Bowl to set up an all-SEC showdown against Alabama for the National Championship on Monday.

All odds provided by BetOnline Sportsbook .

Baker Mayfield . The Heisman Trophy winner did not do much wrong in OU's 54-48 double-overtime Rose Bowl loss to Georgia, but his team's offense certainly cooled off following a 31-point outburst in the opening half. Head coach Lincoln Riley got conservative with a seven-point lead and possession of the ball late in the fourth quarter and did so again when a touchdown would have won the game in the first overtime. Mayfield did not have a rushing attempt and completed just one short pass (four yards) as the Sooners settled for a tying field goal en route to a second extra frame. In the second OT they got one first down thanks to a UGA offsides penalty before getting stopped and having a field goal blocked. Needing just a field goal of their own, the Bulldogs instead capped off their comeback from 17 points down in style with a clinching 27-yard touchdown run by Sony Michel. Georgia is a +3.5 underdog against Alabama in Monday's National Championship.

Clemson . If the college football world needed to take a breath following the epic proceedings in Pasadena, it had more than enough time to do so. The Sugar Bowl between Alabama and Clemson-a proverbial rubber match after the two teams split a pair of thrilling National Championship games the previous two seasons-never got off the ground. Head coach Nick Saban's squad never trailed and broke things open with two third-quarter touchdowns in the span of 13 seconds to provide for the final 24-6 margin. The over/under for Alabama vs. Georgia is 45.5 .

Baltimore Ravens . All the Ravens needed to do to get into the playoffs was win their Week 17 game. Sounds simple enough. Sounds even simpler when that game is at home against the Bengals. Baltimore appeared to be taking care of business when it erased deficits of 17-3 and 24-10 to take a 27-24 lead with less than nine minutes remaining. Cincinnati punted on its next possession but got the ball back and scored the game-winning touchdown when Andy Dalton heaved a 49-yarder to Tyler Boyd with 44 seconds left. The Bengals' win eliminated Baltimore and sent the Bills to the postseason for the first time since 1999-2000, ending the longest drought in American professional sports. Buffalo is a +9 underdog at Jacksonville on Sunday afternoon.

James Harden . Things have gone south in a hurry for the Rockets following their 14-game winning streak from Nov. 16 through Dec. 18. They are 2-6 in their last eight games, formally protested their Dec. 22 loss to the Clippers because of poor officiating, and now James Harden is out likely for at least two more weeks with a hamstring injury. Houston led visiting Golden State by nine points in the second quarter of Thursday's showdown, but the defending champions eventually pulled away to prevail 124-114. The Rockets are +500 to win the Western Conference and +800 to win the NBA title.

New Jersey Devils . New Jersey had been out in front of the Metropolitan Division, but a current four-game losing streak has ended that surprise-at least temporarily. The favored Capitals have restored order with a three-game winning streak while also benefiting from the Devils' woes to take a two-point lead atop the division. New Jersey has at least managed to take two points during this stretch of futility, falling to Buffalo in overtime and to St. Louis in a shootout. The Devils also lost 5-2 at Washington last Saturday before succumbing at Dallas 4-3 on Thursday. New Jersey is +1400 to win the Stanley Cup; Tampa Bay is a +600 favorite.

North Carolina . The Tar Heels won it all in 2016-17, but they have not yet gotten into gear this season. UNC suffered its third loss of the 2017-18 campaign when it fell at Florida State 81-80 on Wednesday. Adding insult to injury, official Ted "TV Teddy" Valentine turned his back on point guard Joel Berry II after failing to call an obvious foul on the Seminoles with seven minutes left in the game, refusing to listen to Berry's questioning. North Carolina (12-3, 1-1 ACC) previously lost to Michigan State (scoring only 45 points in the process) and at home to Wofford 79-75 on Dec. 20. The Heels are +1400 to win the National Championship; Duke and Michigan State are +500 co-favorites.

Chelsea . Chelsea-and every other club not named Manchester City-can go ahead and kiss the 2017-18 English Premier League title goodbye. After all, the Sky Blues have a massive 15-point lead over the field through 22 matches (62 points; second-place Manchester United has 47). But the battle for top-four sports and berths in the 2018-19 Champions League are very much up for grabs. Six points separate two through five and eight points separate two through six. Chelsea is a decent third with 46 points, but it wasted a chance to pass Man U for second on the table when it tied Arsenal 2-2 on Wednesday. The Blues led 2-1 before giving up the equalizer two minutes into stoppage time. Man City is a +250 favorite to win this year's Champions League.
Read more articles by Ricky Dimon