2018 World Cup Group C Predictions and Expert Betting Advice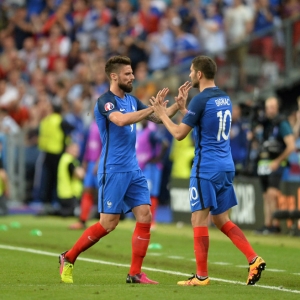 The 2018 World Cup kicks off June 14, and I'm counting the days until this tournament starts! Here I preview the first of eight groups that will be traveling to Russia. Group C may not look like a tough group, but Australia and Peru are bringing really good squads to Russia. It's no secret that the French are loaded at every position, and they have deep talent on the bench and could make a nice run through the group and be a tough out this tournament. Denmark always plays well in group play, and in qualification they looked well formed and ready for the trip to Russia. Down below I have listed Group C betting odds for offshore sports book MyBookie and I also listed the Group C schedule.
Group C Teams & Odds
France -440
Denmark +380
Peru +800
Australia 16-1
Group C Schedule:
France vs. Australia: Saturday, June 16 6 a.m. ET
Peru vs. Denmark: Saturday, June 16 12 p.m. ET
France vs. Peru: Thursday, June 21 8 a.m. ET
Denmark vs. Australia: Thursday, June 21 11 a.m. ET
Australia vs. Peru: Tuesday, June 26 10 a.m. ET
Denmark vs. France: Tuesday, June 26 10 a.m. ET
Breakdown - Predictions
World Cup Group C is completely focused on the heavily-favored French squad, but Denmark, Peru, and Australia are no push overs. June 16 is when Peru plays Denmark, and I believe the winner of that match will be the country that advances with France to the round of 16 -- it wouldn't shock me to see Denmark win that pitch. Denmark will have Christian Eriksen on the pitch, and he will be the big reason why they advance. However, let's face it, this group is all about France. France has one of the best squads in this tournament, and their poor showing in the Euro Cup in 2016 will be forgotten if they have a long World Cup run.
Prediction: France to Win the Group -440
Denmark also Makes it out of the group.


Raphael Esparza is one of the best soccer handicappers in the country. Esparza had a winning English Premier League season and closed out the Premier League on a ridiculous run of 21-6 $5,680 and Esparza looks for a huge World Cup soccer tournament. Esparza has had winning World Cups in both men's and women's and in 2014 he cashed over $2,300 dollars including a Game of the Year winner. New clients can take advantage of Doc's no-hassle $60 free picks offer and get Esparza's weekday picks. Click here for $60 worth of free picks .
Read more articles by Raphael Esparza