2018 World Cup Group H Predictions and Expert Betting Advice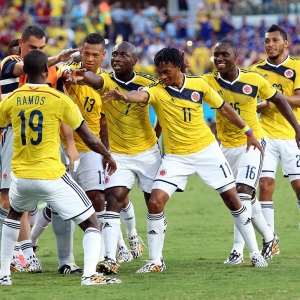 The 2018 World Cup kicks off June 14, and I'm counting the days until this tournament starts! Here I will preview the eight groups that will be traveling to Russia. You thought Group G was rough, well Group H is pretty much a coin toss because not one country is a minus-money favorite. So many questions in this group! Can Columbia's James Rodriguez have another brilliant World Cup? How far can Poland's Robert Lewandowski carry his squad? Can Sadio Mane from Senegal play like he did for Liverpool? Like I said, so many questions, and let's not forgot about Japan because their team defense is no joke. Down below I have listed Group H betting odds for offshore sports book MyBookie , and I also listed the Group H schedule.
Group H Teams & Odds
Colombia +110
Poland +140
Senegal +380
Japan +600
Group H Schedule:
Poland vs. Senegal: Tuesday, June 19 8 a.m. ET
Colombia vs. Japan: Tuesday, June 19 11 a.m. ET
Japan vs. Senegal: Sunday, June 24 11 a.m. ET
Poland vs. Colombia: Sunday, June 24 2 p.m. ET
Japan vs. Poland: Thursday, June 28 10 a.m. ET
Senegal vs. Colombia: Thursday, June 28 10 a.m. ET

Breakdown - Predictions
Getting plus-money on Columbia seems too good to be true, but Sunday, June 24 is going to tell us who wins this group and who needs help to advance to the next round. It's no secret that Group H will be the most entertaining out of all the groups, and we could see some see some of the best matches in group play. Goals will be scored in this group, and that could be a problem for Japan quickly. Senegal's speed could cause problems for both Columbia and Poland, but when the whistle is blown I see both Colombia and Poland going through the next round. Or I can be totally wrong in this group and, really, anything could happen in Group H play.
Prediction: Poland to Win the Group +140
Colombia also makes it out of the group.


Raphael Esparza is one of the best soccer handicappers in the country. Esparza had a winning English Premier League season and closed out the Premier League on a ridiculous run of 21-6 $5,680 and Esparza looks for a huge World Cup soccer tournament. Esparza has had winning World Cups in both men's and women's and in 2014 he cashed over $2,300 dollars including a Game of the Year winner. New clients can take advantage of Doc's no-hassle $60 free picks offer and get Esparza's weekday picks. Click here for $60 worth of free picks .
Read more articles by Raphael Esparza